30/08/09
Cheviots Challenge 2009
- from Rob Stephens (photos from Rob & Pat)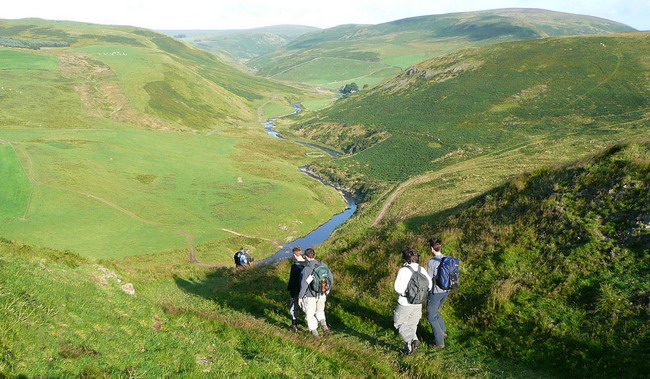 view from Pass Peth
An annual fundraiser for the Northumberland National Park Mountain Rescue Team, the Cheviots Challenge had an apparently overwhelming amount of entries this year - at least that's the reason us 'enter-on-the-day' folk were given as to why we couldn't have a souvenir mug at the end!
It certainly did look like a good turnout: the long queue to register was still dangling out of the Rose and Thistle's door by the time that most folk had set off.
A bit of a messy start when you're used to a precise start time (any time between 8 and 9:00am). Route details are not issued until the day, but a reasonable guess could be made beforehand from the event website. Pat was to take on the shorter route (15 miles), whilst I and most of the runners took on the longer 22 miles.
In brief, the long route would take us thus: Alwinton - Shillmoor - Fairhaugh (via Usway Burn) - Uswayford track junction - Hexpeth Gate (?) on the Pennine Way - King's Seat - Cairn Hill - Salter's Road Junction - Bloodybush Edge - West Burn Head (as in Alwinton Fell Race) - back via Clennell Street. The short route follows the same route to Uswayford track junction but then heads up to Yarnspath Law via Uswayford and then rejoins the long route back.
Geoff Scott, Paul and Wendy Appleby had all set off before we'd reached the start area shortly after 8:00. Setting off a little later meant a fair bit of negotiating around the stream of walkers further on.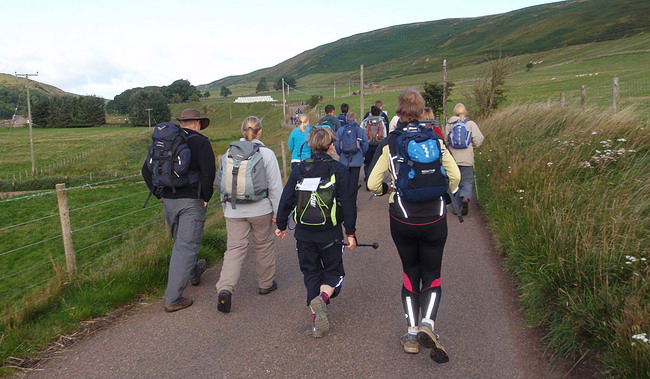 a busy road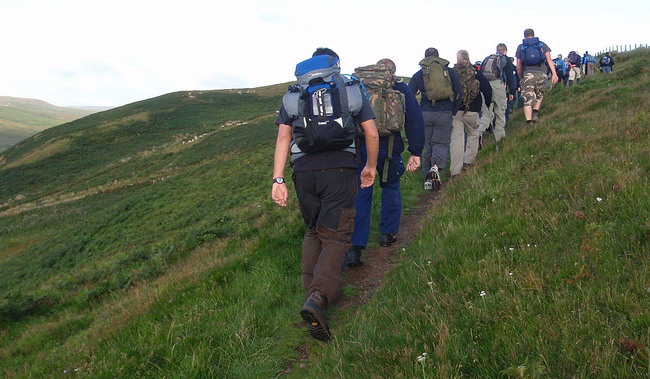 single file up Pass Peth
I caught up with Phil Green and James Charlton, and we enjoyed a little weaving in and out of walkers over Pass Peth and up to Shillmoor. Apart from a few grey clouds, and a lively breeze at times, the weather was fine.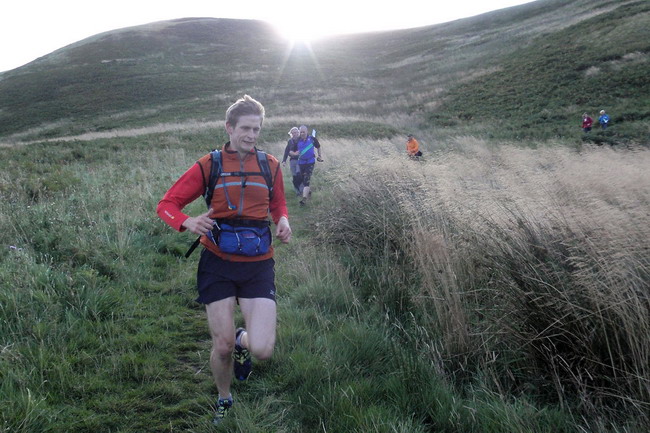 early morning descending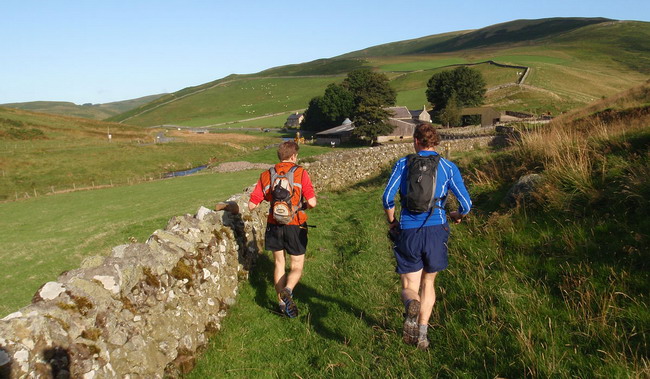 Shillmoor ahead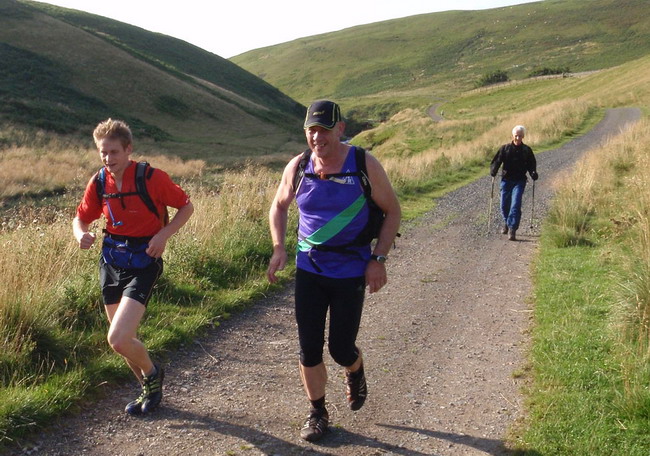 James and Phil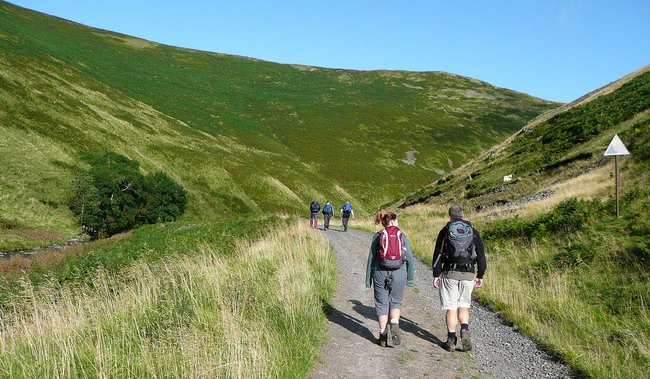 alongside the Usway Burn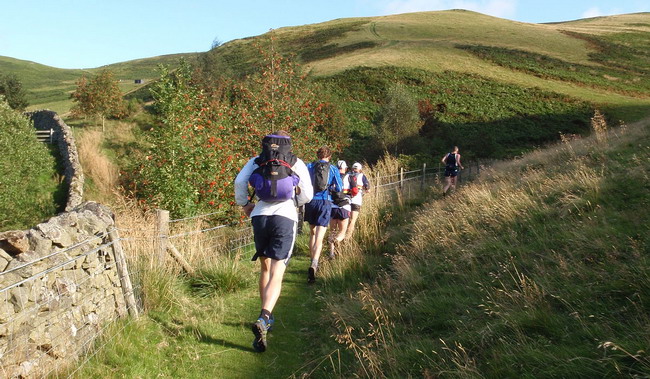 around Batailshiel Haugh
I pressed on to catch up with the next group of runners headed by Dave Wiseman, and settled into chatting mode once again with Dave for quite a few miles to come. Soup was on offer at Uswayford track CP, but we were ok for now on flapjack and bagel power as we headed up onto the exposed ridge at Hexpeth Gate.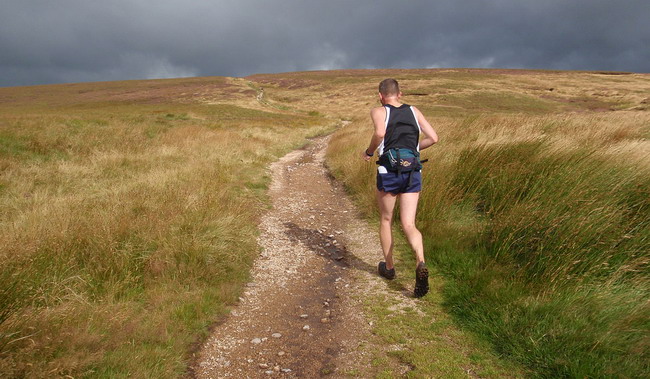 heading for the ridge
It was definitely a little chillier along the flag-stoned Pennine Way and a brisk crosswind made it a little harder to chat. Furthest point out at Cairn Hill and the marshals were rightly keeping down out of the wind whilst we fumbled to punch our flapping checkpoint cards.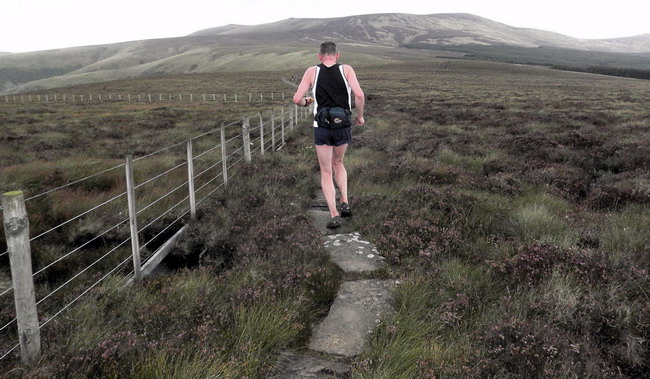 flags all the way to Cheviot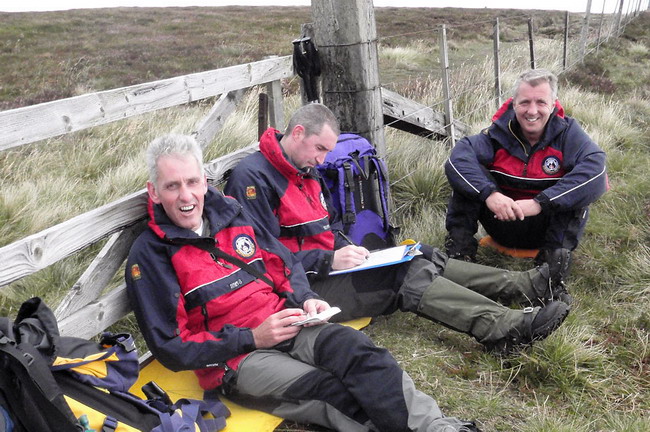 keeping out of the wind up Cairn Hill
The next section was the only particularly rough section as we dropped down to follow the wall/fence and forest edge to the next checkpoint. Dave dropped back a little and I pressed on alone for a while over the boggiest section of the run.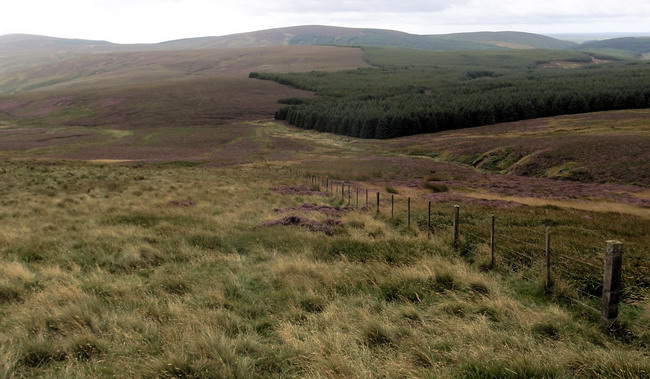 a long slog to Bloodybush Edge in the distance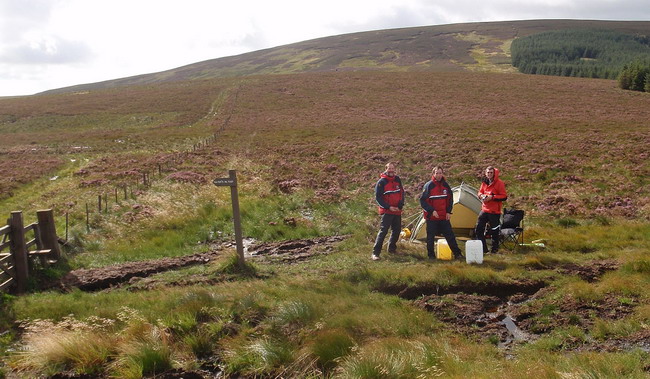 Salter's Road checkpoint
Up to the summit of Bloodybush Edge was the only toughish climb. Here the runner in front stopped to consult the map, but for anyone who's done Keith's Alwinton Fell Race, it was all familiar ground from here on, so I led the way. It's also downhill, so although the aches were starting to manifest themselves a little, it was time to run a little faster.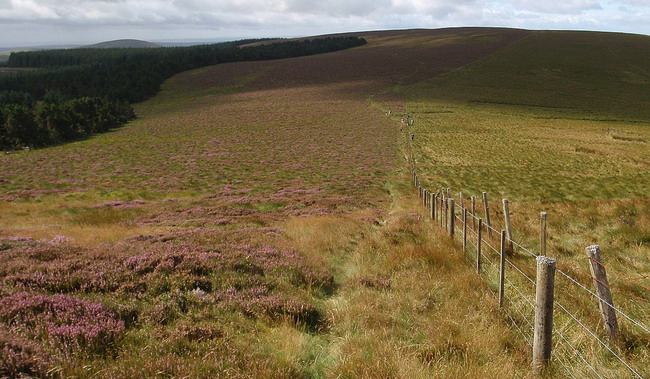 short route and long routes merge ahead
Those doing the short-route merged back with the long-route challengees at the col between Bloodybush and Yarnspath, and here I caught up once again with Pat who was enjoying her walk and at a decent speed too. After the penultimate checkpoint, the hard and stoney track took us past forestry operations before getting back onto the soft and very runnable grassy section around Wholehope. Dave put on a spurt and eventually caught up (although I made him work for it!) and we rode back into town together after a good ol' natter.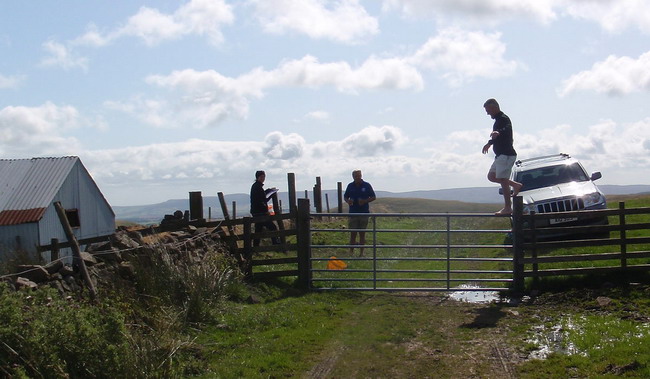 a marshal walks the tightrope at Wholehope ...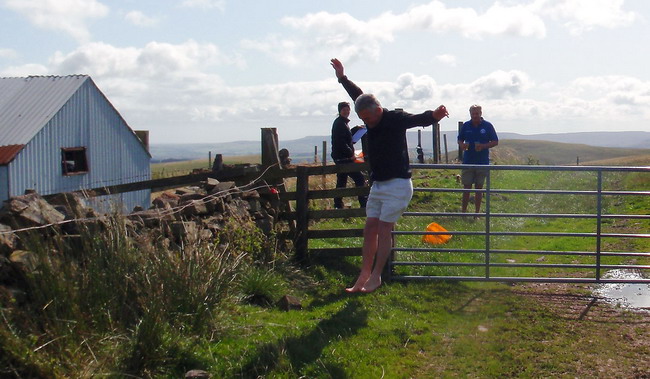 ... almost all of the way!
When we arrived back at the Rose and Thistle, Geoff and Paul were sipping cocktails at the bar (or maybe it was just a cheese bun), looking fresh after their fast run round together (3hrs 39). It took a little longer for about 350 other runners and walkers but good times - if not actually showing on their stopwatches - were generally had by all anyway. This is the second 'challenge' win this year for Geoff after being first home in the Durham Dales Challenge in June. Paul had one of his best runs this year, Wendy mixed a little running into her walk, Phil bore his aches bravely and had a good run round with James, and Dave's legs were hurting a lot. It was my longest run since Allendale 2008, and Pat will now be looking for her next challenge ...
No results for this and no record of who was there but there should be a report on the Cheviots Challenge website soon...
A really good day out in the Cheviots. Thanks to the NNPMRT, the Rose and Thistle and all.
Rob Stephens