04/07/09
Chevy Chase 2009
- from Old Cheviot (photos from Rob & Pat)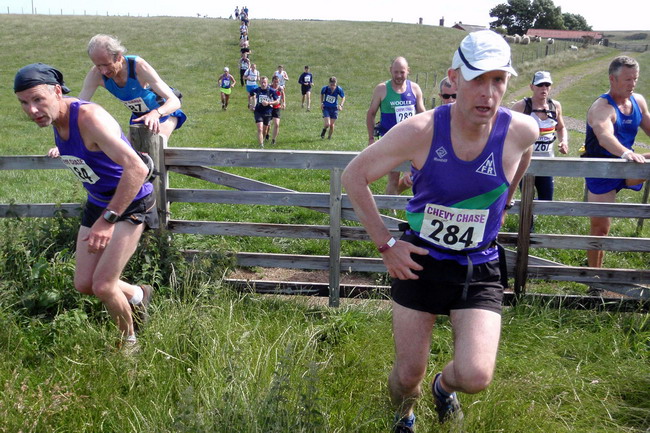 The Chase is on ...
Old Cheviot gritted his teeth and urged his aged bones into one last effort on the climb up Hellpath. At last he reached the top of the climb and was able to relax on the run over Wooler Common. Even this was an effort, but at least it was now (just about) all downhill.
The Chevy Chase had started several hours earlier under blue skies and a warm sun. NFR old and new had gathered among the 200 runners. Kath and John Dallinson were back for another run, while Mike Telfer and Graham Bingham were making their Chevy debuts in the purple and green vests. The lead runners soon disappeared in a blaze of Walshes, leaving the mere mortals to jog up the initial road section.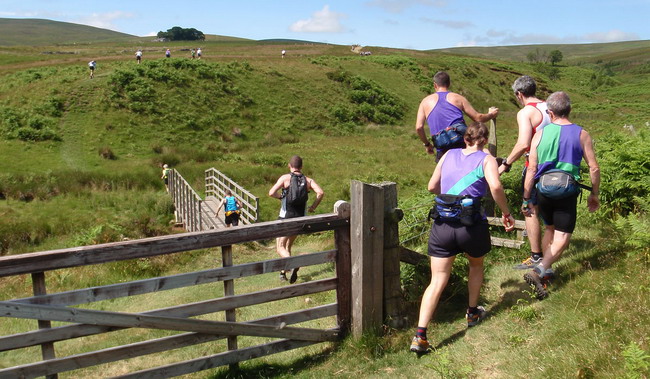 Broadstruther in sight
Old Cheviot joined in the throng, mindful of the rigours ahead. The run past Broadstruther and to Cheviot Knee was all into the wind, but at least it was a cooling breeze. Once Cheviot's summit had been attained, runners chose various routes (with varying degrees of success) to Hedgehope.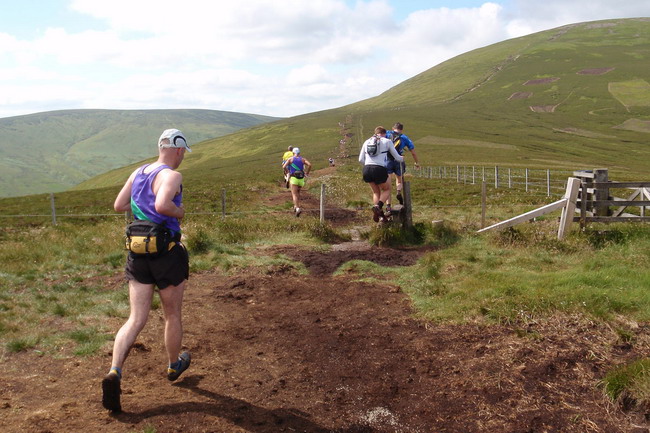 Cheviot ahead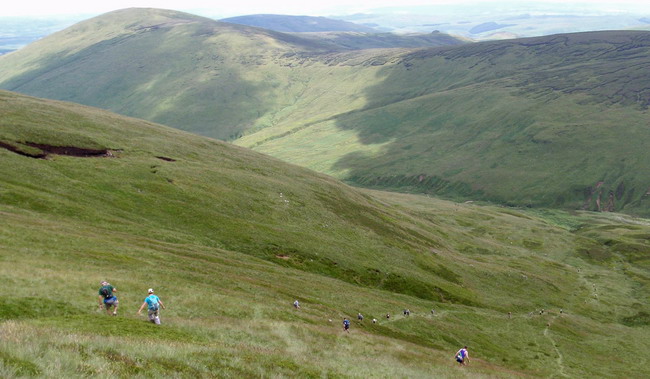 One of the ways to Hedgehope
Here the real running set in. With a following wind to Langlee Crags OC tried to up the pace, but was conscious of the ever-building heat. This manifested itself with a vengeance in The Careyburn, or "Death Valley" as Peter Hayle described it. Here OC began to feel every one of his numerous years, but plugged on with Lee Bennett for company. After the final run-in along the road, he crossed the line and flopped into a welcoming chair: the Chevy had been run for another year.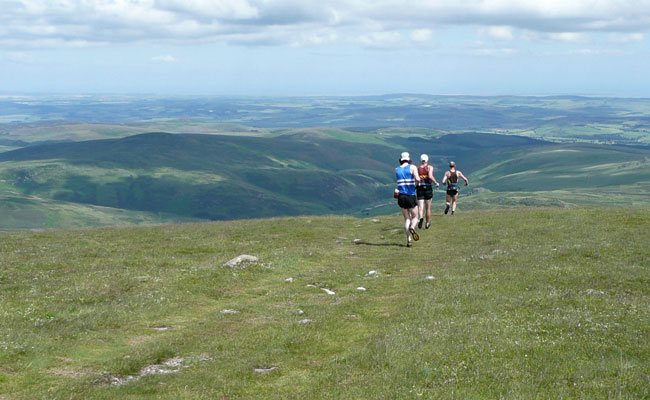 Dark Peak's Joe Blackett (eventual winner) and John Boyle leave Hedgehope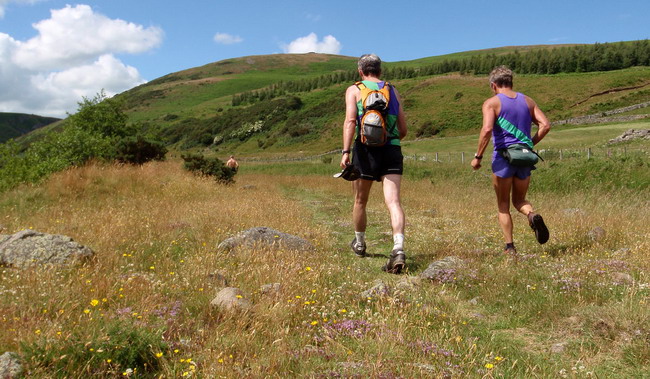 "Death Valley"
At the sharp end, Joe Blackett (Dark Peak) won the race and Alistair Horsefield (Gosforth Punters) was second. There was further Dark Peak representation from John Boyle (a previous winner) who was third. Phil Sanderson had been leading the race, but unfortunately missed a checkpoint on Langlee Crags and so was disqualified. Karen Robertson was first lady, and Louise Wilkinson second lady. Will Horsley was NFR's top finisher in 4th place. NFR were the first club with 3 runners to finish and initially were awarded the team prize. But after a stewards' enquiry, it emerged that South Shields had one point less and so they claimed the team tankard. Never mind chaps, there is always next year.
Jamie Wilkinson was awarded the 'Spirit of the Chevy Chase' trophy for running the race in memory of his father. Jamie had intended to finish last year, but had been thwarted by injury.
As ever, the post-race refreshments and chat at the youth hostel were most convivial. As OC hobbled back to his car, he reflected that once again Claire & Mary and their team at Wooler Running Club had put on an excellent race, for which many thanks were due. Roll on next year!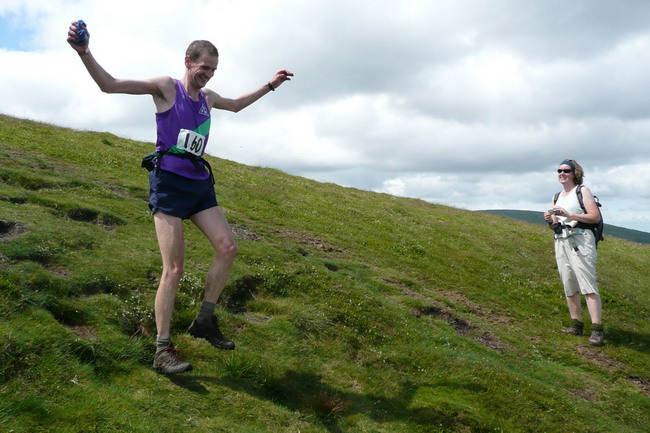 Is this what Noel Hodgson meant by "Dancing over Cheviot"?
Old Cheviot