02/08/09
College Valley Hill Race
- from Rob Stephens (photos from Pat & Rob)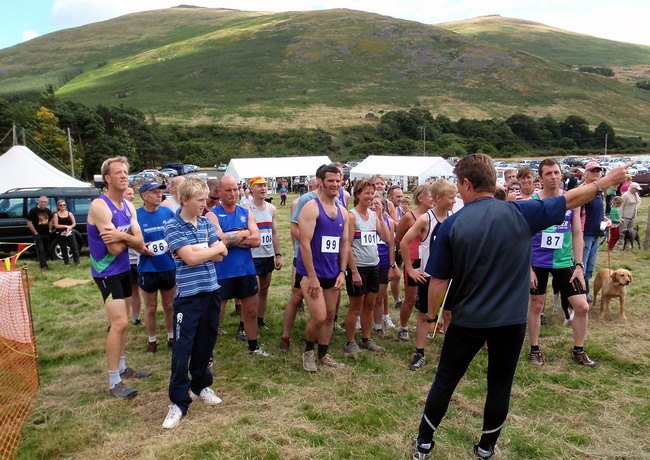 3.5 miles / 985 ft
Perhaps it was the lack of advertising, or maybe because of the peak holiday season (as Pat and I can testify to, trying to find somewhere to pitch a tent the night before!), but it was a great shame that more couldn't have made it to this inaugural race. It was a good mix of runners all the same, and quite a few who did Powburn on Saturday.
Glen has chosen a great route, basically up and around Great Hetha, with a fair bit of it viewable from the showfield. The course had to be changed at the last minute due to a double-booking in a field with some cows, calves and bull! As I see it, you couldn't choose a better start and finish for a race: a steep grassy bank for a tough start and exciting finish. It's right beside the show too, so that spectators can cheer the runners on their way up and get to watch an exciting finish as the runners return.
After eyeing the competition, Wooler's Iain Twaddle is a little more relaxed at the start line compared to Powburn yesterday. Still, there's nothing in it between Iain and young Joe McWilliams to the top of the bank! Once up the bank we head towards Great Hetha, but it's back down the other side, on a narrow trod through bracken and then a little hoof-rutted pasture. We then work our way to the far side of the hill and come up the more gently-sloping end on a grassy quad track, with wonderful views in all directions.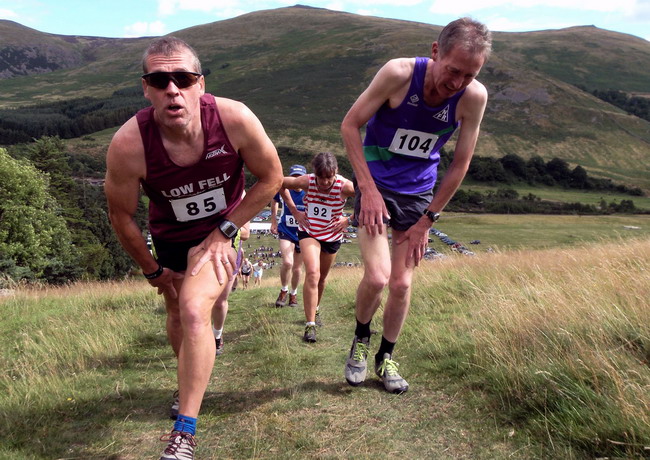 Lawrence and Bernard keep the pressure on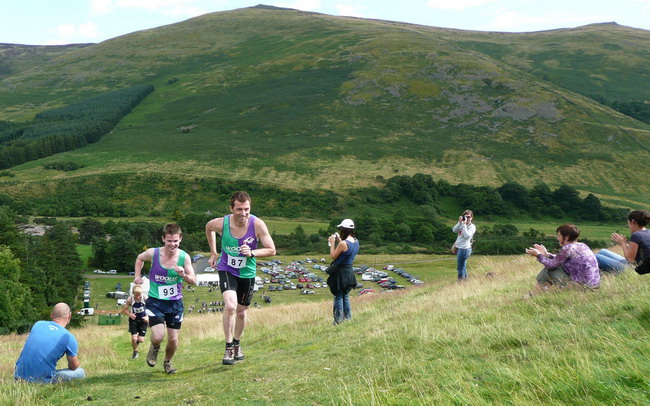 nothing in it between Iain Twaddle and young Joe McWilliams to the top of the bank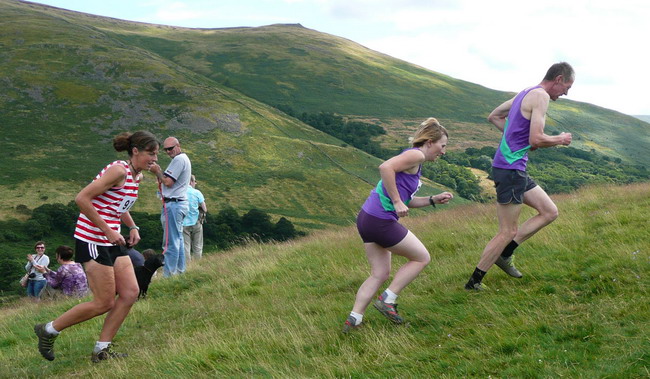 levelling out after the first climb
It's a good old slog round, and throughout, I battle to keep up with Brian in front and Lawrence Johnson sticks close behind me. The three of us are hitting the same sort of pace and we all know it's going to be a close finish between us. Once beyond the summit of Great Hetha, the speed builds on the descent to the finish: I catch up with Brian, Lawrence catches up with me, and by the time we turn for the final drop, it's as close as you can get. It really is quite a steep bank, and we're all a hair's breadth from falling flat on our faces with all this fancy footwork. With the audience cheering loudly, the pressure's on and it's neck and neck and neck, synchronised rapid descent ... Woah! fractions of a second apart ... or as Lawrence put it "Brian won by a belly!". Brilliant! what a thrilling finish between us, and I think the audience enjoyed it too!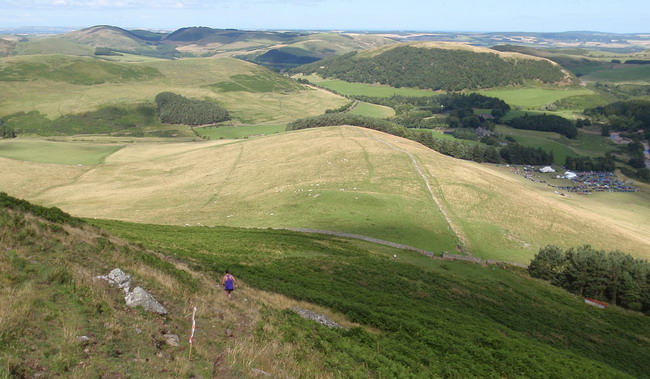 downhill to the showground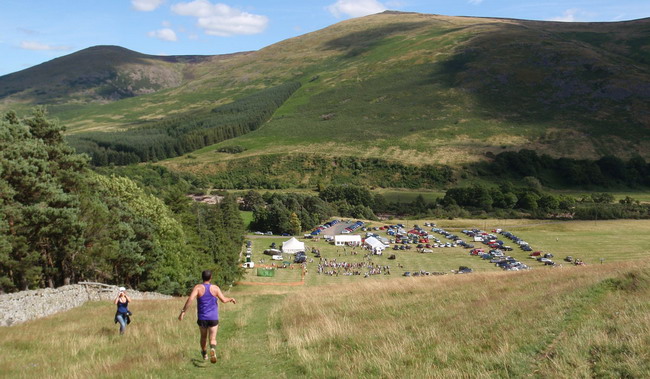 closing in for the finish
Iain's pleased with his win, and no doubt the checky rug prize will take pride of place. A good turnout from Norham lead by Tim McCall who takes second. Sue Mitchell wins the ladies again, with Steph only a short way behind. Mike Telfer has a good trot out to lead NFR home, with Bernard and shandy-winning Terry making up the rest of the team. Tea, ice creams and lounging around on the grass in shorts and t-shirts are a welcome way to finish off an enjoyable scoot up a hill.
This is an excellent new addition to the Northumberland show race calendar, a great run in a beautiful part of Northumberland. Thanks once again to Glen and family for laying this on.
Route: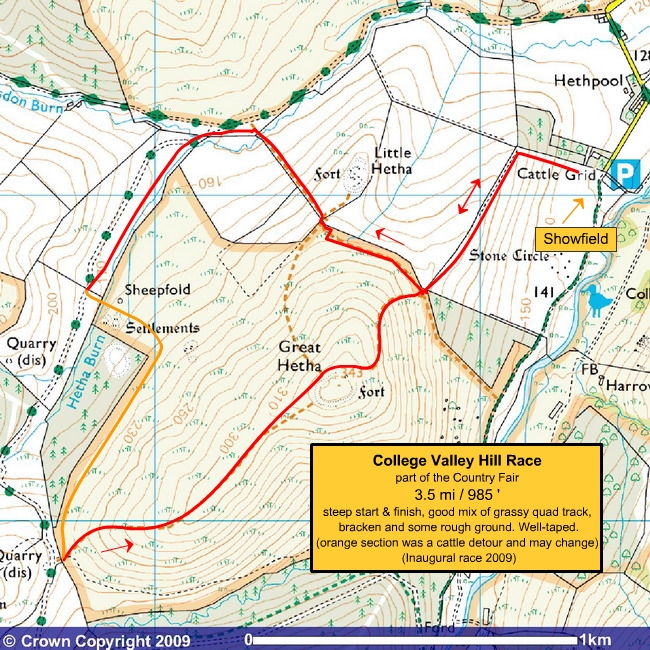 Image reproduced with kind permission of Ordnance Survey (Get-A-Map)
Rob Stephens