22/08/09
Falstone Falcon Fell Race 2009
- from Rob Stephens (photos from Rob & Pat)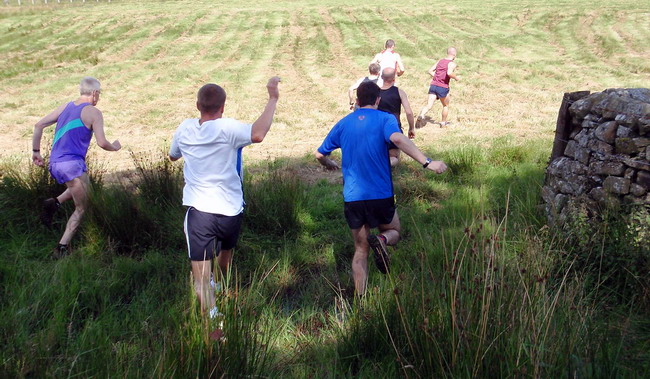 off we go
4.9 miles / 750' *
Hardly an auspicious start to the race as we tried to park the car, our spinning tyres digging themselves deeper down into Falstone Showfield. So we're both very grateful to our fellrunning rescuers, Lawrence, Shaun, Carl, Bernard and Sue, who gave us an almighty push. A few other unfortunate vehicles were struggling too after last night's rain , and at least one stranded motorist received an honourable tow from one of the vintage Massey Fergusons on display.
But a bit of damp field aside, it was a wonderful day at Falstone, and another busy country show. An excellent turnout for the race and despite tales of sciatica, bruised ribs, a tight this and a sore that, spirits were high, with everyone ready to race. NFR, Tynedale, Low Fell and Blackhill Bounders were all well represented. Dexter was making a welcome return to fellracing after a long struggle with injury.
Another fast start and after a short while, Chris Sanderson (Phil's brother) and Phil Vincent take front positions and run close together, with Dexter, Neil Cassidy and Geoff in close pursuit. The rest is a blur of tough uphill running through long tangled grass, good stretches of forest track which later becomes a disorientating obstacle course of twisty path, sharp pokey branches, fallen trunks to vault over or crawl under, and a couple of steep and slippy drops into stream crossings - proper cross-country stuff!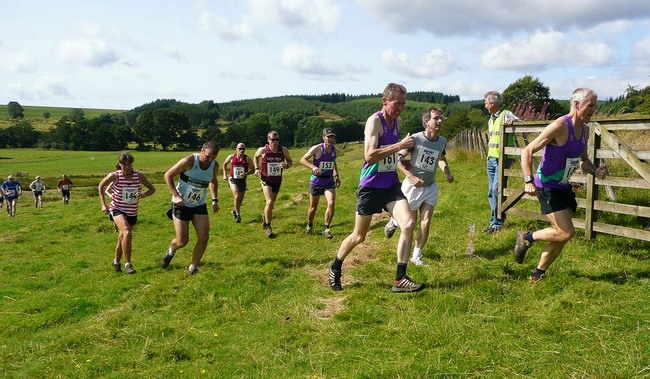 chasing group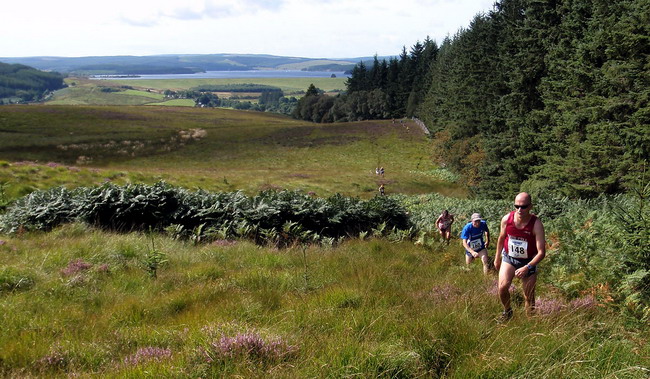 looking back to Kielder Reservoir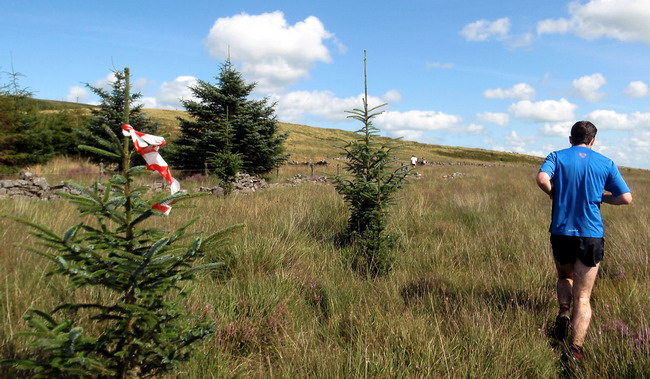 edge of the forest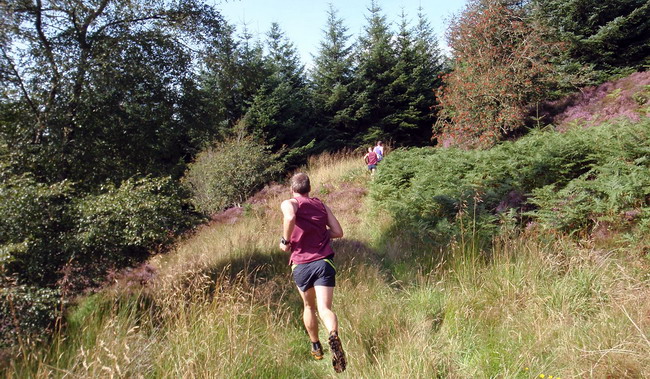 some very pretty sections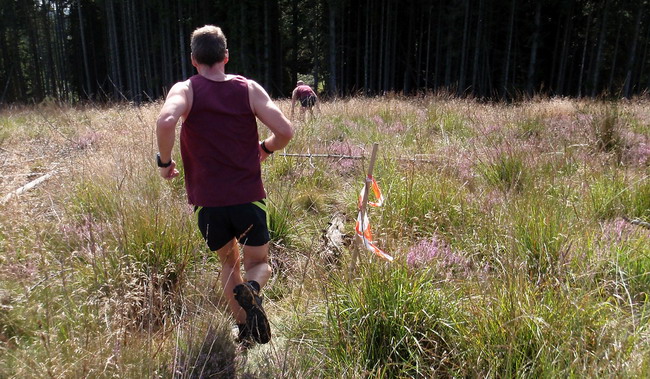 nimble footwork required in the felled section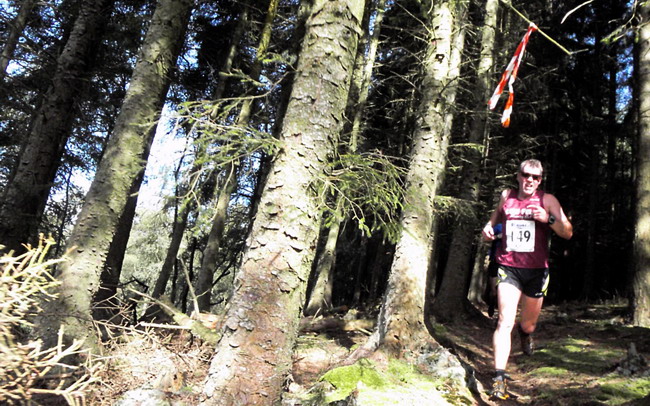 twisting trail ...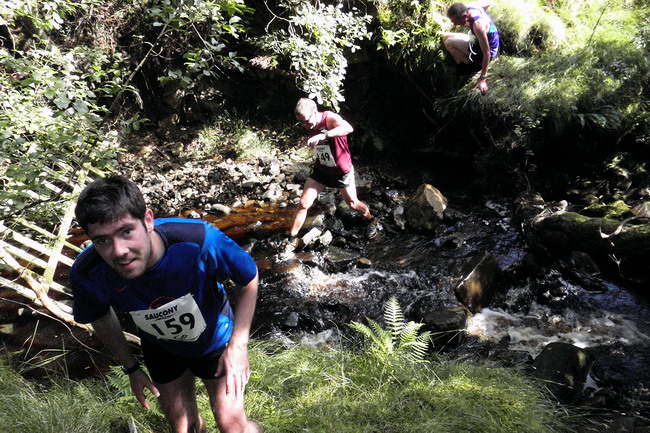 ... and stream crossings
For a short race, this one really knocks the stuffing out. Great fun though. Constantly on the lookout for marker tape too, there's little relief from concentration. We went a little astray, as a few others did. But some seemed to have taken quite different routes back from the forest, and the last runner in obviously had great trouble finding his way and was not too happy when he eventually arrived at the finish.
But for the majority, it was smiles all round. Chris and Phil did stick together for most of the way, with Phil picking up the speed after the forest section. Geoff (4th) continued his excellent running keeping Dexter (3rd) in his sights throughout, but obviously Dexter is well on the way to returning to his usual form. Bernard seems to be getting faster and faster these days, Terry's sore ribs held up, and Keith had a good run round, if staggering a little (weren't we all!). Sue Mitchell enjoyed another country show win, shortly followed in by Tynedale's Beth Gregory-Smith. Rachel Vincent walked round the course, cheering us on along the way.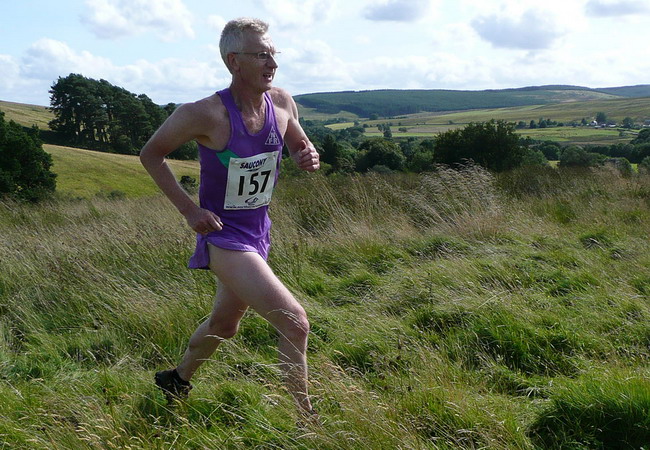 Dexter back in the swing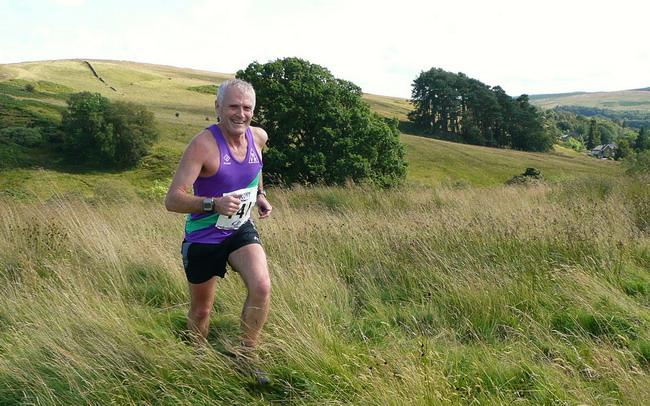 Geoff keeps track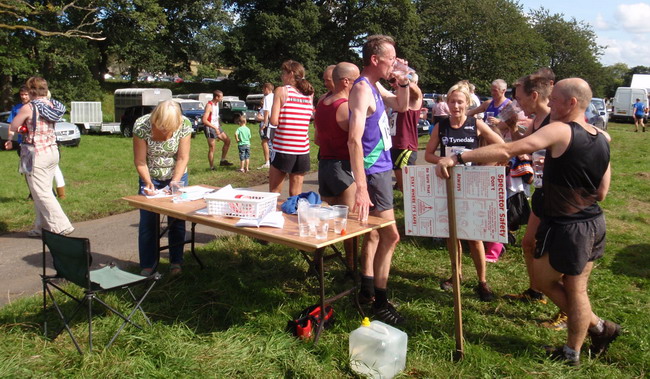 a well-earned drink
Good to see all the familiar faces at these Northumberland Shows, along with the first timers. An enjoyable and challenging race, many thanks to Mike and Fiona for laying this on.
I had hoped to draw up a map of the route from memory, but it'd be quite a challenge. There was however a previous year's route map on the registration table to go by, but best of all Geoff had tracked an accurate route with his Garmin and kindly uploaded it and sent the link (here) - here's the route on OS: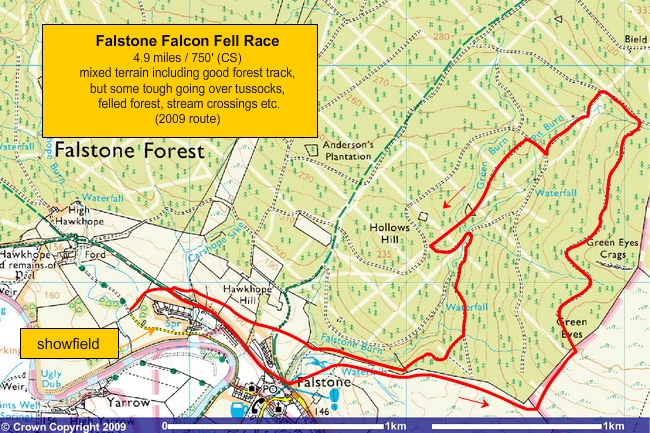 Image reproduced with kind permission of Ordnance Survey (Get-A-Map)
Rob Stephens
* measurement according to Tracklogs