05/04/09
Gisborough Moors
- from Phil Green (photos: Lee Bennett)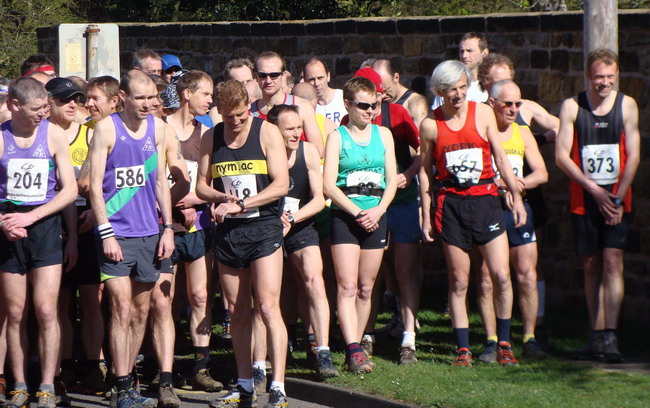 ready to spring into action ...
The weekend of two halves continued with the Gisborough Moors race. A splendid sunny spring day at the rugby club was in contrast to yesterday's bog trot in the rain, sleet and strong wind. Garry Owens, Peter Reed and myself were completing the double header 60k.
NFR was well represented on Sunday with Will, Charlie, Phil S, Lee Bennett, Colin, John Dal, Trevor Wakenshaw, Kath D and the stiff legged trio.

Dave Parry had the race organised like clockwork as usual and the course was well marked and marshalled. Water was also en route at Gribdale and Little Roseberry. The race was started just after eleven with the usual Dave Chat beforehand. 159 runners started up the hill and into the woods.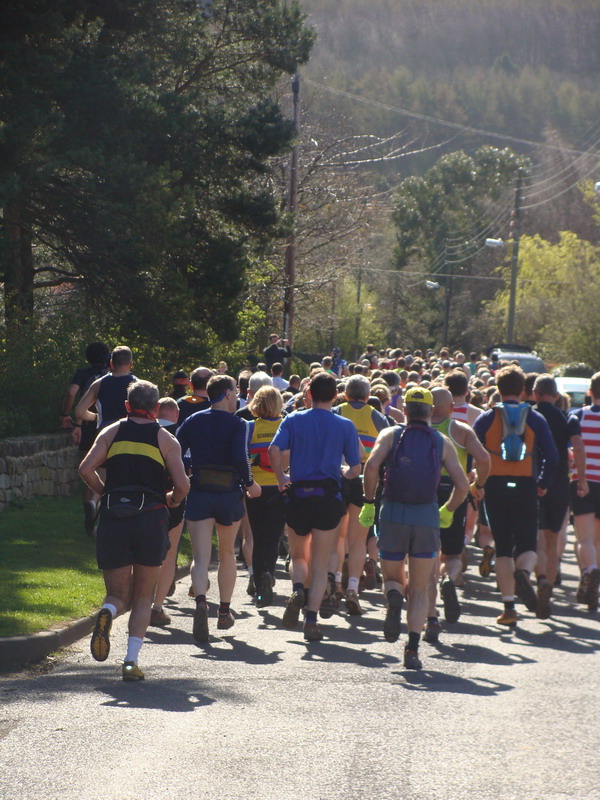 ... springing into action
The woods were fairly dry and the track over the moor to Percy Rigg was rock hard and bone dry. The road section to Captain Cook's was steep but short, then onto forest track.
Captain Cook's Monument had lots of tourists / spectators and lots of encouragement was forthcoming. The descent to Gribdale was fast and then the drag up the steps towards Roseberry Topping. The water here was greatly appreciated and the steps were lined with spectators again.
The path to Roseberry Topping was paved, and best avoided with the grass path to the left offering a bomber descent. Climbing up Roseberry Topping via the stone steps was heavy going in the warm sunshine. The trigpoint was touched then straight down the fast grass, grand stuff 3 mins up, 30 secs down! The climb to Little Roseberry was a trudge but rewarded by jelly babies from the marshals. A strategic variation along the hard track beside the woods cut out a boggy section of moorland. Then the Cleveland Way path was rejoined over the moor to Highcliffe Nab. From here on in it was forest track till meeting up with the path we had climbed initially and the descent to the rugby club.

The race was won by Jim Bulman of NYM, Charlie was in 2nd, Phil S in 3rd and Will in 4th. Lee Bennett was 13th, followed by Garry Owens, Kath Davis and Colin Blackburn were in next (don't know who came when but Kath was 1st v40 lady) then me, John Dallinson, Peter Reed and Trevor Wakenshaw. Apologies if I have made a mistake with the above.

NFR won the men's team prize, 3 crates of beer!!!
Phil Green
results on NYMAC website