27/12/09
Guisborough Woods
- from Philip Sanderson (photos from Jill Bennett)
THE NFR BOYS DID GOOD...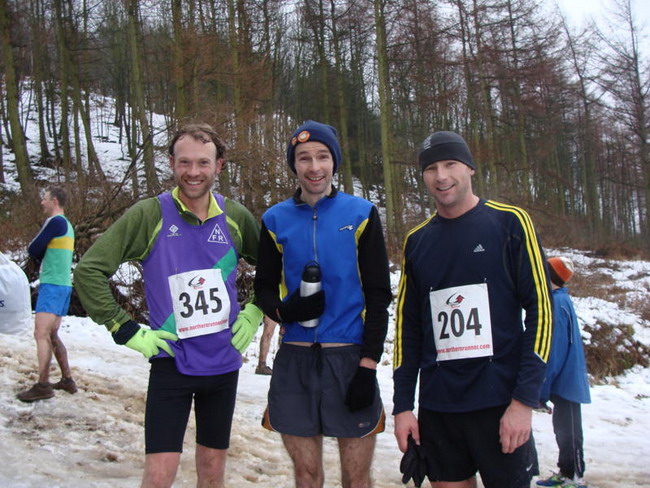 Lee, Philip & Chris
It always gives me great pride to see the NFR boys taking the team prize in the North East. The boys did good, beating a strong New Marske team into second place. The boys were our Chris, Lee, Phil G and me. I was sweating looking at the results with Dave Parry, but Phil G came up trumps with a good result (in a vest in freezing conditions).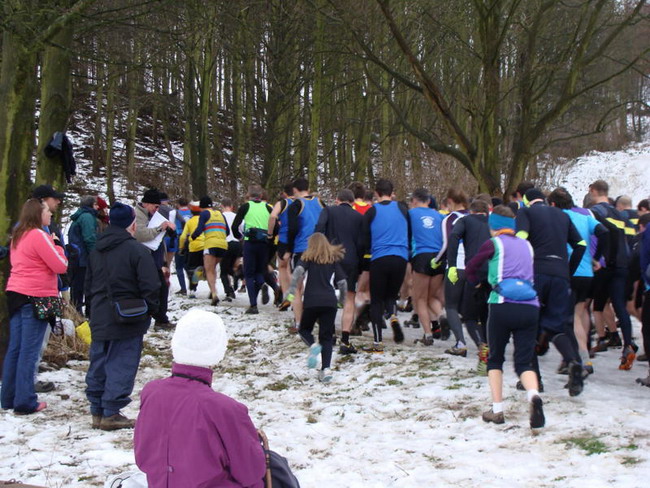 off to a slippy start
The toughest thing about this race was the Rugby Club car park. It was frozen over and if you got out without breaking your neck, the race would be a doddle. The favourite in the race was this young lean New Marske runner wearing SPIKES... crikey why did I not think of that... spikes on the ice. He went off on a flyer up the quarry climb, but blew at the top.

There were two deciding factors in this race, the quarry climb (which was quite steep) and the descent back down through the woods (where you could fly in the soft mud and snow).

Dave Parry as always did a great presentation and had an interesting comment about Fell Running compared to XC Running. I must agree there is no comparison...

Here are the final results as best remembered: -

1. Phil S (counter)
4. Lee (counter)
14. Chris (counter)
52? Phil G (counter)

Also in the race were Dave Johnson and Trevor Wakenshaw. Unfortunately I do not have their placings. However, it should be mentioned that Trevor is lying 3rd in the NYM V40 Winter League. This is no mean feat because the competition is tough down there...

It should also be mentioned that little Robyn Bennett ran in the juniors event, which was a very tough lap of Guisborough Woods in the snow and ice.
How she managed the climb and the descent (I do not know...). I think she came runner up to a lass twice her size and won a box of chocolates.
| | |
| --- | --- |
| | |
| | |
Philip Sanderson
more photos from Jill