19/07/09
Kentmere Horseshoe
- from Paul Appleby (photos from Paul and Philip's mum)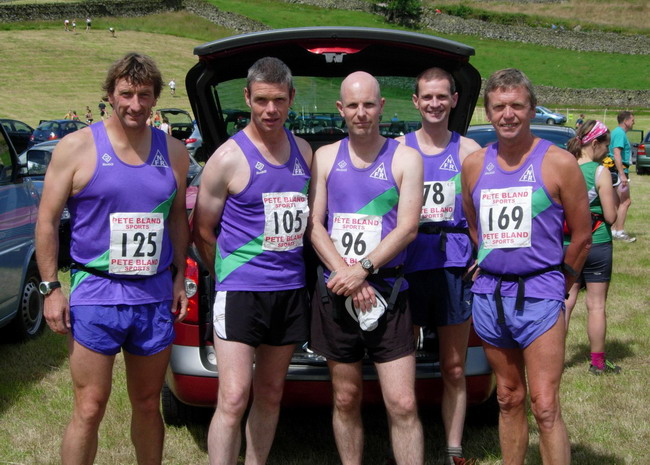 L-R: Joe, Paul, Allon, John and Peter
11.9 mi / 3300 ft
2 years since the NFR 10th anniversary race at Kentmere and the conditions were very similar, dry, clear and a nice breeze on the tops. 7 NFRs took part with team photos taken before the start (all except for Gary Jones who turned up with not much time to spare as usual – his sat nav sending him somewhere else!).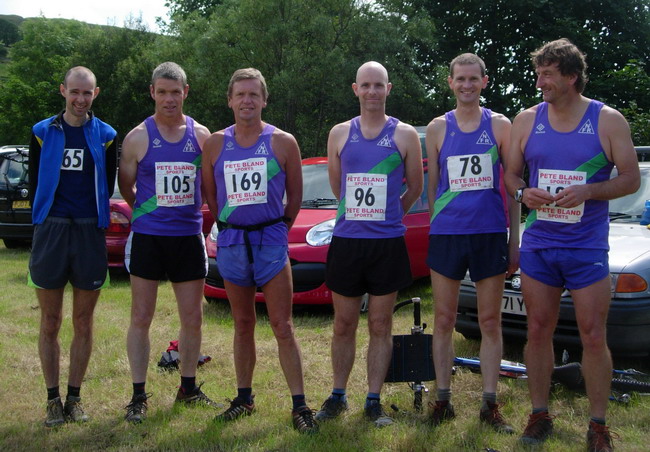 Philip joins the group
Most of the climbing in this race is in the first half traversing Yoke and Froswick, over Ill Bell and the long drag on to High Street by which time the field is well spread out. This is where the fun starts in what must be one of the best descents of any race in Lakeland. Down to Nan Bield Pass and a short but sharp climb out to Kentmere Pike and give it everything you've got to the finish although care must be taken through the boggy and rocky section before Brockstones Farm. A bit of a slog to the finish along Low Lane where places can be made up if you have anything left.

Philip and Gary
Great performances by Phil Sanderson in 3rd and Gary Jones in 5th followed by John Duff, myself, Allon Welsh, Peter Reed and Joe Faulkner.

A wonderful unspoilt location for this classic race rounded off with refreshments in the village hall making this a great day out.

Paul Appleby
results on FRA website