16/08/09
The Lomonds of Fife
- from John Duff (photos from John)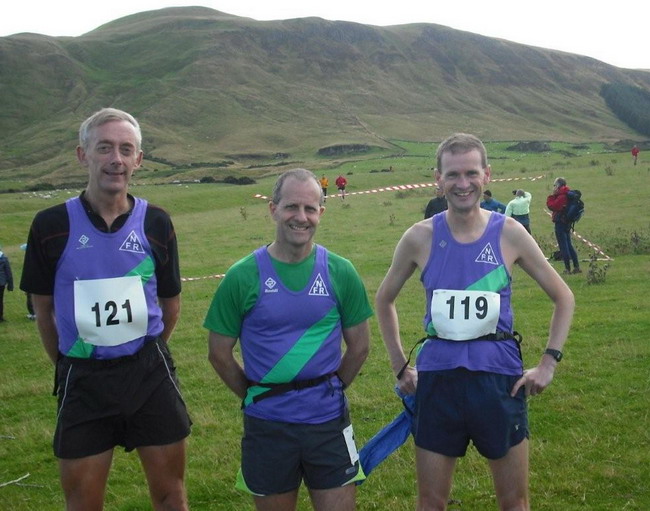 Dave, John and John at the start
The Lomonds of Fife Hill Race is best known for its steep descent from the last hill. 3 NFRs ventured north to see what it was all about. But we weren't the furthest flung entrants. The field of 80 or so runners included people from Sweden and Cambridge, all of whom had heard about "that descent".
The race starts in the shadow of the Lomond Hills and heads straight up the north face of West Lomond, the highpoint at 522 metres. All the height is soon lost with a steep traversing descent to the forest. After a couple of miles through forest tracks and paths, the route climbs past a monument before emerging on to the main ridge. From here there is an out and back section to East Lomond (424 metres) which gives a glimpse of the leaders as they begin their homeward leg. After a diversion to visit the old hill fort Maiden Castle, it is a long run back via some tussocky grass to climb West Lomond once more, before the infamous descent.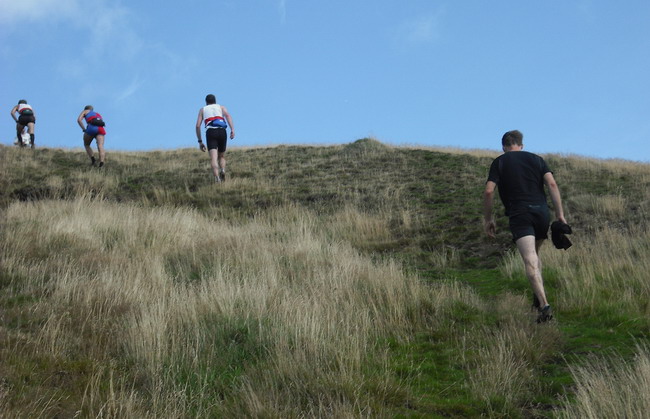 climbing East Lomond
A strong westerly wind helped us on our outward journey to East Lomond, but made for a slow slog back to West Lomond. The early rain had cleared and in the end it got out to be a beautiful day with blue skies. Some runners adopted the "bumsliding" technique for the final descent. Whether this is faster or not remains to be seen, as the other runners near me all stayed upright.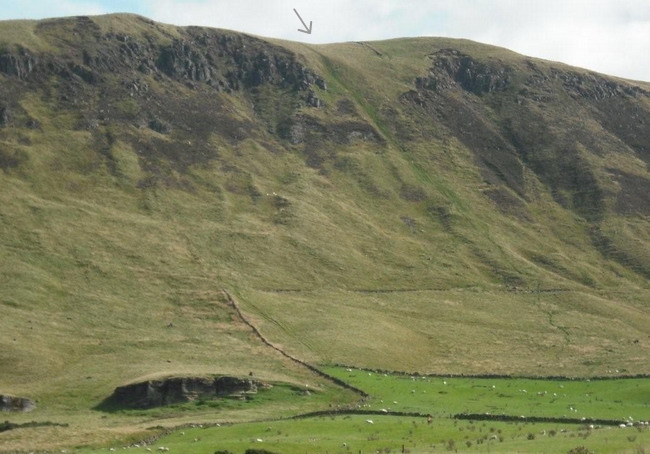 looking back to the final descent
The race packs 3,100 feet of climbing into its 11 miles and is surprisingly tough. I managed to beat the 2 hour mark. John Telfer came in about 20 minutes later, followed by Dave Johnson. Afterwards tea, crisps and bananas went down well in the local village hall where the prize giving took place. Brian Marshall won the race in 1 hour 40 mins and Carnethy took the men's team prize. There are results and photos at www.shr.uk.com . This was a very enjoyable race; many thanks to Alan Graham and his team from Lomond Runners who organised it all.
more photos from John
John Duff
'must see' video of the final descent from the race in 2007 on YouTube here