08/08/09
Morebattle Games Hill Race
- from Rob Stephens (photos from Rob & Pat)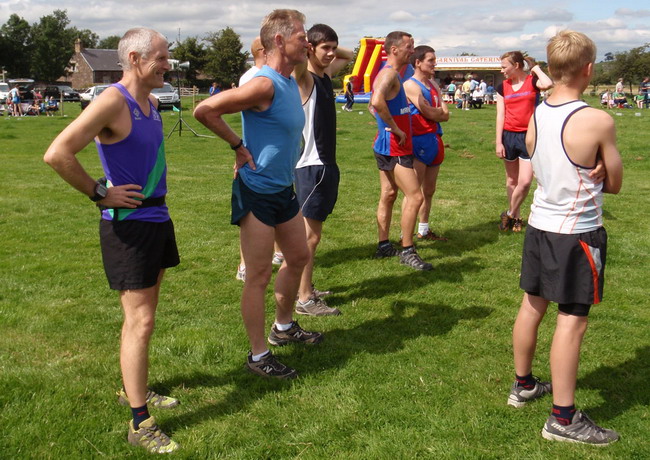 a small but perfectly formed field of runners
3.9 miles / 890ft
Part of a series of Borders Games around the region, Morebattle Games is a kind of running fest. A combination of confined and open races for all ages, and over a variety of distances from 80m up to the 4 mile hill race. Although the hill race is only £2 to enter, you need to pay to enter the games too (2 adults + car + programme = £8.50, plus race entry). But there is a lot of racing to watch, and if you're lucky, an aerial display, more of which later.
I couldn't quite understand the poor turnout for the hill race: it's a wonderful area (although a fair drive for some), and the race route looks interesting. It was good to meet Geoff Scott there, and with our two NFR vests, we had as large a team showing as any other club (Moorfoot Runners being the other pair). I recognised local chap Damon Rodwell (likely winner), and also young Rory Anderson (Thropton 2007 winner). All told there were fewer than 15 runners. No numbers, and the only categories being juniors, ladies and men.
With a loud crack and the whiff of starter pistol smoke, we all set off together from the centre of the arena. The route was a little uncertain, especially the return route; a quick pre-race recce of the first section with Geoff revealed no tape, so as a precaution we took map & compass. It didn't really prove to be a problem though: the outward route was on obvious track with marshals at intervals. A steady climb up onto St Cuthbert's Way and on towards the summit of well-named Wideopen Hill, amidst some of the finest hill country around.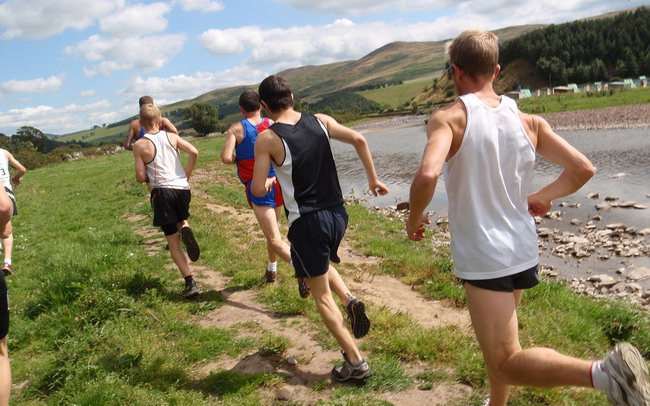 alongside the river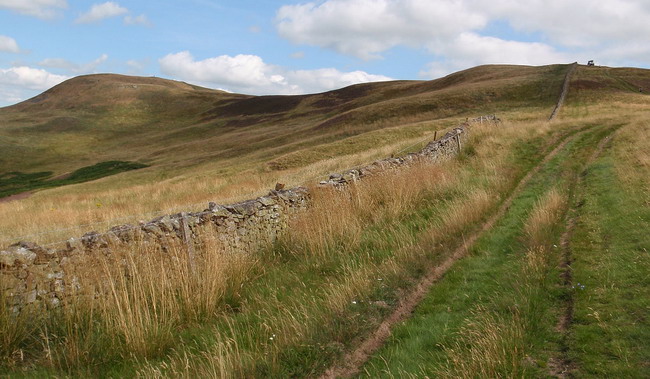 On St. Cuthbert's Way, Wideopen Hill to the left
From the summit it's a sharp drop back to the games field over rough and trackless hillside, but well marked with marshals to aim for. An excellent run back over the rough stuff, if a little nerve-racking for me with an already weak ankle. Damon Rodwell took an early lead, but unfortunately it seems the return route was a little different from last year and he went astray, leaving it open to one of the Moorfoot runners, Mike McGovern who went on to win.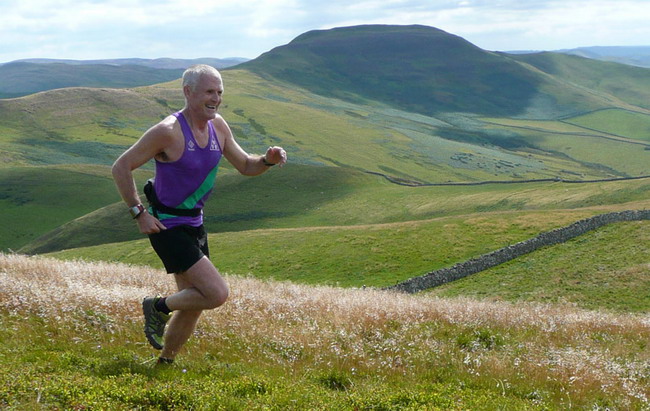 Geoff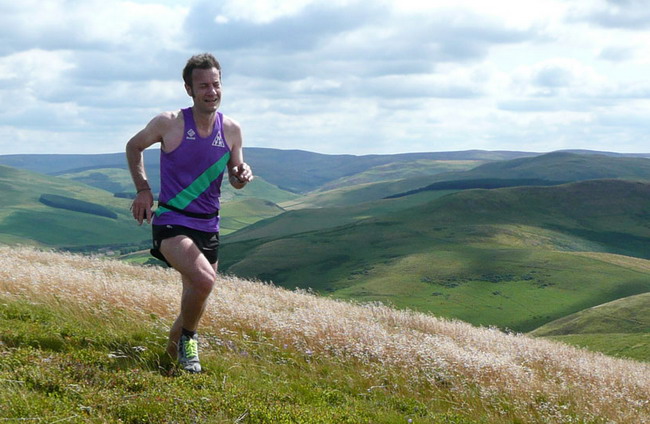 Rob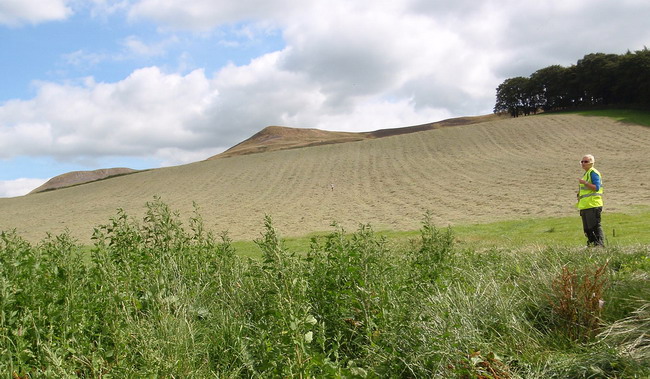 marshals line the route (looking back to Wideopen Hill)
Geoff didn't want to push too hard (with Lowther Trail Race the next day) but still had a great run to come in fourth; but as I found when I came in a few minutes later, times weren't being taken beyond 3rd place, so it was a little disappointing. In fact the arena was busy focusing on other more entertaining short races, so it was a bit of a flat finish for the rest of the hill runners. Although the winners of most of the races are now online, the hill race isn't mentioned. Ok, maybe now I understand why the hill race isn't so popular!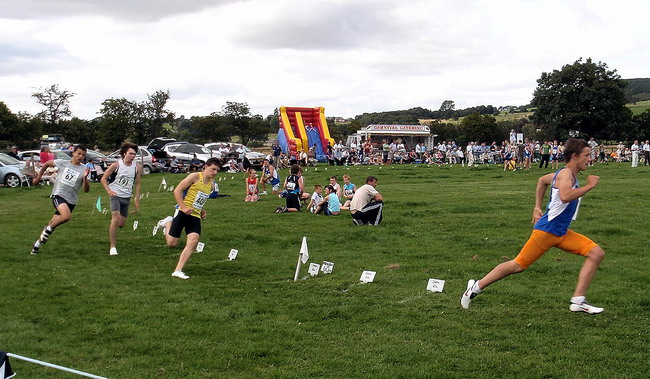 in full stride
Lots to watch after the hill race, with some exciting racing from all age categories. Towards the end of the show, there was a very special treat: the hum of Merlin engines announced the arrival of the Battle of Britain Memorial display. Not just a flypast, the Lancaster (the last flying one), Hurricane and Spitfire gave us a real spectacle as they headed back over several times. First the Spitfire dived towards us and then climbed, almost looping the loop. Then it was the turn of the Lancaster bomber as it banked around Wideopen Hill like a huge bird (we all wished we'd stayed up there for this) and descended towards us with landing gear down. And finally, the Hurricane, which although slower and less manoeuvrable did a lot more for us in WW2 than its more popular comrade-in-arms the Spitfire.
Really quite a fabulous display and emotional to watch.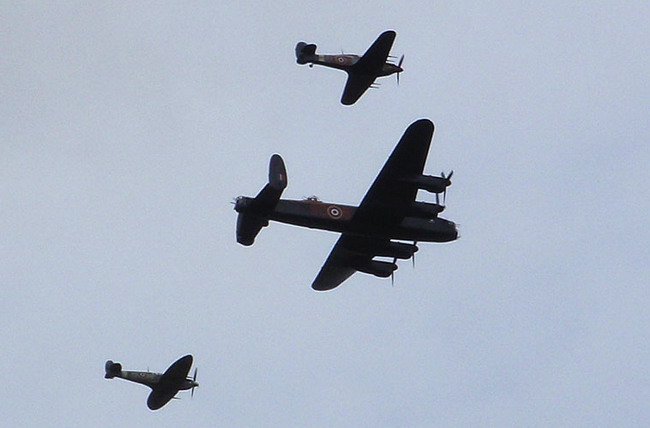 top to bottom, Hurricane, Lancaster, Spitfire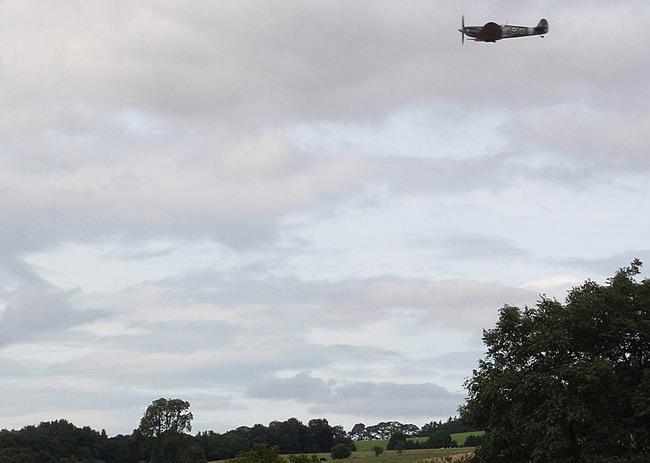 low-flying Spitfire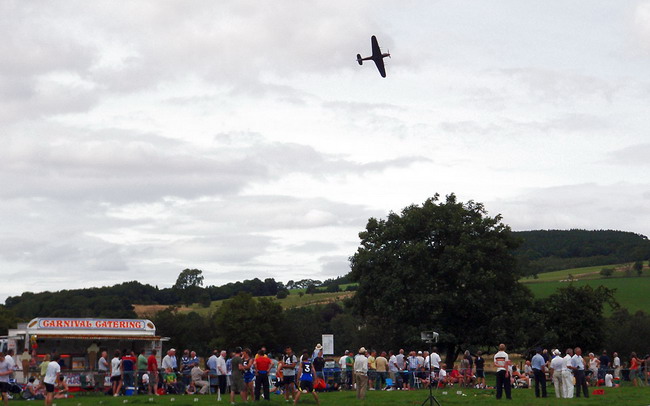 the Hurricane makes a turn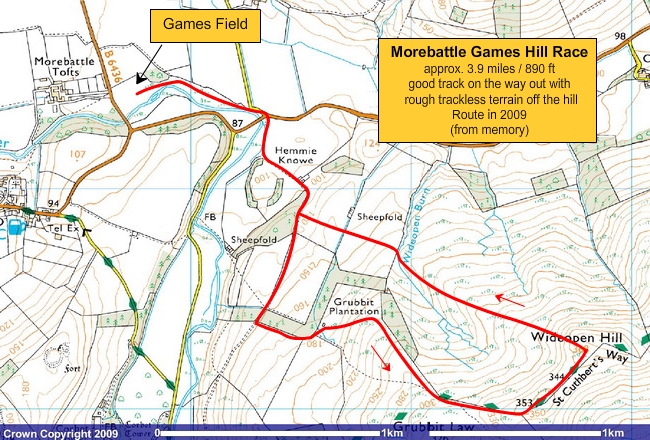 Image reproduced with kind permission of Ordnance Survey (Get-A-Map)
Rob Stephens
More info on the races Morebattle.com | Borders Athletics
more photos of the flypast from someone who must have been on the hill here