18/10/09
Saltergate Gallows
- from John Telfer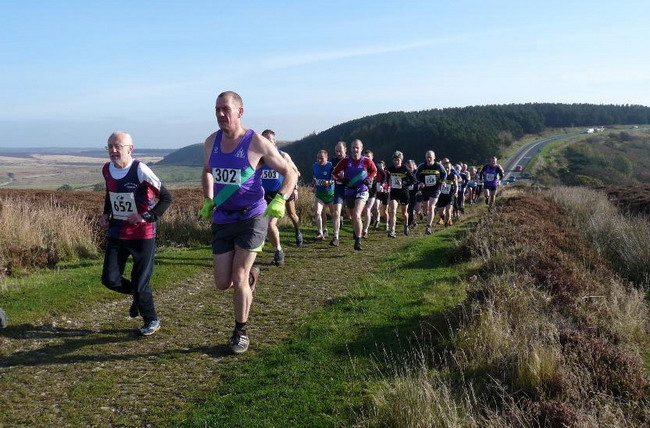 close to the start - photo: Dave Aspin
8.5m : 975 feet
Sunday October 18th 2009
A sunny, but rather cool, autumn day greeted the inaugural race of this year's Northern Runner Esk Valley Winter Fell Race Series under the excellent stewardship of Dave "no safety pins" Parry now been run in the guise of the recently formed Esk Valley Fell Club. There was a very healthy turnout but exactly how many will need to await the publication of the results on Esk Valley FC website.
Five NFRs made the journey deep into the North Yorks Moors; Phil Green, Trevor Wakenshaw, Graham Bingham and a brace of JT's, the Johns, Tollitt and Telfer.
The first two and a half miles felt and looked suspiciously like a bit of a cross country course as we strode across Levisham Moor, with next to no ascent or descent. This meant that those runners brought up on a diet of tarmac soon sped off into the distance, whilst those of us who were trying to preserve a bit of energy were able to take in some real "Heartbeat" scenery as we made our way along the escarpment.
Conditions underfoot were pretty dry and Phil and I found ourselves in each others company (again) for most of the race seeming to overtake more folk than overtook us. This included Bob Lillie, another founding father of EVFC and who in an earlier life had been my Mum's butcher whilst I was still in short trousers and singing soprano the school choir. So after exchanging a few words it was time to give him the chop, and whilst not making mincemeat of him, I did "steak" my claim for priority on the narrowing path. Phil followed suit having probably given Bob a poke in the (spare) ribs!
The first real fell action comes three quarters of the way along the delightfully named, Levisham Bottoms when the course dives down a kamikaze style ravine eloquently named the Angel's Staircase. Today the wooden steps were greasy and demanded respect otherwise you would be away with the fairies never mind the angels.
This takes you out at what must be one of the most remote railway stations at Levisham on the Goathland to Pickering NYM Steam Railway. As we passed under the line and into the woods they echoed to the sound of the steam whistle as the Pickering Pullman (or whatever it is called) went on its way. However, all romantic notions of the golden age of steam had to be quickly put to one side as it was hands on legs, head down and bum in air time to get up through the wood to get you to the delights of the even more eloquently named Yaul Sike Slack which is located above Killing Nab Scar (I promise these are real names and not just figments of my beer infused brain).
Then it is time to stretch your legs along some good forest roads and I managed to catch up with Phil Green who told me to prepare myself for a very steep and muddy technical descent, which I took to be some PG Tips (boom boom, sorry that one came to me whilst running and I needed to fit it in somewhere). This descent certainly did turn out to be steep, muddy and technical but like a couple of naughty school boys Phil and I managed to put a few of the more "timorous beasties" (© Robert Burns) to the sword before we emerged into the sunlight and ran along side and then over the railway having all perfectly executed the railway equivalent of the (Phil) Green Cross Code as per the official instructions (in case anyone thinks we were trespassing).
There then comes the final sting in the tail of two steep ascents interspersed only by a field of Highland Cattle, who looked a tad out of place, before leaping a couple of stiles before the dash to the finish where Dave "still no safety pins" Parry was taking due note of his returning flock.
JT (of the Tollitt variety) led home the NFR contingent with Graham not far behind. Phil and I continued our "formation finishing" put into effect at Ben Nevis last month. Phil has been fighting a foot injury and I had been coming to terms with an overdose of liquid refreshment the night before so we were equally handicapped. Trevor completed the quintet a short while afterwards whilst Phil and I were still wheezing by the side of the road.
A great morning out, but shame about the nigh on 200 mile drive home, and for those of you who liked the sound of this there are still another 10 races left in the series. Next up is the Gisborough Three Tops on November 8 at 10.30am.
Results should appear on the EVFC website and I did notice a few photographers out and about so keep your eyes peeled.
John Telfer
more photos from Dave Aspin