13/12/09
Simonside Cairns 2009
- from Old Cheviot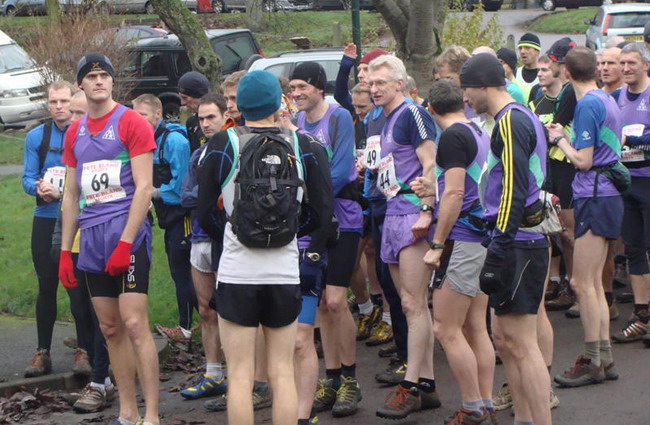 high spirits at the start - J. Bennett
There was a record turnout for the Simonside Cairns Race on Sunday 13th December. Scott Gibson led the charge up the first hill to Whitton and was followed by 115 other runners. Old Cheviot joined the massed ranks, leaving the fast runners to contest the leading places.
The day was cold but clement with the clouds high and just a gentle north westerly breeze. The clarts were not so clement. They were plentiful and from Lordenshaw onwards were a constant menace, ready to trap shoes and limbs of passing runners.
After passing Coquet Cairn and Selby's Cove, the race reverted to its original route through the trees with Christmas lights and songs to spur tiring runners onwards. The stiff climb to the summit of Simonside was followed by a glorious run-in along the ridge with views stretching northwards to The Cheviots. OC stirred his aged bones into action, endeavouring to catch the purple and green vests ahead. But whilst the spirit was willing, the flesh was weak and he settled for a steady run-in past the tower and down the hill into Rothbury.
At the sharp end, James Buis (Heaton) won, making it a double with his victory at The Hobble. Adam Fletcher (Wooler) was second and Ally MacDonald third. Karen Robertson won the ladies' race ahead of Claire Jackson (Allen Valley). NFR took a clean sweep of the team prizes. Lee Bennett, Chris Sanderson, and Scott Gibson won the men's prize. Karen Robertson, new recruit Henrietta Bolton Carter, and Sally Welsh (making a welcome return to the fellrunning scene) made sure that the ladies matched the men.
The race was excellently organised by Paul Appleby and his team, to whom many thanks are due. Next race up in the championship is Wansfell; and there's always the Hillforts and Headaches race at Rothbury to see the New Year in with a bang. In the meantime OC reckons that he's due a swift half or two after all that effort – strictly for medicinal purposes of course.
Old Cheviot