26/09/09
Two Breweries
- from Old Cheviot (photos from OC)
Old Cheviot waited expectantly at Traquair House for the start of The Two Breweries Race. Amidst the excited chatter of his fellow runners, he thought he could hear a far-off murmur. But it was indistinct and soon lost as OC joined the cavalry charge at the start along the road to the open fell.
The first climb was mostly runnable, and OC kept an eye out for the locals who knew the elusive trods that led to the main path. The views over the border hills were superb and there was enough of a breeze to keep the day cool. After summiting Birkscairn Hill, there was a steep descent to Glensax before the biggest climb of the day up Hundleshope Heights. As OC contoured round to the next hill Stob Law, he once more caught snatches of the faint murmur. But again it vanished as he descended quickly to the welcome drinks station at Glenrath Farm.
As he began the ascent of Whitelaw Hill, OC was on his own with no other runners to follow. This section was tricky with an intricate route up forest fire breaks. Again OC heard the far-off murmur, this time interspersed with a faint chinking. Still uncertain of what it was, OC pressed on with fresh resolve, and soon he was descending the stony path to Stobo Home Farm.
As he began the long approach to the final hill Trahenna, the murmur rose to a definite call. OC responded by raising his pace and even managed to shuffle past a few runners. After a seemingly never-ending trudge up Trahenna, OC reached the summit and could enjoy the long descent to Broughton. The call had now risen to a clamour, and OC cajoled his aged bones into a final dash for the line. As he crossed the finish at Broughton Ales, he was presented with a bottle of Tibbie Shiels Ale. And now OC realised what he had been hearing throughout the race: the beer bottles at Broughton Ales had been calling him to the finish.
As OC rested his weary limbs at the finish, he reflected that FRA kit stipulations lacked one important item: a bottle-opener.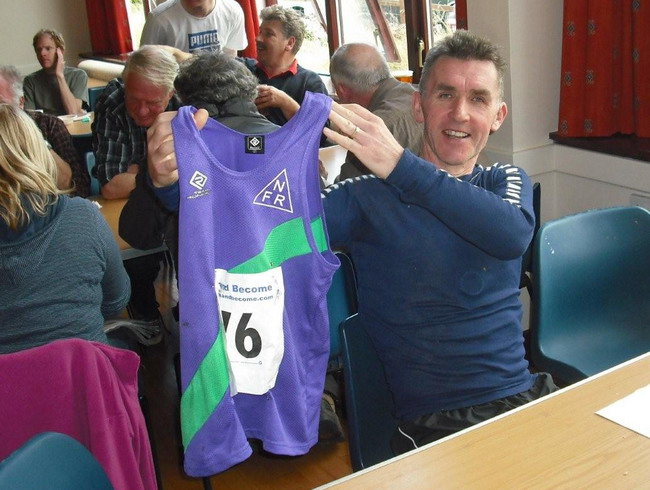 new NFR Alastair Paul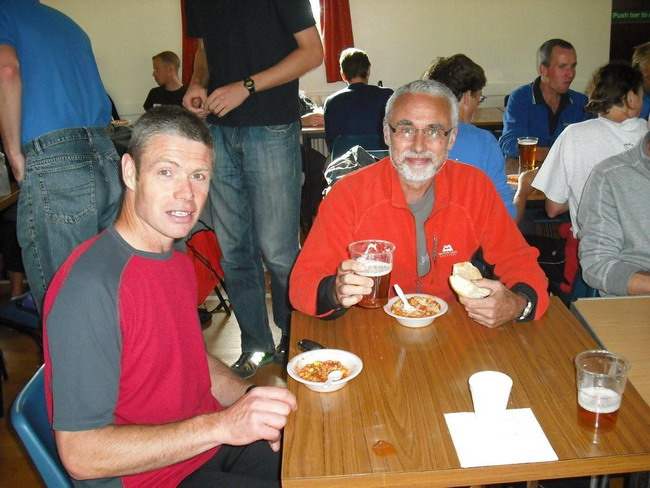 Paul and John
more photos from Old Cheviot
Old Cheviot
results and photos on the Scottish Hill Runners website