28-30/08/09
Ultratrail du Mont Blanc 2009
- from Jane Grundy

Vallorcine, 8.30am Sunday 30th August 2009. 38 hours into the race, and having run through a second sunrise (stunning, looking down the Rhone Valley from Les Tseppes), I was leaving Vallorcine for the last 'bit'. There was still somewhere between four and a half and six hours to go, an 800 metre climb and another massive descent into Chamonix, but unbeknown to me, a strange out of body experience was about to overtake me. Finishing was not in question now.

I had been quite determined that not finishing was never an option, but, that said, I now really knew it was true. Lewis had met me at Vallorcine and a change of top, back into sunhat and sunglasses, some more food and drink, a kiss and I was off. Lewis had finished the CCC (98km, 5400m ascent) in the early hours of the previous morning, in 41st place overall and 1st British finisher, grabbed some sleep and then came out to support me.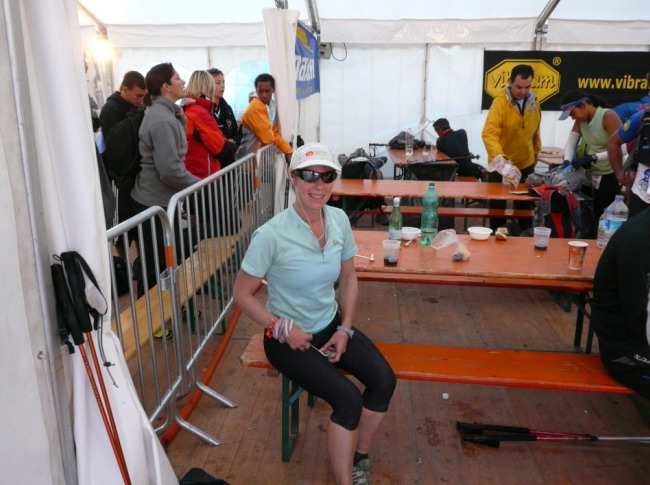 Ready for the off at Vallorcine
I stomped off up to Col des Montets, overtaking everyone in front of me, lots of people were fading now. I seemed to be just warming up. I cannot explain it but I did not feel tired, I felt no pain and could not stop smiling – perhaps that bit I can explain! I had reserved my ipod for this last section, and it was amazing how it helped to lift me. I have never seen Lewis so happy (apart from, perhaps, our wedding day) as he was at Col des Montets – I think he had now realised that, following some worrying moments from his side of my race, he will not have to later deal with a partner once again demoralised by not completing the UTMB. I continued up the the climb to the Tete aux Ventes, at a pace which surprised me, and just continued overtaking. I felt great. It was a lovely feeling – I really really could not stop smiling as the absolutely stunning views unfolded over the Mont Blanc range, sun shining accompanied by all my favourite songs. Wow!

I picked up my 'Finisher' jacket almost exactly four hours after leaving Vallorcine in a bit of a daze. I think I've done it. It certainly hadn't sunk in then, and it barely has now. Ushered through the finishing funnel, electronic tags cut off my wrist (and then the ribbon returned to me); 20 euros thrust into my hand (the deposit for the electronic tag); the sought after finisher jacket claimed; finally I emerged from this efficient conveyer belt to a big hug from Lewis. Mandy Goth and Paul and Deborah Hainsworth were around too. I was sat down on a chair found from somewhere, given food and drink and tried to soak it all up, a tear (of happiness) rolling down my face.

Finished!
'Allez les filles'; 'Allez Jane' (How do they know my name?); 'Une fille, allez, bravo' 'Bon courage, allez'
And so on. For forty two hours (and 10 minutes). They knew my name because it was printed on my number – which, under race rules, had to be clearly visible at all times. The race support is amazing, people dotted all along the course at all times of day and night, cheering, clapping, ringing cow bells and going totally beserk when they realise it's actually a 'fille' coming through! The start line is a buzz of runners, supporters, cheer leaders, helicopters; the whole thing aimed at 'bigging you up' and making you believe in yourself and the fact you could do it.

And I did. Believe in myself. This year, I had worked very hard at that and was determined that nothing was going to stop me finishing. My mindset was 'I can', rather than 'can I?' and it seemed to work. It wasn't ever going to be the fastest time, but I knew my preparation was good, I was strong, fit and had a lot of ascent under my belt. I'd done a few things differently in training - a bit more ascent, a lot more speedwork and lost a bit of weight. Also, equally importantly, I had decided that I was not going to be a slave to a schedule - and – I had poles, which definitely worked. After last year I knew my dropping out was not a physical thing – it was all in the brain, so I was this year secure in the fact that I could get round.

In fact, I felt on top of it. I set off and was happy to be finally underway, as starting a long race at 6.30pm in the evening means keeping sane all day and controlling the excitement/nerves. I met Paul and Deborah in the square which helped to keep my mind occupied, and then Eddie and Sue Watson popped down who I haven't seen for ages, so had a quick catch-up with them.

My times early on were remarkably similar to last year, but I was enjoying the moment and the running – not worrying about schedules. There was a mere glimpse of a sunset through the clouds over the Bionnassay as we turned away from the Chamonix valley and the gathering gloom turned into darkness on starting the descent into St Gervais. One climb done, a further 9 big climbs to go. St Gervais was a thriving mass of people and again the atmosphere was incredible. Kath and John Dallinson were there, cheering me on with Deborah. Through the control and off up the valley to Les Contamines. Here things were a bit quieter as people prepared for the real onslaught of the night. Already 5 hours in and feeling fine, I kept going and somewhere between Notre Dame and La Balme caught up with some fellow runners from Todmorden and Team Krypton, Chris Preston and Richard Leonard. It was so good to have some company and we seemed to be going at about the same pace.

On reaching La Balme we stopped for the life-saving noodle soup and actually had a sit down – the first one of the night after 7 hours of running. This was another of my new strategies – to sit down at the major controls and give the legs a rest. Chris and Richard said they were happy for me to stick with them, but we agreed that if our pace started to differ significantly we would split. In the end we were together for about 24 hours. Richard had finished the UTMB two years ago just getting in inside the time limit and Chris, like me, had a dnf to put right from a previous year. Though I knew both of them by name and sight, we did not really know much about each other, so spent some hours exchanging life stories which seemed to pass the time well. Going up to the col and along the ridge to the Refuge du Croix de Bonhomme felt a bit like a fell race in Scotland – claggy and cold, but soon we were out of it and on the long descent to Les Chapieux. More soup and cake and then on our way up the road until joining the path which climbed to Col de la Seigne. I will never forget the view as you look back from that climb all the way to Les Chapieux and just see an endless line of headtorch lights tailing down the hill and back into the distance. It was light when we reached the top and we jogged down to Lac Combal – in the morning chill.

On the run down from Col de la Seigne to Lac Combal we had time to wave at the helicopter, which I can only assume was filming for the DVD, above our heads. It was at Lac Combal where I found out that Lewis had finished the CCC in 15hrs39 and was 41st overall. It's always a risky business finding out how your partner is doing, as it could have an impact on your own race, but I simply had to know – I now knew he would be a very happy man, and, if the plan was working, he would be asleep now and then coming round to La Fouly or Champex to see us that evening. On up to the Arete Mont-Favre, a beautiful peak which separated us from a long descent into Courmayeur and some pasta, change of clothes and general pampering session – well, not quite a spa, but in my dreams…………..

The Courmayeur control was busy, and queues for pasta and food delayed our stay a bit. So it was about an hour later when we finally emerged, and had some work to do. It was now almost midday, so the climb to Bertone was hot, but still nothing like the stifling heat of the year before. Quick stop for a cold drink and then onwards along the beautiful contour path to Bonatti. Well, that is contouring with a significant amount of 'up'. And it's probably even more beautiful when you have not been running for 20+ hours, but the sun was out, and a gorgeous cooling breeze kept energy levels up.

The Bonatti refuge is always further than it looks on the map, I have now run that section twice in recce runs and also in last year's race, and it never comes too early. To get to it there is a short, sharp climb at the end, but once there it's the traditional warm welcome and volunteers rallying to get you stocked up with food, more by now infamous soup, and drink.

About an hour later we arrived in the control at Arnuva – the metaphoric cupboard where my skeletons lay. I had asked of Chris and Richard that we deliberately did not spend too long here – partly not to waste time but also so I did not get too reflective………… So after about 10 minutes we were off up the climb to the Grand Col Ferret – still a long, long way to go, but a psychological point in the race and especially so for me, once over the other side you found yourself in Switzerland. Ironically we got into Arnuva about 10 minutes later than I did last year, but I was in such a different mindset and knew this time that I was going to finish. However, whilst I was keeping going quite happily in steady shuffle mode, Lewis, of course, was getting SMS texts as I went through controls, and, as I had decided not to carry a mobile phone, that was all the information he had. He was not aware that I had found some friends to run with and so was worrying that I would be upset with my times and wondering if he would have to be talking me into not giving up. Nothing, in fact, could have been further from the truth - but Lewis was there last year, and has seen me through two aborted Bob Grahams before my final successful one, so I can certainly understand his worries.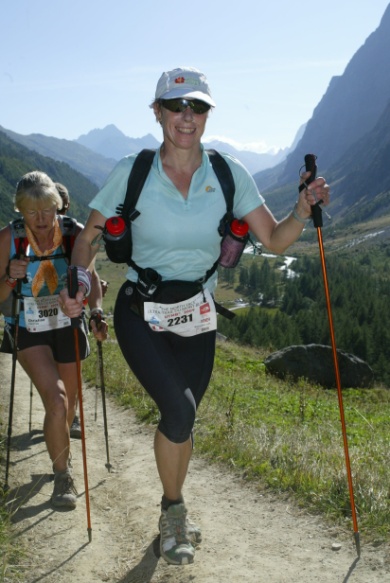 Starting the climb to Grand Col Ferret
We were going strongly up the climb, and overtaking quite a few people along the way. Chris was setting a brisk pace and it was getting colder and windier now, so we stopped to put a jacket on before reaching the col. The col itself was freezing, and we had a minute of warmth in a small perspex cabin which someone had kindly positioned there, I suspect for emergency cases, but no-one seemed to want to evict us from our brief respite. It was now 6.15pm so we were all about to enter the unknown in that none of us had run continuously for more than 24 hours before. We jogged down the gentle gradient to La Peule and on to La Fouly –which we reached a couple of hours after leaving the col. I was not sure if Lewis would be here or at Champex-Lac, but was really pleased to see him here as we checked into the control.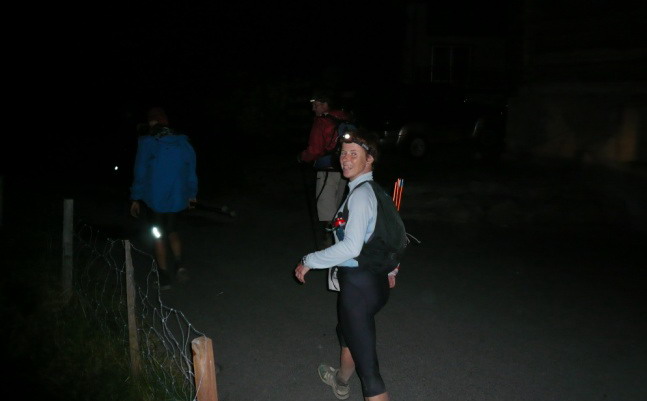 Leaving La Fouly
Lewis was super, he had brought loads of alternative food and options to that which we had been getting at controls all race. Richard enjoyed a quiche and I, for some reason, opted for a white bread, processed cheese sandwich which I subsequently dipped into my soup. Obviously being on the go for 26 hours was beginning to affect my choice of favourite food. I was still eating and drinking well, but it was really refreshing to have some different options. As we left Fouly, it was dark and we maintained a good pace along the gently downhill path, track and road to the start of the 'only 350m' climb up to Champex. Lewis saw us go through the road crossing and cheered us on our way. The climb seemed to last forever, and people were falling off the path and wobbling about all over the place. We eventually topped out in Champex and clocked in at about a quarter to midnight. Lewis was there again with a hug and put a plate of pasta in front of me. I was still amazingly with it and put some more clothes on as the temperature was dropping now.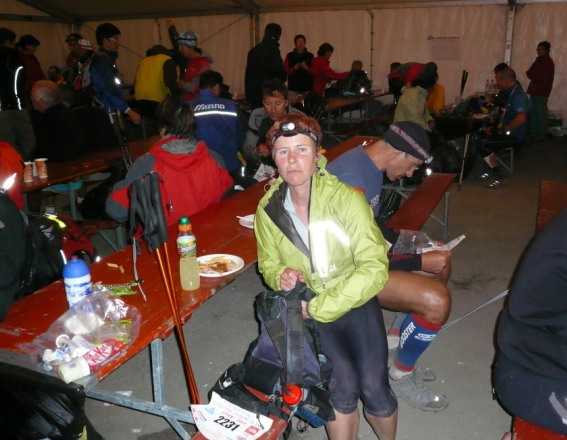 Champex Lac, Midnight – after 29.5 hours
I think the climb to Bovine, in the dark, is one of the toughest parts of this event. It was now about 1.30am on the second night and whilst I felt quite good, considering, co-ordination was not what it was and the rocky steep path seemed interminable. I had done it in daylight with Paul and Lewis during the recce but it takes on a different personality in the middle of your second night out. Eventually, after what felt like a very long time, we got to the top of the climb, where the path levels out onto a lovely contour around the hillside to the Bovine control. I had decided that I needed to leave Chris and Richard, as I really did not want anything to get in the way of my finishing, and I was concerned that if we continued to slow down, there was a chance that we may not get in to Chamonix in the time allowed. I did not feel good about this decision, however, as we had happily kept each other company for just over 24 hours and the power of that mutual encouragement and camaraderie that comes with that cannot be underestimated, definitely a major contributor to my eventual success. I was therefore heartened when Richard and I caught Chris up at the top, and she echoed my thoughts, actually telling me to go on and leave them, which made it easier for me. I needn't have worried, they finished together in fine style, about an hour and a half after me into Chamonix.

So off I went along the path and reached Bovine quite quickly. A short climb to a gate and then down to Trient, that descent was long and quite hard work, but I did catch a few people up on the way. It was a lovely evening now, still, clear and calm, and though chilly, not as cold as the forecast had suggested. Trient at 5am and I had a 10 minute stop for the coffee and soup. The climb to Les Tseppes was good, although lots of other people were really wobbling about on the path now and many not able to walk in a straight line! As I contoured around to Catogne the sun was coming up over the Rhone Valley and it was a beautiful sight. Catogne came and went, just a recording station and then a long descent into Vallorcine. Lewis had gone to get some sleep after seeing us at Champex and had uttered doubts that we would be in Vallorcine before 8am, so, obviously, I was determined to prove him wrong. In fact, as I jogged in at 8, he was not quite ready – and I took him by surprise!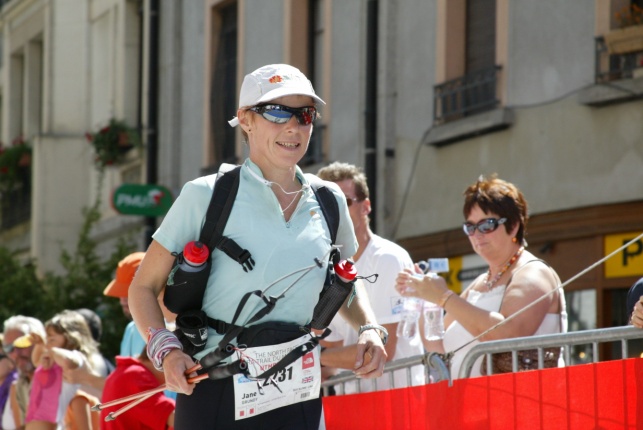 Finisher!
What an amazing weekend, to have finished such a race is an amazing feeling – the event is superbly organised and gives you a feeling of being part of something truly special. The superlatives could go on forever, and the memories certainly will.

And the stats, for the record:

811TH place overall out of 1383 finishers and 2286 starters, 50th lady out of 100 lady finishers and 179 starters, 17th LV40 out of 39 finishers and 1st British LV40.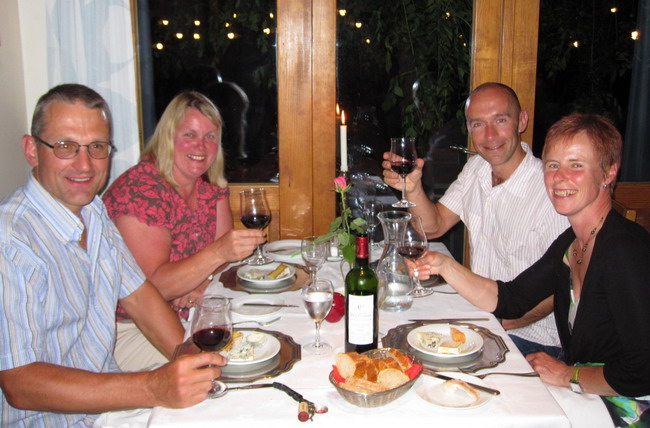 Celebration dinner with Paul and Deborah, 7 hours after I finished!
Jane Grundy