27/12/09
Wansfell
- from Paul Appleby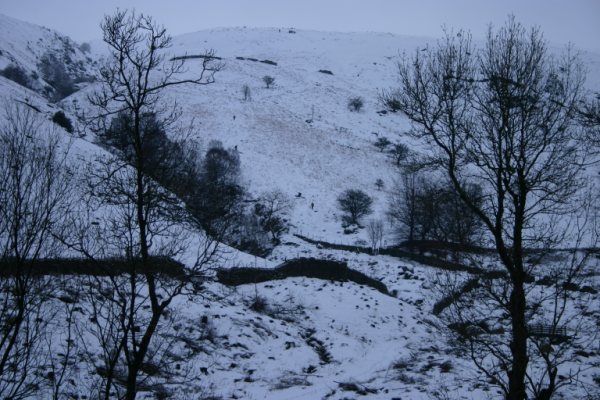 Wansfell race - photo: Will Horsley
2.5m / 1500ft
Six hardy NFRs turned out for the final race in this year's NFR championship, with 2 categories being decided in this last race. The race starts in Stockghyll Lane, Ambleside and 108 runners lined up on a cold but dry morning with a good covering of snow on the fells. Hot favourite Rob Jebb is amongst the front runners who are quickly out of sight on the road section past Old Kelswick School.

Across a couple of fields before the real climbing starts with a steep slog, I mean walk, with hands on hips or knees for all of the mid-lower field runners, maintaining position if possible to the top, where completely out of breath you have to try and start descending through knee deep snow. Staying on your feet becomes very difficult and several runners take tumbles in the soft snow but are generally straight back up for more in what becomes a great descent before hitting the road section back to the finish.

As expected Rob Jebb is first home in a good quality field. Will Horsley has an excellent 9th place finish to secure the senior NFR championship (this after an early morning yomp up Helvellyn for an invisible sunrise), next NFR home is Dave Atkinson to secure the V45 championship, followed by myself, Graham Bingham, new NFR recruit George Nicholson, and Joe Faulkner.

Tea and mince pies were enjoyed in The Lakes Runner Cafe, followed by a pub lunch for a few of us in The White Lion Hotel, making for a memorable end of year race.
Paul Appleby
a few more photos from Will