05/06/10
Alwinton Fell Race
- from Keith Cooper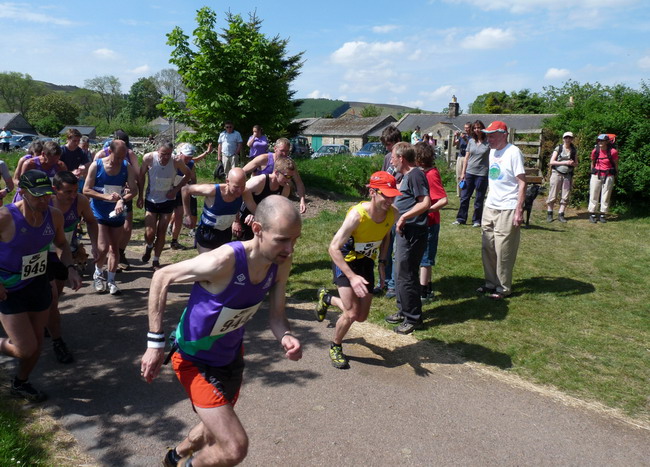 Phil and Matt Whitfield battle from the start - photo: R.Cooper
The Alwinton Fell Races are now reduced in number to become the Alwinton Fell Race. In keeping with the trend the numbers were down again on previous years. This wasn't totally unexpected with other events taking place on the same weekend. On the plus side there were a surprising and pleasing number of entries from senior men.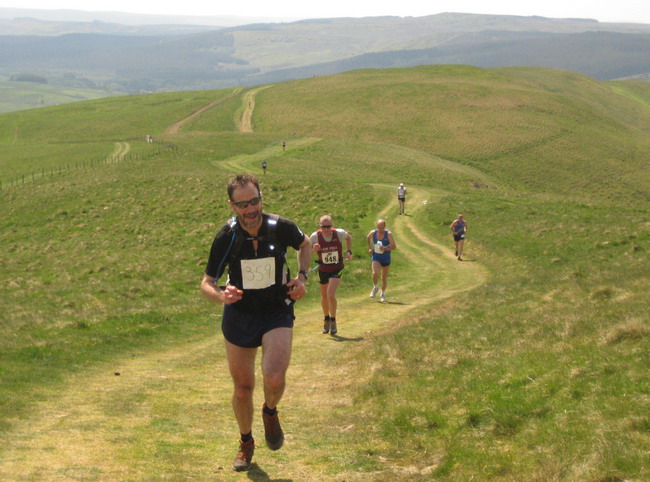 runners start to spread out - P. Cooper
The weather was hot with a cooling breeze at times. The going exceptionally dry so a fast time was a possibility. Matt Whitfield (Bingley) and Phil Sanderson (NFR) battled for 1st place throughout the race. Phil was better on the hills but Matt was faster on the flat and it was that factor that seems to have counted in the end with Matt drawing away from Phil after Cushat Law to finish in a time of 1:35:20. Lee Grant 3rd placed unattached runner was a couple of minutes ahead of Morpeth Harriers Gordon Dixon making a return to the fells after many years. He was 2nd MV40, only two weeks short of becoming fifty. The actual 1st MV50 was Chris Waugh also of Morpeth finishing in eleventh place in a time of 2:06:47. Peter Whewell (NYM) 1st and only MV60 crossed the finish line to arrive on cue at the prize giving.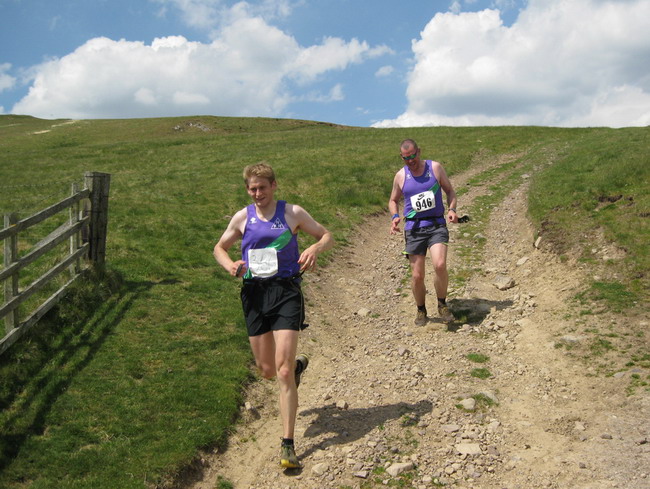 James & Phil - photo: T. Moran
Sue Mitchell (NFR) took the dog for a long walk and finished as first senior lady and 1st LV40. Ruth Fletcher took the prize for 1stLV50 and not for being the self-styled "noisiest, oldest lady",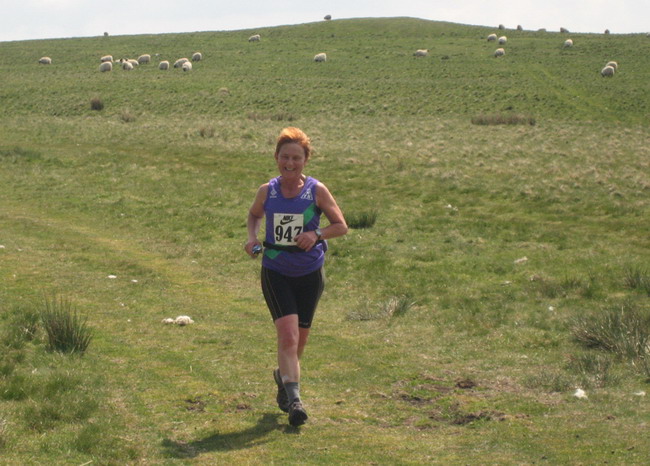 Ruth - P. Cooper
Many thanks to all who once again supported the race (nearly as many as took part) North of Tyne SRT, Gareth and Jane Latcham at the Rose and Thistle, Team Green, Pat and Richard Cooper, Ken Rawlinson, Peter Carmichael and finally Tony Moran (Gate keeper and part time shepherd).

mug prize - photo: R. Cooper
photos from Pat Cooper | Richard Cooper | Tony Moran
Keith Cooper (race organiser)
more photos from Thora Sanderson