09/10/10
Alwinton Show Fell Race
- from Steph Scott and Will Horsley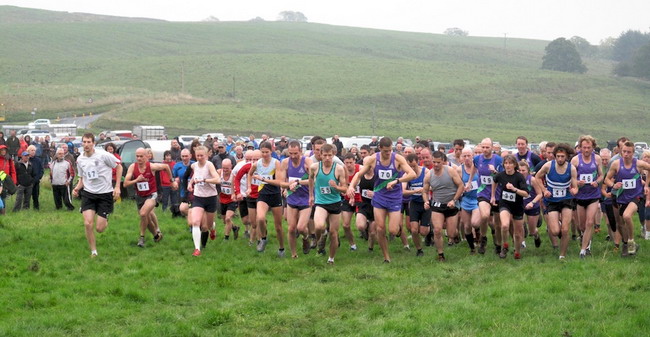 photo: Ronnie Fraser
Steph: Yep! Fast Short (not me the course!). Lots of folks who had obviously smelt the money. Good news is that Nick Swinburn must surely slow down with all those winnings in his pocket. Not bad for 15 and a half mins work. Well done Nick! Some speedy young things managed to push Karen down to 3rd in the ladies race. The winner was apparently an international steeplechaser (from Chester-le-St). Could have done with her legs myself to clamber over those fences! I think Sue would have been 4th then Katherine then me. I think Lee Bennett and Will were in the money and maybe Scott (or was he just trying to 'collect' someone elses prize?!)
All good fun!
PS well done to Jill Bennett in her debut - shame her vest seems to be the wrong colour!
Also Robyn Bennett and Emily Davis ran the junior race (and got some money!)

Will: Nick was claiming he was knackered at the start, but as I said, I am sure a knackered Nick Swinburn can still win this race comfortably. Great turn out from NFR - also there (if not mentioned by Steph): Dave Steel, Bernard Kivlehan, Terry Hart, Chris Winter, Dave Wiseman, Allon and Sally Welsh (not running though), and I am sure others. Good report on Elvet Striders website with some photos.
results of the adults race
more photos from Ronnie Fraser