24/04/10
Anniversary Waltz
- from Phil Green (photos from Phil)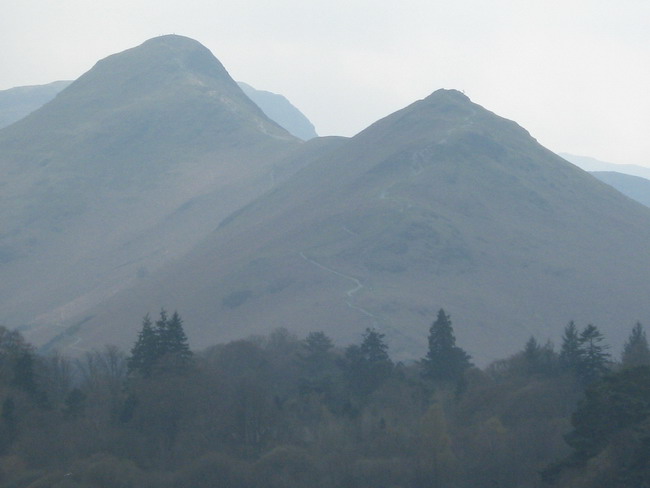 Catbells
This years race was held in unseasonably warm spring weather. Trev Wakenshaw had heroically started an hour and a half earlier on the new teenager with altitude race (report please). Starting this year were Dexter, John Duff, Dave Johnson and Myself. (David Steel had entered but I didn't see him at the start)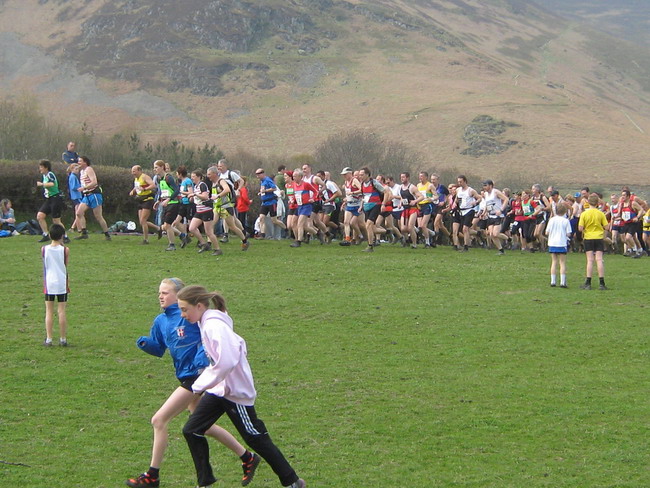 Seniors set off while the juniors warm up
The race started as usual with a lap of the field then up the road towards Catbells farm and the mineral track towards Little Town. This is a long slog best suited to speed merchants. The climb to Robinson brought a relief albeit temporary, I tried the direct climb missing the first rocky step and found it as quick as the grassy main route. The false summit led to a steady climb and a run across the summit plateau with Emma of FRA Forum fame as company towards checkpoint one.
A splendid grassy canter down to littledale edge then a steady trot most of the way to Hindsgarth summit got us to checkpoint two. The run across to Dalehead gave panoramic vistas over the Scafell massif and the central fells. Dalehead brought a brilliant view down the Newlands valley, but not for long!
I went for the Borrowdale approach and went looping east hit to the screes perfectly for a rapid descent to the tarn. This allowed me to gain a hundred yards on the people I was racing. John Duff did the same and with similar results only faster.
I wished I had taken on water at the beck at Dalehead later in the race.
The climb to Maiden moor was cheered up by Fred Smith from Saltwell harriers.
Then it all went a bit wrong as the heat sapped my energy and strength, I had used my last water on the last climb and the quite long run to Catbells seemed to last for ages. I chatted to a lad from Morpeth about joining NFR ( YOU SHOULD JOIN ) and this helped pass the time.
The grind up Catbells rallied me to eat jellybabies and push on with the prospect of free beer at the end. The best bit of the race is the bomber descent down from Catbells top to the farm road and home. The blurred and snatched overhearings of the tourists ranged from "oh my god" to "nutters" as we clattered down the rock steps. Great bit of bumslidding down the steep grass led to the descent track and a belt down on stiffening legs.
The track back to the field brought water and a sit down, great fun will be back next year
Whilst I was away Thomas had been running in the U12 Wa! Race which was English junior championships again. He managed a good midpack finish in the face of stiff competition. He's coming back for more next year as well.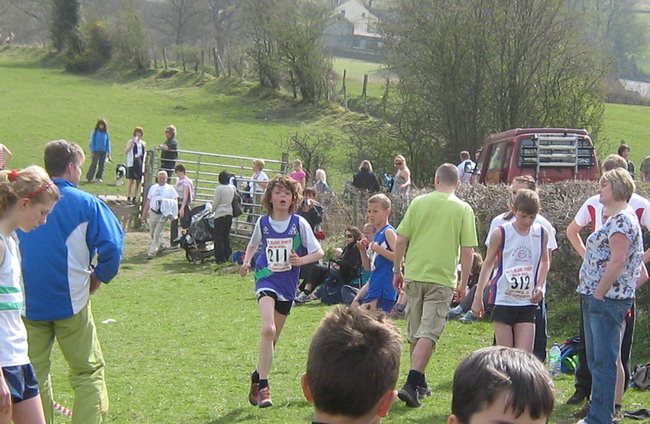 Thomas at the finish
more photos from Phil
Phil Green
results on Anniversary Waltz website