29/03/10
The Blakey Blitz
- from Dave Johnson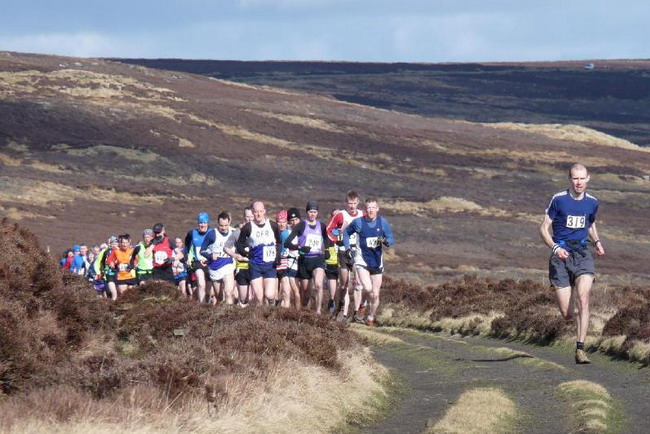 photo courtesy of Dave Aspin
Five NFRs made the trip to North Yorkshire, for the second running of The Blakey Blitz, the penultimate race in the 2009/10 Northern Runner/NEHRA Winter Series.
It looked like a really pleasant, sunny early spring day, until you stepped out of the car and encountered the bitter arctic wind that was blasting across Blakey Ridge. Fortunately it was much more spring like once you got down into the sheltered dales.
I think this is my favourite race on these moors. It's one of the few A class races hereabouts with almost 2600 feet of climbing in it's 10+ miles.It's also one of the few races that has an uphill finish. It starts with a fast downhill run into Rosedale to warm you up and then takes you over the moors to drop you down into Fryup Dale. A very stiff 500 feet climb out at the head of the dale takes you are back onto the moors and heading for home, following much the same route as on the way out. A gloriously fast descent takes you back to Rosedale but the enjoyment is somewhat tempered by the knowledge of what is to come, a 600 feet climb back onto The Blakey Ridge.
Phil Sanderson kept his 100% record in the series by making it four wins out of four. Charles Stead was 3rd, Chris Sanderson 15th, Dave Johnson 69th and Trevor Wakenshaw 89th out of 112 starters. Out of 9 teams, NFR came in 3rd.
photos at Dave Aspin's site
Dave Johnson
results and organiser's report on Esk Valley Fell Club's site