25/09/10
Border Reiver Fell Race (Upper Redesdale Show)
- from George Nicholson (photos: George)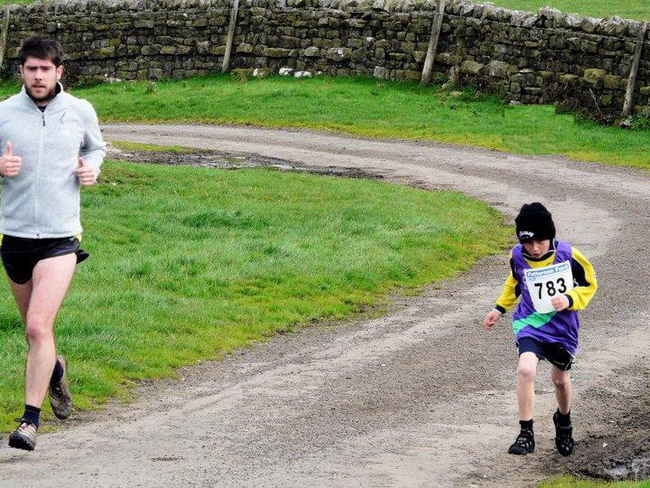 After recently returning from a fairly substantial injury layoff, the thought of running the 18 miles of the Two Breweries wasn't giving me a great feeling. However the 3.3miles of the inaugural Border Reiver fell race sounded like a much more sensible and manageable option; and with Lewis chomping at the bit to make his NFR debut, the promise of an under 10's race made the decision even easier.

So off we trooped to upper Redesdale, where we were met with a completely unexpected 8 degrees Celsius. Great!

The race itself was a bit of everything terrain wise, with a fairly steady drag up through a grazed field, followed by a long steep slog up a well used forestry road, this really got the lungs going, the thighs burning, and seemed to never end! Once we hit the top it was a sharp right hander and onto a descent over open fell, it proved to be trickier than I thought to pick a way through the long grass and tufts.  Having managed not to break my ankle I reached the next turning point which sent us straight back up the other side of the fell we had just come down, I love it when race organisers do this! I found the second climb to last even longer than the first with the same tufts of grass once again hindering my progress, although my lack of fitness also played a fairly big part in this too!! Once the summit was reached it was all plain sailing and a lovely grassy descent into a farm yard and a bit of a road finish, all in all a great fast route, with a couple of testing climbs. I was over the moon to be able to claim 4th place, although it is at this point I must state that there were 7 starters and 1 went the wrong way!
The junior race (which seemed to have more competitors than the seniors) took place over the first grazed field of the main race, then back along the road, Lewis had a storming race and took second place beaten only by a lad a few years older than him, he was awarded a medal, certificate and prize money amounting to £3, this enabled me to buy a hog roast bun! Lovely.
A great day out, which has left one young fell runner bursting for his next outing.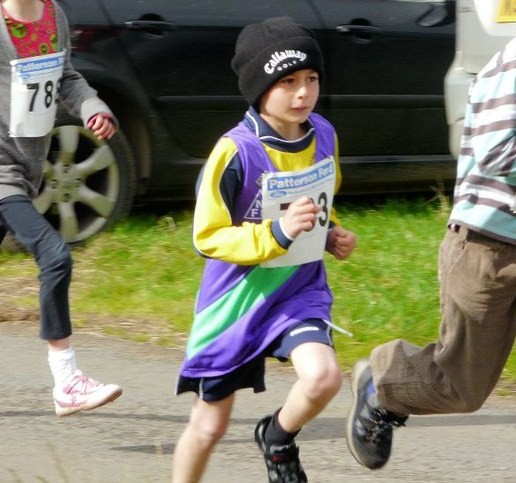 Lewis has a storming run - G.Nicholson
Also there from NFR was Mike Telfer who claimed 2nd place, his two youngun's both claimed prizes in the under 10's and under 6's. The senior race was won by Lawrence Johnson of Low Fell.
George Nicholson