07/08/10
Borrowdale Fell Race
- from Old Cheviot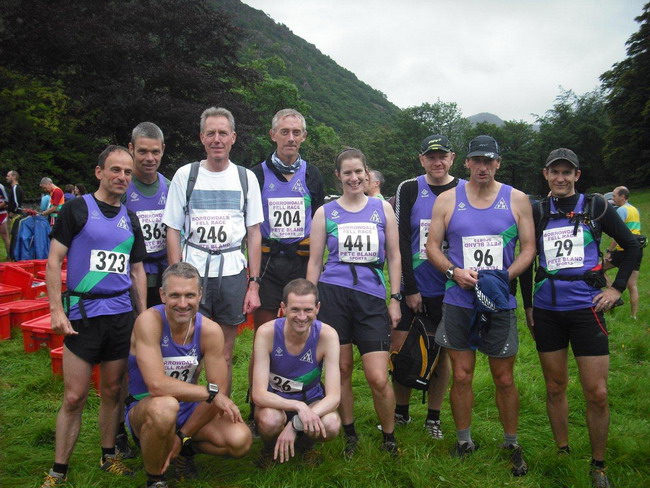 NFRs ready to run - photo: John Duff
Old Cheviot stoically plodded up Dale Head.  The hill seemed never-ending and possessed more false summits than OC had had hot breakfasts.  He reflected ruefully that there was no easy running in the 17 miles and 6,500 feet of the Borrowdale Fell Race.
The race had started under leaden skies from The Scafell Hotel in Rosthwaite.  As the field reached the summit of the first climb – Bessyboot – they entered the clag and stayed in it all the way to Esk Hause.  Fortunately there were enough people about who knew the route and navigation wasn't difficult.  OC ran some of the way in the company of FRA secretary Alan Brentall who knew some good lines for which OC was grateful. 
The morning's drizzle was forecast to clear.  But the message had clearly not got through to the weather gods who obliged with some light rain on the Scafell Ridge.  This made the rocks on Broad Crag more treacherous than ever and slowed OC's already stately progress.  Once OC had reached England's high point, he slithered down the Scafell Pike screes before finding some good grassy lines on the Corridor Route – though even these were greasy and slippery after the rain.
The trudge up Great Gable was rendered (slightly) easier by the well made path.  Once at the top, OC took a bearing and found the descent to Windy Gap.  This proved to be a wise move, as he later heard tales of runners emerging out of the mist to find themselves looking at Beck Head and Ennerdale.  OC also avoided the trap of going the wrong way off Green Gable – the popular diversion this year seemed to be down Moses Trod to Buttermere rather than off-beam to Base Brown.
But any self-congratulations at arriving safely at Honister were soon lost as OC tackled the last climb up Dale Head – it really did go on for ages.  Eventually OC reached the top and headed down the steep east face to the tarn below.  The summit marshals urged him on with a cheery: "it's all downhill to the pub now!"  Even that wasn't strictly true, as OC found himself climbing to the col before the slate mines.  But after that, it really was all downhill to the finish.
OC crossed the line with a mixture of feelings: satisfaction at completing another Lakeland classic; enjoyment at a grand day out in the fells; and, principally, exhaustion.  The tea and sandwiches in The Institute went down a treat, and OC could steel his aged limbs for the next challenge – walking to the pub.
Old Cheviot
more photos from John Duff
results on Borrowdale website