10/08/10
Bransdale Fell Race
- from Philip Addyman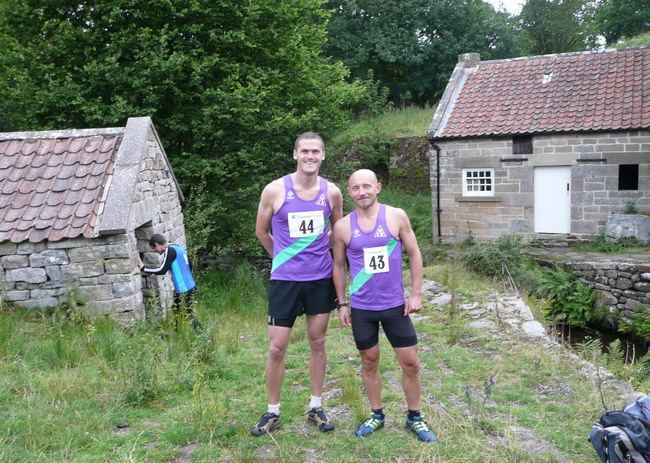 Scott & Philip - photo: Philip
Myself and Scott Gibson made our way 80 miles down into deepest North Yorkshire for the inaugural Bransdale Fell Race along with around 40 other athletes. The event was organised and ran by Tom Watson and his colleagues from the National Trust and race HQ was the charming Bransdale Mill. Tom stated that one of the aims of the event was to bring some attention to this beautiful part of the North York Moors - well, he did a good job there as I was brought up in Pickering, just 13 miles from Helmsley and even I wasn't too familiar with the area, although I know neighbouring Farndale well. It was nice to see Bransdale under a pleasant summer evening, although the setting sun, low in the sky whilst climbing on the first part of the course did create some problems with spotting the marker tape! As the course was new, no-one really knew where there were going and it was probably best to run in about 3rd position as the leading runners were constantly having to make minor course adjustments as they spotted the next piece of tape, but this just added to the fun and camaraderie of the event.

The course was 7.5 miles long and included 850' ascent across varied terrain, ranging from open fell to hard-packed landrover tracks, open fields, forest track, bracken descents, bits of bog and - worst of all - a nasty stretch of half mile of road in the last mile, just when your legs wanted to be running on something softer!

The winning time by Joe Blackett (Dark Peak) was around 56 minutes and I finished in 4th about 90 second down after holding the other three leaders until they pulled away in the last mile. Scott finished 9th just around the hour. The race was very nearly won by an extremely strong female athlete from York, who was really forcing the pace towards the end. It would have been quite something to have an inaugural fell race with the record time listed as belonging to a female, not a male, but it didn't quite happen. I believe the lady in question was an International who had recently been at a European Championship. Full names, results and photos will be available on the Norh York Moors AC website in due course.

Cakes and juice were available to finishers and the presentation followed when all athletes had crossed the line, with generous prizes of wine/beer/choccies for age and team category winners.
The race was a classic case of trying out something new and the gamble really paying off as Scott, myself, the other competitors and the organisers had a fantastic evening. A race to add to your "must-do list" for next year, although save yourself some of our stress if you are coming from Newcastle/Gateshead area and don't lose 1/2 hr of your journey time stuck in the 5 o' clock Metro traffic!
Philip Addyman
results on NYMAC website here