21/03/10
Brough Law Fell Race
- from Will Horsley / Keith Cooper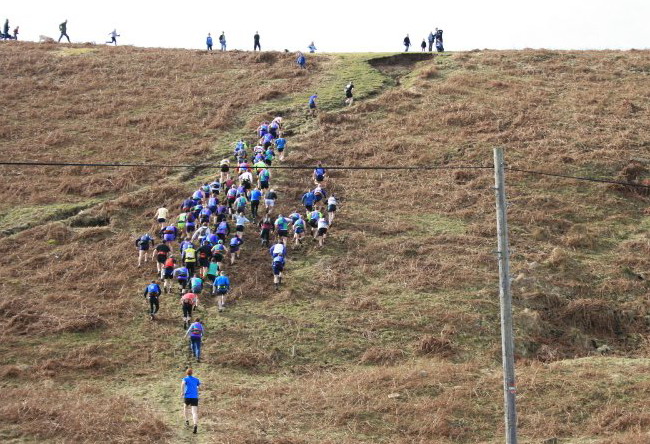 steep start - photo: Sarah Gibson
Beautiful weather and a record turn out made for a wonderful Brough Law fell race in the Ingram valley of the Cheviot foothills. Sixty-seven runners started with many making a long journey to get there.

It was a day for the veteran runners with the first four places going to V40s, the 1st placed V50 in 8th overall and the women's winner also a V40. Phil Sanderson (NFR) underlined his position as the North East champion by winning the race despite an eight mile warm-up run minutes before the start. Lee Bennett (NFR) gets quicker with every race and was less than a minute behind in second. Karen Robertson (NFR) led the ladies home with a comfortable margin.

It was good to have three juniors on the course amongst the old gadgies including 18-yr old Rory Anderson from Hawick in 6th place overall. Wooler RC turned out in force but they weren't strong enough to take the team wins from NFR. Over £200 was raised for the North Air Ambulance and local mountain rescue team. Many thanks to Ray, Garry, Team Green, Richard, Pat, Casper, and the land owners.
Keith Cooper & Will Horsley (race organisers)
lots of photos from:
Sarah Gibson | Jill Bennett | Marie-Helene Davison | James Green