01/01/10
Captain Cooks
- from Dave Johnson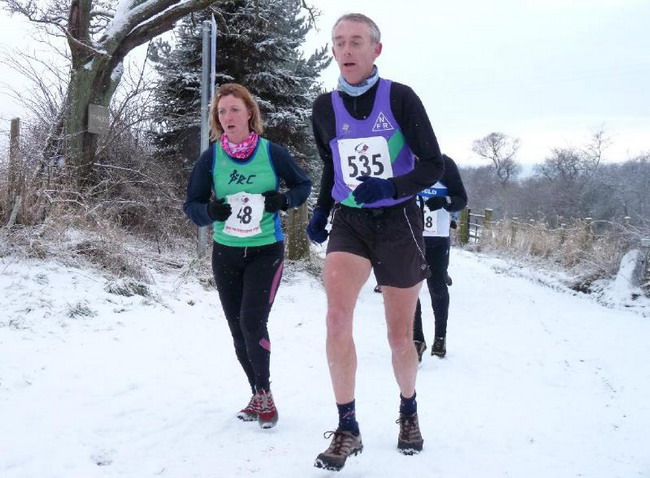 keeping a grip - photo: Dave Aspin
New Years Day 2010
It was snowing when 3 NFRs arrived at Great Ayton for this annual event but it had stopped by the time the 234 runners set off just after 11am. The ground wasn't too bad for running as most of the snow was fairly hard packed unlike some of the tarmac bits which were like an ice rink in places which led to a few spectacular and no doubt painful falls. The monument itself was shrouded in mist and a few people also came cropper on the way down from it with yours truly completely losing it at one point. In fact it's not far off the truth to say that it was only my heroic, self sacrificial last second plunge into the heather that prevented the complete destruction of the tightly grouped pack of runners immediately in front of me.
Graham was first home, Trevor second, with me bringing up the rear very disappointed at not beating a slightly tired Mr Wakenshaw who had done the Auld Lang Syne race the day before!
Shortly after we had left the snow returned and by 2pm the roads from the village were blocked.
Dave Johnson
results on Esk Valley Fell Club's website
photos by Dave Aspin