13/02/10
Carnethy
- from John Telfer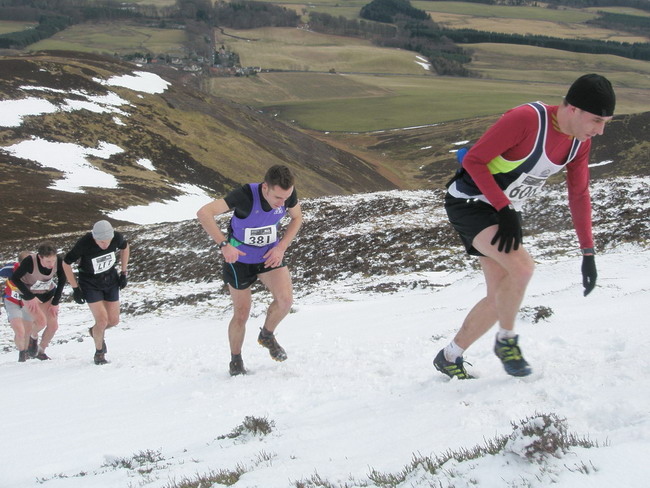 a fine run from Gary Jones - John Telfer
Having been relegated into the role of spectator I took to the snow clad slopes of the Pentlands to cheer on our gallant lads and lasses in the opening fellfest of the Scottish hill running calendar. All ten NFR runners looked in good fettle, if not a little surprised to hear some idiot bawling personalised encouragement at them at various stages of the race.
Gary Jones (a superb 20th overall out of a field of 487), Lewis Grundy and Billy Fraser led the NFR men home with Jane Grundy and Susan Davis doing the honours for the ladies. John Tollitt, Geoff Davis, Alastair Paul and Dave Johnson and Phil Green all looked strong on the two steepest climbs, with only the latter being in need of Dr Telfer's reviving medicinal jelly babies on the slog up to Carnethy.
It was great watching the elite runners make the whole escapade look so easy but it also has to be noted that the further down the field you go the more smiles (although usually through gritted teeth) you see. Despite the heroics of all the runners I was able to witness at first hand just how cold you can get standing still on a cold February day. Therefore, I would conclude that the real heroes on this day were the marshalls, especially the one on top of Carnethy who told me that there was still about 30 minutes of "stragglers" to come through when I departed for lower ground with every finger and toe screaming out with third degree hypothermia.
more photos from John
John Telfer