28/02/10
Commondale Clart
- from Dave Johnson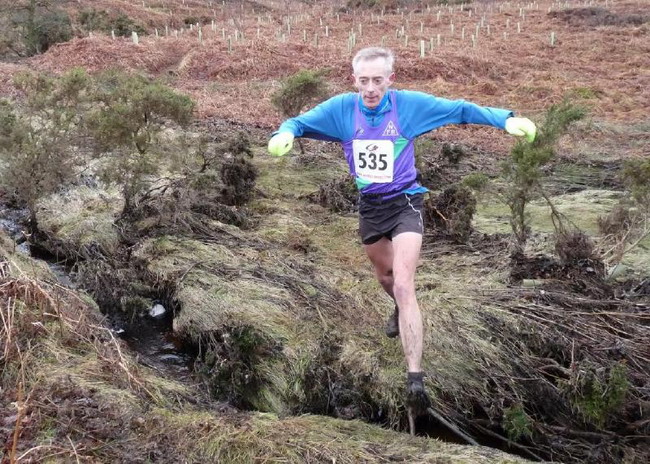 photo: Dave Aspin
Our sporting correspondent reports.

A record number of runners turned out for this classic and long established local race but your correspondent's attention was drawn to two who were surely amongst the hardiest of the hardy, or as some would have it, foolhardiest of the foolhardy, namely Mr D Johnson and Mr T Wakenshaw esq of our counties premier fell club, Northumberland Fell Runners.
Despite their travails at the Noonstone, it seemed that Messrs Johnson and Wakenshaw were of the opinion that doing another race the next day would be an ideal opportunity to restore some much needed morale. Surely the Commondale Clart, the easiest of the North Yorkshire races, would fit that purpose? Alas, and as the more perspicacious reader has probably already guessed, it was they who were not, to use the modern form of words "fit for purpose".
That much became painfully obvious within thirty yards of a desultory warm up along the road leading uphill from the picturesque village of Commondale. It became even more obvious in the next thirty yards when they tried to break into a run. Still they had paid their race fees, the other runners and the spectators were gathering. There was no turning back, although as Mr W was to recount later, he nearly did half way up the only real climb which takes the runners onto the moors directly from the start. Not surprisingly in view of the recent weather, the moor proved to be painful reminder of the wet and boggy horror that was the Noonstone. The pair's only consolation was that this moor's purgatory was much shorter in distance.
Right from the start, Mr J had taken an early lead (amongst the NFR contingent of two, not the entire field, I hasten to add), and was perhaps anticipating another victory over Mr W. Alas for him, it was not to be for Mr W had just been given some invaluable advice on adopting a new running technique which was to prove decisive to the outcome of the day's battle. However it wasn't until he was halfway across that blasted heath, that the sound of laboured breathing and even more laboured footsteps announced that Mr W was right on his heels. By the monument it was Mr W who was in a narrow lead and watchers could see that the lead was gradually but inexorably increasing. Some watchers also commented on a puzzling phenomenon, presumably caused by certain atmospheric effects engendered by the worsening weather, in that it appeared the two runners were moving ever more slowly despite the fact that they were now going rather decidedly downhill.
Despite Mr J's best efforts he could not make up any ground on this stretch and on reaching the road on the edge of Commondale, victory was graciously conceded to his fellow club member. When asked if it was Mr W's new running technique that had made the difference, Mr J replied to the effect that it was surely only a matter of time before Mr W realised that falling over six times and suffering from mild concussion in every race was not a running style likely to lead to any great success. He further opined that only the passing of time would ascertain whether or not Mr W would be able to adapt to this radical new concept.
Dave Johnson
results on Esk Valley Fell Club's site
more photos by Dave Aspin