11/03/04
Gisborough Moors
- from John Duff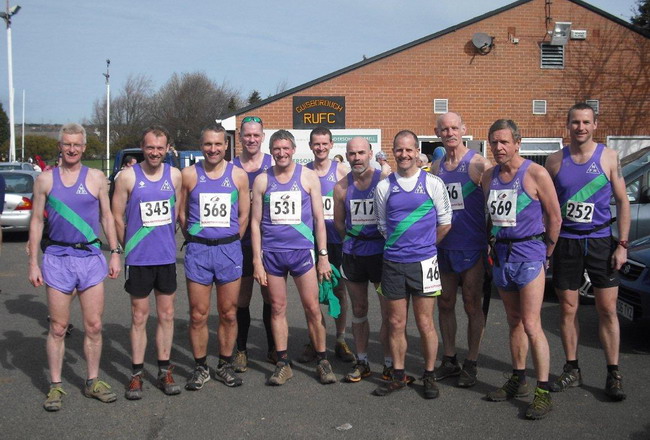 some of the men's team - photo: John Duff
There was a good turnout from NFR at the third championship race of the season at Gisborough Moors today.  A large field lined up in warm conditions which made sunscreen and vests the order of the day.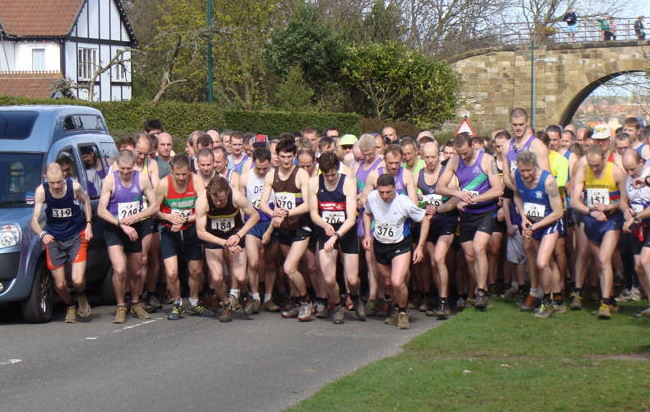 photo: Jill Bennett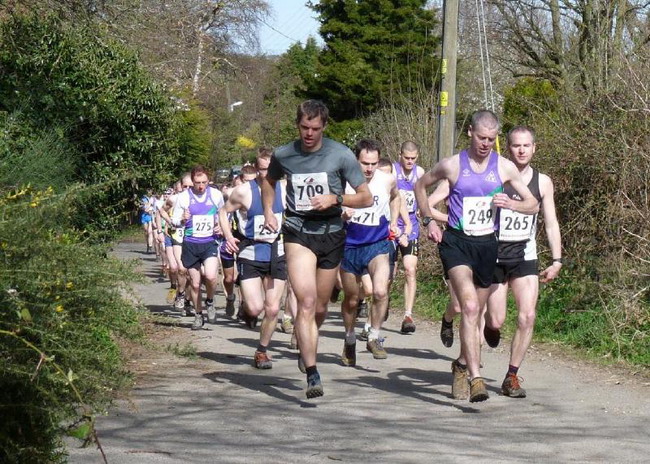 off to a good start - Photo: Dave Aspin
Conditions were never too oppressive with some shade through the trees and a bit of a breeze on the moors.  The views were superb, especially on the leg from Captain Cook's Monument to Roseberry Topping.  The final slither down through the woods rewarded those who ran in studs on the otherwise firm ground.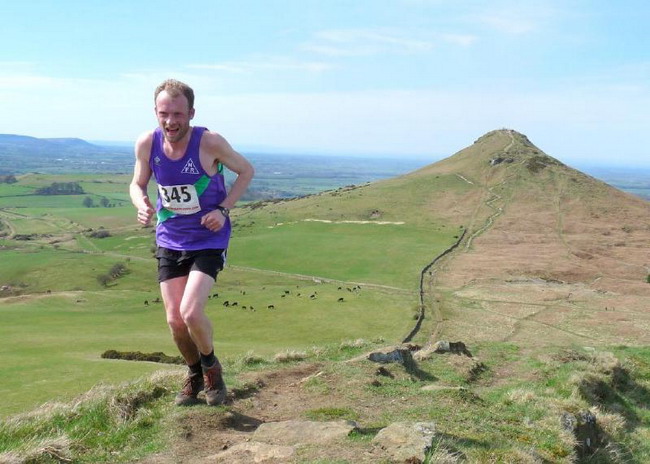 Lee Bennett storms up Little Roseberry - photo: Dave Aspin
Matthew Speake (Dark Peak) won the race by some distance in a new record time.  Phil Sanderson was second overall and first V40.  Lee Bennett put in another good run finishing fourth overall.  Further down the field, several people were notching up their long race for the season: Keith narrowly won the battle of the Coopers over Pat; Ruth Fletcher delighted in making up places having started at the back; whilst Terry Hart and Ray Gray flew the flag for the super vets.
NFR had to settle for second place in the men's team prize behind DFR.  But the roles were reversed in the ladies' race where Steph Scott, Sue Mitchell and Susan Davis prevailed over DFR. [it later transpired that there'd been a mistake on the day, so that actually DFR's women won this prize also]
There wasn't a prize for those hardy folk who had also run Allendale the day before.  But if there were, John Telfer would have been the recipient ahead of Phil Green.
All in all, a grand day out and thanks are due to the organiser Dave Parry and his team.
John Duff
results on Esk Valley Fell Club's site
lots more photos from Dave Aspin
photos from Jill Bennett | photos from Thomas Green | photos from Graham Bingham