13/03/10
Haworth Hobble
- from John Telfer (photos courtesy of Nick Ham)
32 miles / 4,400 feet
Six NFR's made up a field of nearly 340 hardy souls running either solo or as a pair for what is, to my mind, paradoxically called a "short" ultra. The race was won in a time of just over four and a quarter hours with Lewis Grundy leading the way for NFR with an excellent 21st place in a tad over four and three quarter hours. Paul Appleby was second NFR finishing four minutes and two places ahead of me around an hour behind Lewis. Jane Grundy was 23rd woman in just over 6 hours with the gallant pair of Dave Johnson and Trevor Wakenshaw making a thoroughly good day out for all the NFRs.
However at 5.30am, two and a half hours before the start of the Hobble my head had been about as thick as the frost on my car, suggesting that too much of a good time may have been had in The Old White Lion where various NFRs and members of the Scottish hill racing fraternity had enjoyed each others company barely some eight hours previously.
However, one very generous cooked breakfast later we all gathered on the cobbles of Haworth's main street where every other shop bore the word Bronte. Once clear of Main Street the route wastes no time in skirting around Penistone Hill and out onto the Bronte Way to the Bronte Waterfalls and then up to the ruins of Top Withins, reputedly the "true life" Wuthering Heights immortalised by Kate Bush, I mean Emily Bronte. Unfortunately the early morning crispness and clear blue skies had given way to a mist. However, with plenty of local accents to follow route finding was not a problem.
At this point, 5 miles in, all matters Bronte are dispensed with and over the next seven miles the runners run along and cross over five reservoirs (by the dams I hasten to add in case anyone thought this was actually a duathlon involving a few swims). On this stretch I managed to come off second best with a stone on a downhill stretch enduring some serious grief to my knee but more disturbingly my shoulder. Heartened by the concern of those who had witnessed this display of cackhandedness, or should that be cackfootedness, I soldiered on, or should that be shouldered on!
However, whether it was the clearing of the skies, encouraging words from Jane who I bumped into or the fistful of chocolate cookies I devoured at the next checkpoint the pain did subside a little to warrant not wimping out. Following a further three miles along road and country lanes the next section is the most interesting part of the race. It consists of the sharp descents into Todmorden and then up and over Mankinholes before the steep moorland climb up to Stoodley Pike before the long and ever steepening descent into Hebden Bridge before an absolute long buster of a climb up to the quaint cobbled village of Heptonstall, all within seven miles. Every muscle is put to the test and a few victims of cramp were encountered along this stretch where the humour was of the very dark variety now in stark contrast to what was turning into a beautiful sunny day.
From Heptonstall, with just under eight miles to go, there are a series of muddy woodland paths to negotiate before heading out back out over to the eastern edges of Wadsworth Moor with a few deceptively sharp climbs which are probably not as bad as they seem due to tiredness of the limbs. Having descended back towards Haworth there is the final sting in the tail in getting up towards Penistone Hill before the entry back into Haworth through the churchyard and by whatever means you can find back to the finish scattering tourists and Saturday afternoon shoppers in your wake.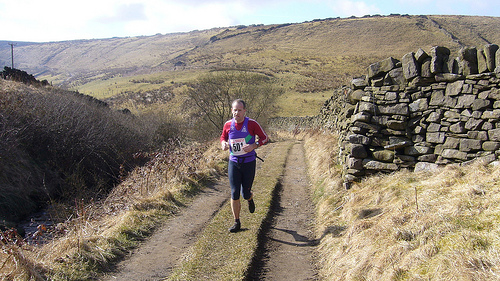 John close to the finish - photo: Nick Ham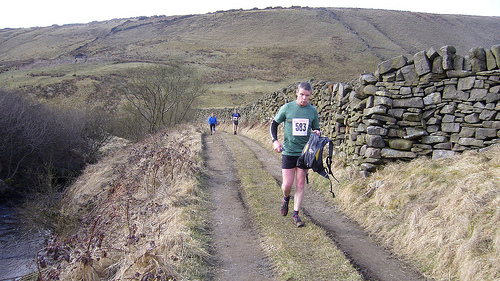 Paul - photo: Nick Ham
The race finished in the entrance to the primary school, a la Allendale, meaning that this race must have the shortest distance between finish line and a dazzling array of home baking and that really is the way to finish any race and soothe tired limbs and other bruised parts of one's anatomy!
As ever, one can only marvel at the organisation that went into this race, considering that a twelve hour period elapsed between registration opening and the last finisher crossing the line it must have made for a mighty long day. In addition, although I could not be tempted the provision of hot dogs and doughnuts along the way makes this a very well loved and much appreciated race. Roll on 2011!
results on FRA website
John Telfer