27/02/10
High Cup Nick
- from Old Cheviot (photos by John Duff)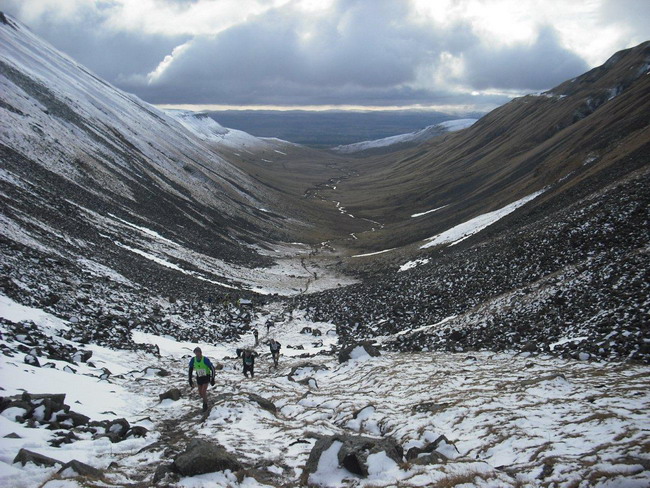 a look back down the valley
Old Cheviot tucked into the line of runners snaking up High Cup Nick.  The tussocky grass and headwind made for slow progress, and OC was happy to follow in the slipstream of the runner in front.  145 other runners seemed to be doing the same.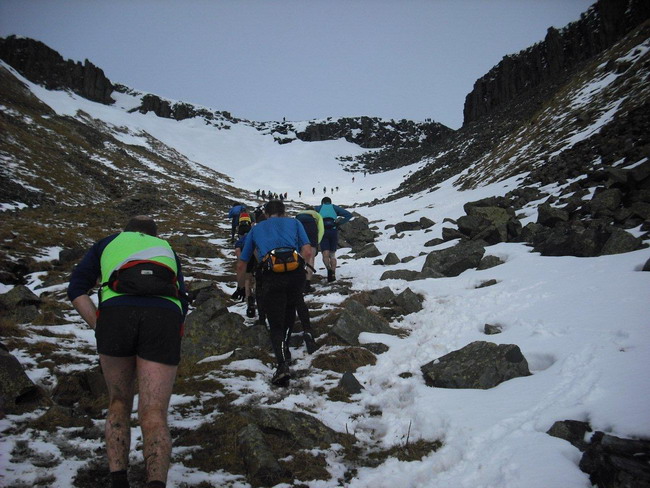 climbing High Cup Nick
The 9 mile race had started on Dufton village green in surprisingly mild conditions.  Shafts of sunlight were starting to pierce the lifting cloud and the wind was gentle.  After the initial dash up the road, OC settled into his rhythm as the race contoured around Keisley Bank before dropping into High Cup Nick itself.  The route went straight up the middle of this spectacular feature before climbing steeply over boulders and snow to the head of the Nick.  Here OC gratefully turned for home and enjoyed the run back along the northern escarpment.  The wind was at his back, the sun was out, and the snow underfoot soft – even OC's aged bones could pick up speed in these conditions.
The descent continued down the Pennine Way with a covering of soft snow alleviating the worst of the bone-rattling stony path.  The final run-in was across farmers' fields.  OC spied a couple of purple and green vests ahead of him and tried to catch them.  But his efforts were thwarted by the last little climb into Dufton and he settled for a steady run-in.

gathering at Dufton
Chris Steel (Borrowdale) won the race in 1 hour 4 mins.  Philip Addyman was first home for NFR in 10th place.  He was followed by Scott Gibson, David Armstrong, and Billy Fraser.  Further down the field Chris Little, David Wiseman, and John Tollitt were vying for places.  John Telfer lost his duel with Stewart Barrie (Hunters Bog Trotters) but still finished with a smile on his face.  Pippa Jackson from Keswick won the ladies' race in which Rachel Vincent (Tynedale) was making a welcome return to racing. 
Afterwards in the village hall the tea and soup was much appreciated by all.  Many thanks are due to Morgan Donnelly and his team who organised this excellent race.
Old Cheviot