01/01/10
Hillforts and Headaches
- from Paul Appleby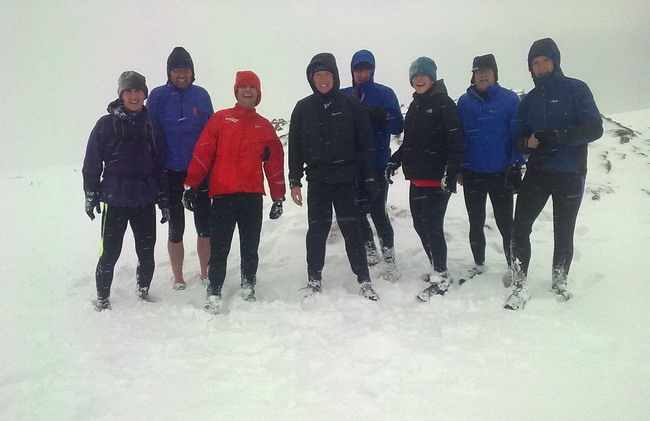 on the top of The Beacon - Mike Telfer
Opening the door at 7.30am to find 6 inches of snow had fallen overnight did prove to be a bit of a headache. A quick phonecall to experienced runner/marshal/mountain man Peter Reed and the obvious decision was to unfortunately cancel the race. Another quick phonecall to Rob and the decision was posted on the website by about 8am.

Peter, Brian, Graham and myself decided that we would meet at the Newcastle Hotel anyway in case anybody did turn up hoping the race would be on.
A few people did start to appear, Mike Telfer who had managed to get over from Warkworth in his 4x4, some of Mikes family from St. Albans in Hertfordshire who were staying with family in Rothbury, NFR member Alastair Paul from Edinburgh who was staying in Rothbury over the new year, and future NFR member Dave Wiseman who drove/hitched from Felton (that's commitment).

So we decided that we would go up onto The Beacon even though the race was off, so at 11am we set off in heavy snow from the Newcastle Hotel, being piped away by a member of The Rothbury Highland Pipeband.
A steady walk, run, re-group and we got to The Beacon in just over an hour (race record about 21mins). The snow was waist deep in places as we gained height but Brian snow ploughed his way through at the front making it slightly easier for those following. A few photos on the top in the now slightly clearer conditions before a great run down in the snow back to the Newcastle Hotel for well earned refreshments.

Just a pity the snow hadn't come a couple of days earlier and the roads been cleared as it would have been a great race in the snow.
Paul Appleby