07/02/10
Kielder Grey's Summit Medium Race
- from Will Horsley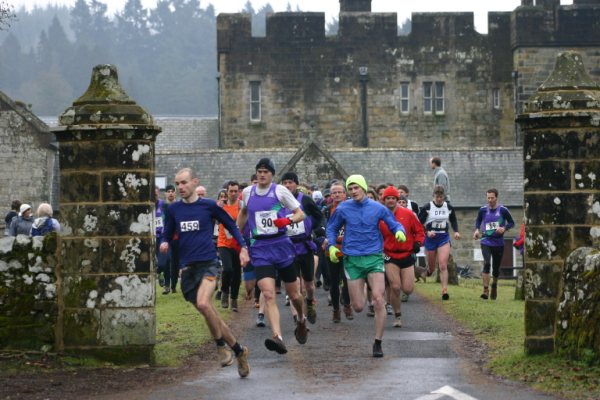 Philip gets off to a sprint start - Mike
Organiser's report
Finally the postponed Kielder Grey's Summit race went ahead on Sunday 7th February. Could this be England's remotest fell race? Well, 55 runners plus marshals and supporters were not deterred. The weather was fair for the race itself although there was still up to two feet of freeze-thawed crunchy snow on the Pikes ridge, of which many a bloodied shin and ankle would later testify (note: wear leggings in these conditions). Despite a persistently yapping little dog the organiser got the race underway in front of the Castle gates.
Phil Sanderson (V40, NFR) made his characteristic sprint start and went on to make a total mockery of the course and conditions by finishing in 54 minutes, over 7 minutes ahead of anyone else. Karen Robertson (NFR) performed equally as strongly and finished in the top 10 and more than six minutes ahead of the second placed lady.

Several GPS devices concurred that the route was actually 7.6 miles long and not the 6 as advertised (suckers!). Afterwards there was a brief awards ceremony in the Castle which was again sabotaged by same yapping dog (incidentally, this dog belongs to the race organiser). With this being the first race in the 2010 North East Fell Running Championship the opportunity was taken to present medals from the 2009 series meaning Sanderson and Robertson went home with triple prizes (race, 2009 open and 2009 V40).
The race raised £260 for the local mountain rescue team and north air ambulance, an impressive amount that was significantly boosted by an anonymous participant after the race. [Donation receipts available on request]
Many thanks to my marshals and helpers (Graham, Phil G, Phil J, Flip & Anna, The Green Family, Louise, Yvonne at the Pantry, and Casper) and also to the Forestry Commission and local farmers for their tolerance.
Next year's Kielder Fell Race will be the classic Borderer (17 miles) which is only held once every two years. But look out for a variation on the theme, being raw and minimalist, this is a race that participants love to hate and yet keep coming back for.
Will Horsley