17/10/10
Kielder Marathon
- from Chris Winter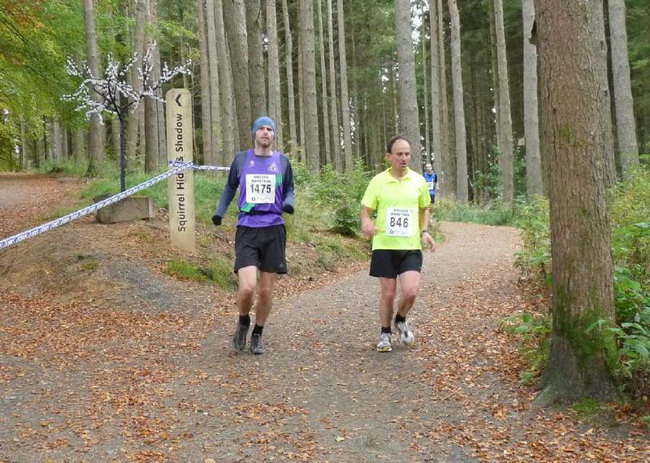 Two Chris's - photo: Dave Aspin
Sunday 17th October 2010

Sunday saw the first running of the Kielder Marathon attended by a handful of NFRs (who I won't name for fear that I miss one of you out).
The sunny and still conditions as we got underway certainly helped it live up to its billing as Britain's most beautiful marathon. The views over the lake and forest were stunning. The views of a number of female competitors attempting to hide under space blankets to deal with 'pre race nerves' just off the path were all together less spectacular, if not more amusing. Like all the best races the route made sure the easiest bits were at the start with hardly a hill or 'steep incline' (those who took part will know what I mean) that I can remember between Leaplish and Butteryhaugh. Once onto the north shore things started to go up, then down, then up, then down again, and so on for the remaining 20 miles.
Once at the dam (around mile 18) things flattened out for all of around half a mile before joining up with the lakeside path again for more 'undulations'. I started coming undone at this point and I knew the wheels were really coming off when I couldn't work out what 8 x 19 was (I was still foolishly aiming for 8 mins per mile at this point). I gave up knowing that my brain was still functioning just enough to carry out the calculation at 20 miles. At 20 miles I realised I should have practiced my 9 x table. By mile 25 my 12 x table would have come in handy as well.
Just when you thought you were almost home there was the slight detour around the Bull Crag Penninsula with more of those steep inclines. At the top of one of the inclines they had also signposted a tight bend - I'm not sure who this was aimed at as there were no runners around me in danger of taking the corner so fast that they skidded off the course. By mile 24 I was joined in my shuffling along by Chris Little and shortly after we were passed by a prancing Steve Cram who, it has to be said, looked like he'd only just begun the race. At this point the finish was in earshot and I was completely spent and unable to even speak properly. Me and Chris crossed the line in 3.48 hrs, a bit slower than I'd hoped for but at least in the knowledge that I couldn't have run any faster and only three places behind an Olympian.
Looking back I'm now beginning to realise how much I enjoyed it although it has to be said I missed the table covered in cakes and endless cups of tea you get at the end a good fell race. Somehow a free energy gel just isn't the same.
It may well have been Britain's most beautiful marathon. Equally it may also be the most undulating.
Chris Winter