15/08/10
Lakeland Country Fair
- from John Duff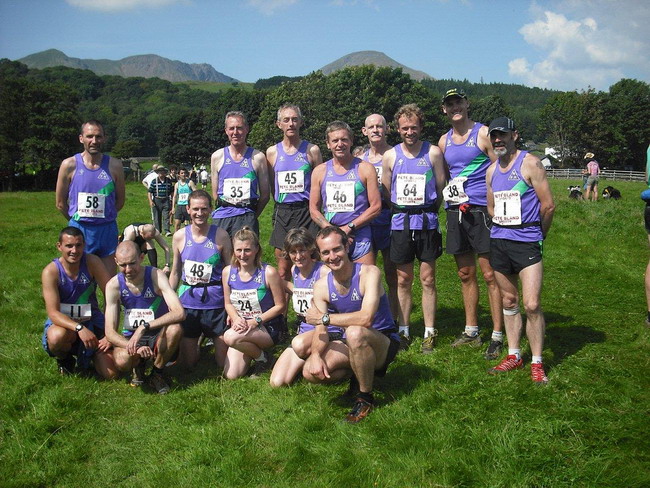 photo: John Duff
Warm and sunny conditions made for good visibility but warm running at the Lakeland Country Fair held at Torver yesterday.   15 NFRs lined up at the start for this 6.5 mile out and back race to the summit of Coniston Old Man.  After the initial dash along the road and through the footpaths of Torver, there was a gradual climb to the Walna Scar path before the steep ascent up the southern face of Coniston Old Man.  The route returned the same way with a fast descent before the deceptively long run-in to the show field finish. 
Phil Sanderson was first to the top but was caught on the descent by race winner Carl Bell (Howgill Harriers) and Ben Abdelnoor (Ambleside).  Phil settled for 3rd place overall and first V40.  Will Horsley was next in 6th overall followed by Scott Gibson who was 14th.  Karen Robertson had an excellent run to finish 25th overall, comfortably winning the ladies' race.  Further down the field, Chris Rowe and Billy Fraser swapped places, whilst Steph Scott and Bernard Kivlehan battled for the minor places.  Terry Hart prevailed over Ray Gray in the V60's category.
Despite Phil, Will, and Scott's best efforts, Ambleside took the team prize, though we must have rivalled them for the number of club entrants.  This was an excellent addition to the club championship.  There was even a beer tent to slake the raging fellrunner's thirst.
more photos from John
John Duff
photos from Gwen Fraser
results on FRA website