09/10/10
Manor Water Hill Race
- from John Telfer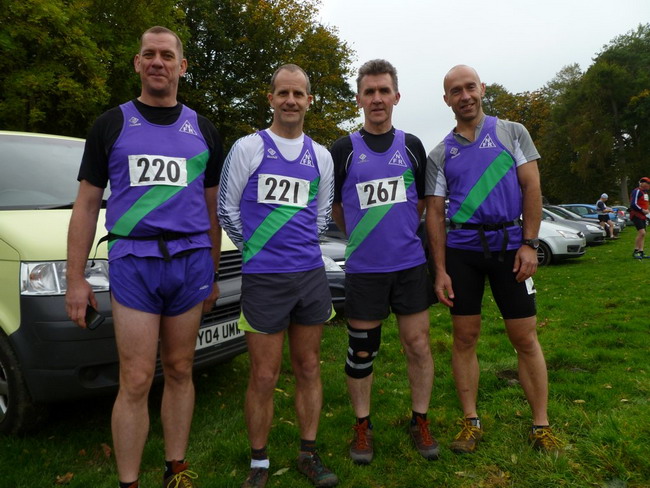 Phil, John, Alastair, Lewis - photo: John Telfer
Four NFRs ventured into the Moorfoot Hills in the Scottish Borders near to Peebles for the Manor Water hill race. Billing is shared with the Manor Valley sheepdog trials ensuring no shortage of fleet footed two and four legged creatures. With third prize in the raffle being a black faced lamb, very much alive and bleating, there is a certainly something different about this race.
It was good to see Alastair Paul again this being his first competitive run out since the Carnethy 5 in February and his knee seemed to cope well with the generally firm ground. For Lewis Grundy it was stage one of the back to back double header with the 16 mile Pentland Skyline taking place the day after. Phil Green was the only NFR to venture over the border as a pre cursor to our joint venture of sampling the delights of the Haddington hostelries later that evening.
A breezy but dry day made for almost perfect running conditions although as per usual the summit turning point was shrouded in mist and attracted a record turnout of 116 runners. The course is an out and back a la the Cheviot. It is tempting to visualize this as being all up and then all down but there are a couple of undulations on the way up to the marvelously named highest point, the Scrape. Helpful they may be as "downs" on the way up but unusually brutal as "ups" on the return journey into a head wind when energy levels are being depleted.
For the stalwarts of the 2 Breweries the MW route runs alongside the forest on Whitelaw Hill and crosses the 2B route at the charmingly named Dead Wife's Grave.
The race was won by local Moorfoot runner Michael Reid in just over 1 hr 10 minutes whilst Angela Mudge (who Phil discovered in the post race tea tent had worked down in Middlesbrough at one stage – sign her up !!!!) set a new ladies record in finishing in 1 hr 13 mins 48 sec to register an overall 7th place finish.
Lewis, taking it relatively easy with the rigours of the Skyline to face, was first NFR home with Alastair, Phil and myself finishing within six places of one another in mid division and all claiming a bottle of Broughton Brewery's finest.
A lovely autumnal day out and I am still clutching my raffle tickets to see if I have won a black faced lamb for Bob to round up in the garden!
more photos from John
John Telfer
Results on Scottish Hill Runners site