13/11/10
Tour of Pendle
- from John Telfer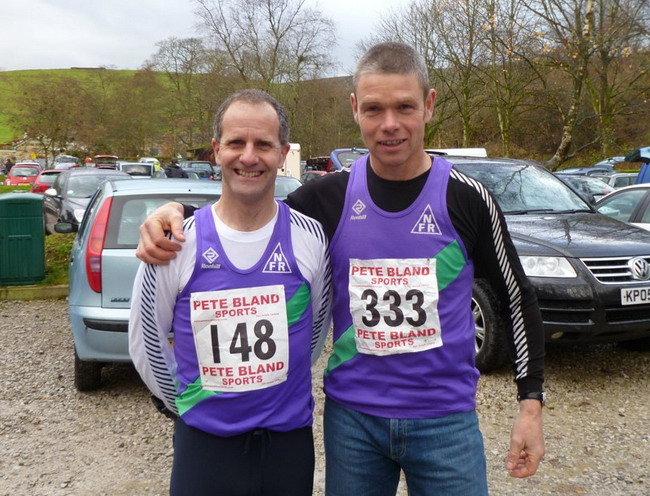 John & Paul (photo: J. Telfer)
17 miles, 5,000 feet of ascent
November 13, 2010
Paul Appleby and myself subjected ourselves to a bit of Arctic endurance training aka the Tour of Pendle as conditions ranged from heavy showers to sleet and hailstones and heavy with the odd ray of sunshine thrown in for good measure. Conditions underfoot could best be described as a tad on the soft side, ideal practice for the Simonside Cairns next month.
Paul and wife Wendy had left Rothbury at 6am whereas I had opted for a bit of pre-race acclimitisation by setting up training camp at the Calf Inn in the shadow of Pendle Inn. This was a very smart move even though it took until around 10pm to fully get the hang of drinking the local ales.
The race attracted around 300 distracted souls. In order to try and avoid the worst excesses of hypothermia amongst the marshalls there was a split start with those respectfully expecting to take in more of the lovely views setting off at 10am with the rest setting off half an hour later. At the time of writing I understand this has caused a bit of confusion in compiling the results. However, I have convinced myself I did not lose out on any prizes as a result of this!
It was noticeable how many runners failed to carry the requisite kit which I put down to the fact that we were actually wearing said requisite kit from the off in order to keep body and soul in one place. Even in the brief moments of sunshine the wind was doing enough to suggest that hypothermia was ready to pounce when the next hail shower came along.
Anyway to the race itself. The route makes a total of four ascents onto and descents from the land mass known as Pendle Hill each one getting steeper and more demonic. Despite the pretty atrocious weather conditions the visibility remained reasonable and route finding was generally not a problem.
That is not to say that there were still a variety of route choices which seemed to be based not so much on brevity of distance but how far up to your knees in the gloop you were likely to go.
Needless to say the last I saw of Paul was about 20 yards after the start but as he had a race number of '333' I reckon he had a bit of the devil in him whereas I only had 4 pints of Moorhouse ale in me from the previous evening.
In a race this long you tend to lose yourself in your own little world (some call this a "hangover") and it is a case of just getting yourself to the next checkpoint. However, as time and time again as I sought to drag myself up the next tortuous incline having my face sandpapered by the sleet there was always some runner who wanted to have a chat about the greater glories of life. Sociable? Yes but how they even had the strength to talk is beyond me. The best I managed was to thank the unfailing cheery marshalls for their stoicism.
Having plodded round to the best of my abilities I was conscious that on the last ascent back onto Pendle Hill I was being overcome with delusions of mediocrity as I managed to up my pace and pass a few competitors in a last ditch bid for a top 200 finish. Then again maybe they were just actually walkers as when everybody in wrapped up against the elements we begin to look the same.
I finished in around in around 3 hours 40 minutes, a few minutes down on last year but given the conditions an outcome I was more than happy to accept (if indeed I had the option). Paul was there to greet me at the finishing in his civvies highlighting that he has finished some 20 minutes plus in front of me.
We were both in full agreement this had been a hard and long but enjoyable day out in the hills. An epic in terms of organization and support and for £5 (including T shirt) has to be one of the best value events around.
I believe the race was won by a Calder Valley runner who was probably back home in Hebden Bridge, had a bath, decorated the spare bedroom and done his weekend shop in Tesco by the time I dragged my carcass over the line. That may (or may not) be true but at least pound for pound I got more time for my money by taking matters at a slightly more sedate pace.

A few pre and post race photos here.
http://www.flickr.com/photos/john_telfer/sets/72157625265076037/ 
John Telfer