17/10/10
UKA British Fell & Hill Relay Championships
- from various (photos: John Telfer and John Duff)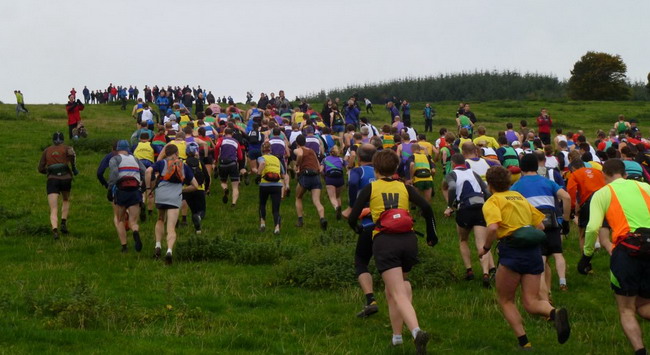 NFR A team finished 14th overall. Lee Grant & Will Horsley ran well in the long pairs leg to come in 28th. Phil Sanderson made up 5 places on leg 2. Scott Gibson & Aengus McCullough held their own on the lengthy navigation leg. Nick Swinburn then ran a blinder on the last leg, making up 9 places in the process, and recording the fastest leg of the day.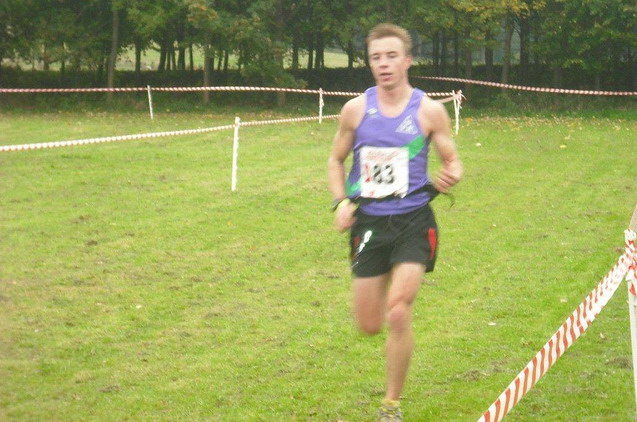 Nick Swinburn ran a blinder on the last leg - J. Duff
NFR V40 ladies had a good run, finishing a provisional 4th vets team, and beating their male counterparts on at least one leg (step forward Susan Davis).

Comedy moment of the day went to Stewart Barrie (HBT) who was still in the portaloo when the previous leg runner arrived.

It was a day for the Scottish clubs. Shettleston won the men's race, and HBT the ladies'. Pudsey & Bramley were second men's team with Dark Peak (anchored by Callum Gilhooley who lodged in the NFR caravan on Sat night) third.

Thanks to Will Horsley our team captain and organiser for an excellent job.
John Duff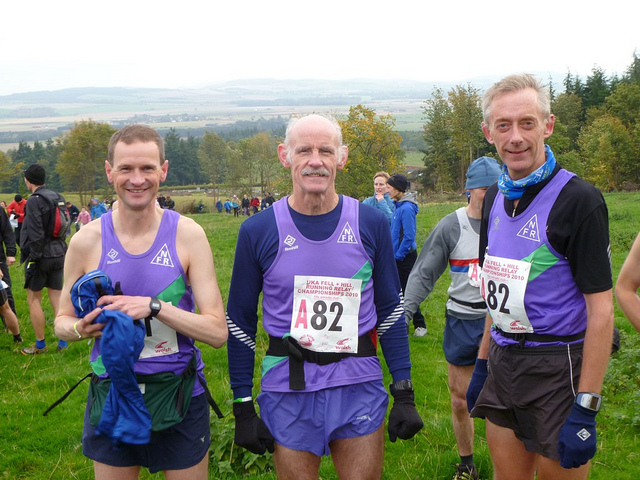 ---
I'd just like to say 'well done' to NFR on a fab day at the Relays. We were in the mix on many legs and put in some consistently solid performances on what turned out to be tough courses!! Many, many thanks to the ladies who really rallied round at the last minute to ensure that we fielded a V40 team. Leg 1 saw Sue Mitchell and myself take on the West Lomond side of the course which involved 3 tough climbs and some steep descents. Sue ate up the ground on the rough stuff, but luckily I managed to haul it back on the runnable 'in betweens'. We finished with some other women's teams to give Kirstie Anderson someone to hang on to on Leg 2. She powered out of the start field and flew round super fast to hand over to Sally Welsh and Alison from 'Gear for Girls' on the nav leg. This turned out to be much longer than expected (sorry, ladies!), but they came back smiling and Alison will be a most welcome addition to the team as an excellent navigator and fell runner of great experience. Susan Davis went off in the 'earlier than advertised' mass start and contrary to her own expectations had a super duper leg and anchored the women in fine style looking incredibly strong at the end. We await the results, but are hopeful of a good placing in the V40 category.
Fantastic running all round. Thanks to Sue M for driving and for the flapjacks!
See you at the next one,
Steph Scott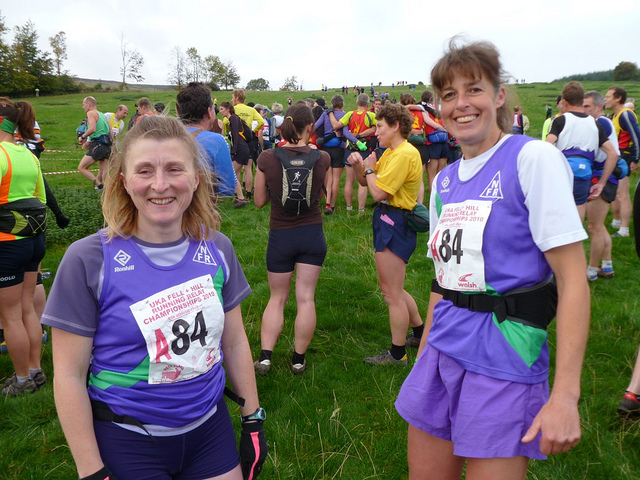 ---
A particular thank you to Will, who took on a mammoth task and managed it with aplomb. The teams seemed to change daily towards the end, and even changed as late as the morning of the race, due to illness. Hope you're OK Bernard. Will's organising task even continued throughout the event, trying to get the best transport arrangements for the drive home, whilst running two legs for two different teams! Great stuff, Will.
Thanks also to everyone from the Club that took part, and to those "pending" members that were prepared to stand in at the last minute. I hope you enjoyed it enough to join up officially. And thanks to those who drove to the event; it was quite an excursion!
A very commendable result from our Open A team, finishing 14th out of 120. Well done. I think we have now finished between 7th and 14th for about 5 years in row. It shows that we genuinely have a Club with strength in depth.
A great day all round.
Cheers all
Dexter


---
Well done and thanks to Captain Will Horsley for marshalling us so well at the FRA Relays today at a blustery, cold but dry Lomonds of Fife and even found time to run two legs for two of our teams. What a star!!! We fielded 4 teams - men, women, MV 40 and an open team who all managed to get round what was a pretty tough set of routes when yours truly fell for the old sucker punch of "that Carnethy runner must know his way to Checkpoint 4" but hey I don't think I denied my team mates of too much silverware as a result.
John Telfer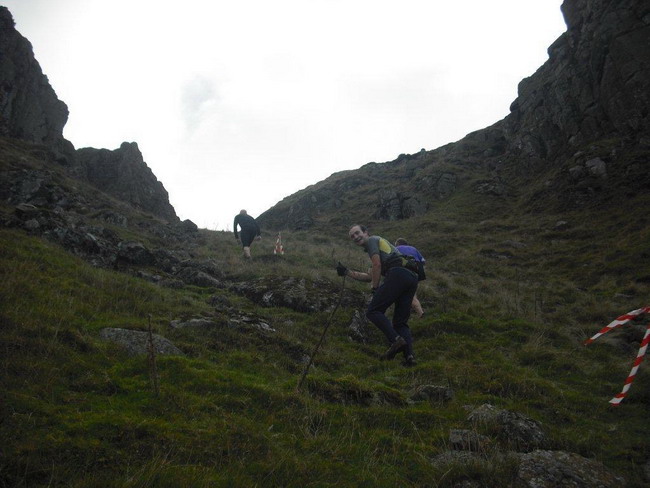 recceing before the race - J. Duff
results on Sportident
more photos from John Telfer
more photos from John Duff