06/02/10
Wadsworth Trog
- from John Telfer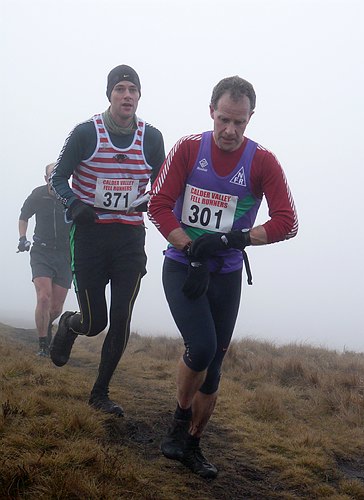 a misty Wadsworth Trog for John
photo: © Eileen Woodhead
(Woodentops.org.uk)
20 miles / 4,000 feet
Saturday February 6, 2010
The fog in my head after a convivial Friday evening in the real ale hostelries of Hebden Bridge was more than matched by the meteorological equivalent that I woke up to on Saturday morning. The lack of any wind and freezing temperatures suggested that the chances of this fog "burning off" were about as high as John Terry being signed up to promote the virtues of the sanctity of marriage.
Although a few hardy souls were shod only in t-shirts, vests and shorts a majority of the 126 runners opted for multiple layers to guard against the cold. Having been advised against the vagaries of following a Calder Valley vest the initial downhill stampede through the unremitting mist of Old Town was followed by an equally severe uphill bash up through a series of paths and fields such that fifteen minutes after the start we were more or less back where we started.
Along a lane which led to the open fellside the field began to thin out and the first nagging doubt about navigational skills began nipping away at me. The first main moorland ascent and descent were negotiated without too much trouble with the main challenge being the very muddy ground. However, it was after scrambling back up onto the moor that the fun and games began. Once past the Catchwater Drain, a big open culvert that feeds Lower Dean reservoir from whence we had just come there is absolutely nothing on the ground to guide you to the next checkpoint at Cock Hill. Obviously taking a compass bearing would be no fun and despite the visibility being worse than ever it was a case of following your instincts.
The net result was that I missed the checkpoint by about 500 yards, but fortunately as it is situated on a road crossing, having hit the road it was just a case of turning right and giving the marshals a bit of a surprise at my line of entry. However, if I had gone badly wrong others had done so to the power of ten and my navigational malfunction must have gained me about half a dozen places.
There then followed a ten mile circuit of boggy bog, frozen bog, snowdrifts and the slippy flagstones of the Pennine Way to negotiate. Throughout this period about half a dozen of us appeared to be engaged in some private battle which generally consisted of me winning all the downhills and then being relegated to last when anything steep came along.
About 15 miles in I paid the price for my over enthusiastic early pace and in the stretch back up to Cock Hill (still nestling in zero visibility) was reduced to a measly shuffle and was promptly overtaken by about a dozen runners, arriving back up at Cock Hill in 65th place (grand things them dibbers). With spirits at rock bottom my only resolution was to get back to the finish and so in what marked a British fell running first I stopped, got out my compass had a look at the map and set off on what I thought was the general direction of High Brown Knoll over 1.5 miles away.
At this point I was joined by an overly cheerful runner who felt we should be further off to the left to which I responded with something as polite as "Well, off you go then", having just noticed a profusion of fellshoe footprints suggesting I was doing okay. This runner then managed to keep me amused as he zigzagged his way to the next checkpoint, sometimes 50 yards to my left and then 50 yards to my right.
The final mile of navigational challenge before the 2 mile fully flagged run in to the finish was achieved with a slight help from someone who had overtaken me a while back, suggesting he may have gone wrong himself in the not too distant past. However, by trending over by about 50 yards we hit (literally) one of the aqueduct air vents which enabled me to return the navigational compliment and set a course for the final hill.
In that last 3 miles I passed two runners and three overtook me. The maths scholars amongst you would have worked out that would have put me in around 66th place. However, when dibbing in at the finish I was informed that I had finished 52nd. At that point I just assumed that this dibber technology ain't all it's cracked up to be.
However, back in the changing rooms and over soup, rolls, cake, biscuits and tea afterwards the litanies of woe were pouring forth from all corners about runners going AWOL all over Dimmin Dale and Midgley Moor (the section with the air vent). One runner's on board computer indicated he had run nearly 25 miles (not bad for a 20 mile race, but at least he got his money's worth!).
Despite the zero visibility this was a great day out in challenging conditions and a salutary reminder that you carry a map and a compass for a reason and being able to use them is an added bonus.
It is a great, atmospheric part of the world to run and despite being in a state of near collapse I cannot wait for next month's Haworth Hobble which at 32 miles will be sterner test but one that I know a few other NFR's will be along to.
John Telfer