23/04/11
Anniversary Waltz
- from Dave Johnson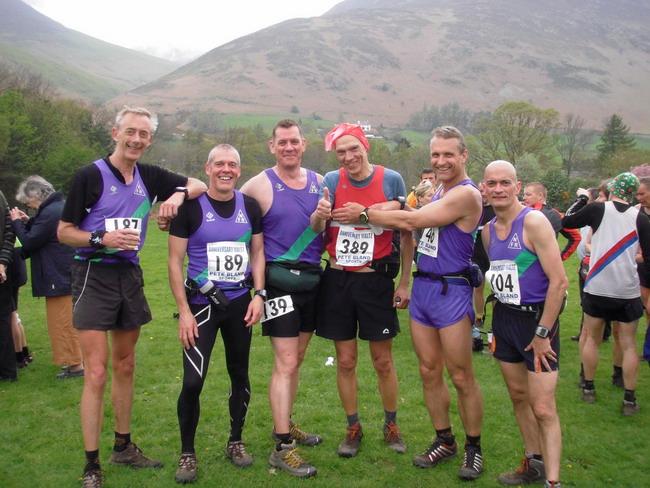 Dave, Lawrence, Phil, Barry (club vest cleverly concealed), Paul, Shaun - photo: Lesley Johnson
Another good turnout saw 10 NFRs (Shaun Dunlop, Andrew Callcott, Francis Shillitoe, Paul Hainsworth, Lawrence Johnson, Phil Green, Dave Johnson, Allon Welsh, Trevor Wakenshaw and John Telfer), gather at Stair for this year's Anniversary Waltz race, although John had been brave, or foolish enough to enter the Teenager With Altitude. The weather was rather dull and humid but at least for those in the first half of the field, the tops stayed clear of cloud for almost all of the race.
I arrived early with Trevor and Barry Young from North Shields Poly and we passed the time by watching the Teenagers wend their lonely way up Causey Pike. Then everyone repaired to Trevor Wakenshaw's mobile cafe for tea and cake and almost before we realised it, it was time to nip over to the starting field for our race. I was hoping for a repeat of last week at Coledale when I'd managed to beat Lawrence and Barry for the first time. I was quickly disabused of that notion when they shot off down the valley track as if they were doing a 5K race. Needless to say they left me far behind. I did manage to make up some ground when the fell running finally started on the never ending climb up Robinson, but that was as near as I got to them all day.
When I reached the summit it was in cloud. I caught up with two runners who seemed a bit hesitant about the way to go and we called over some others who were heading for the tourist path. They all tucked themselves in behind me as we set off downhill. I wasn't going anywhere near top speed because I wasn't absolutely sure I was on the best line to the col, but no one seemed inclined to pass me. So I slowed down a bit just in case any of them wanted to take over the lead. No one did and I was toying with the idea of seeing just how slow I could get everyone to go when we came out of the mist. We were only slightly further right than we needed to be. At once everyone's brakes came off, we charged down the hill and the ungrateful rotters left me trailing in their wakes!
I did manage to catch up with a couple of them on the climb to Hindscarth which was where I last saw Lawrence, although Sean wasn't too far behind him. Of Barry there was no sign but Phil wasn't too far ahead of me but then I lost touch with him on the descent from Dalehead, although I was surprised to catch up with Sean on the way up High Spy. He caught up though and passed me on Maiden Moor despite the lift I had from getting a "Well done" from Joss Naylor no less. An unkind person later said I must have misheard him and what he actually said was "You look well done in".
This of course, was also true, but nevertheless I enjoyed the run down to the col and felt relatively all right on the climb up to the final summit, Catbells. I was certainly in a much better state than two years ago when it reduced me to almost walking down the final descent. Today I thought I was flying down as I passed Sean again but I was well and truly put in my place by a V60 as the redoubtable Wendy Dodds raced by and left me for dead on the final run in.
Francis Shillitoe was first home for us in 123rd place with Paul Hainsworth not far behind. John Telfer survived the Teenager to finish in 60th place.
A special mention should be given to Shaun who had done a 3 hour marathon the previous weekend and to Allon who only got to the race after getting a taxi from Penrith when his car broke down. That's dedication for you!
Dave Johnson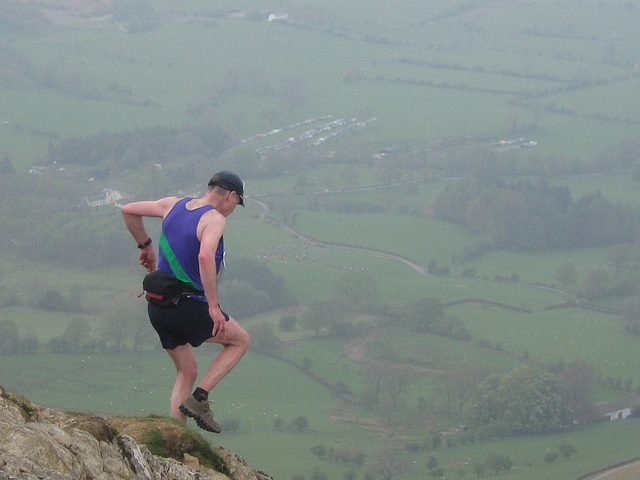 photo: James Green (aged 13)
results of Anniversary Waltz and Teenager With Altitude on Anniversary Waltz website
photos from Lesley Johnson | James Green