20/02/11
Britain's Worst Fell Race
- from Will Horsley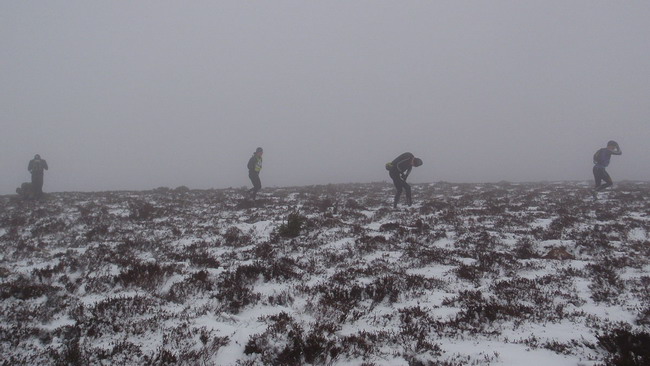 sticking together at Knox Knowe - Rob
Britain's Worst Fell Race, or as it is known to the locals, The Kielder Borderer, had the weather to match its name. A few inches of wet snow on the ground and a strong & cold wind but not cold enough to freeze the ground so your feet were wet and numb all the way round. Combined with mist that reduced visibility to less than 50 feet for much of the race, everything was coming together for an awful day. Some rather minimalist organisation and marshalling also meant that if anything did go wrong you might have to wait a while for help.

Thirty-seven turned up, with several coming from far including a delegation from Dallam. At the start the field split with most following Scott Gibson on the recce'd and marked route, and a small group going for local knowledge behind Louise Wilkinson (the only Kielder resident present). No surpise that Louise's route proved much the better.

The wind on top of Deadwater (560m) was strong and painfully cold and the anxious look on most runners faces gave away their fears of what the next 15 miles would give them. It appears that runners were going off in all directions along the border route with a group of 10 at the front staying fairly close most of the time, occasionally drifting in and out of view in the mist, and bumping into each other from completely opposite directions. By Grey Mares Knowe (512m) they were still together but some gaps were opening up. They stayed in touch all the way to Grey's Pike (450m). Coming off the final summit, from which a descent route was marked (although there were quicker options!) David White (Helm Hill) and Ben Rowley (NFR) managed to make a gap on the chasing pack. The lead changed hands several times on the tricky descent and they were quite literally rubbing shoulders on the final stretch across the boggy paddocks to the finish line when David just nudged in front to win (3h44m06) by a slim margin. Ben jogged over the line nine seconds later after seeing victory slip away. Paul Appleby (NFR) was next home less than a minute behind. It is remarkable that after 17 miles and more than 200 minutes of running the first six were separated by less than 2 minutes.

Unfortunately three runners retired, with the first of them being dragged up Grey's Pike to help mark the course, giving him a total run of 12+ miles anyway. The other two did all the hard work but finished at Kielder Head. Scott Gibson (NFR) was clearly in some pain as he limped over the line but still managed 8th place. First lady was Louise in 12th place overall. NFR's Jamie Wilkinson and Sue Mitchell strolled in later with Sue's dog Chester who was the freshest looking finisher of the day. Also looking quite fresh were Pete Whewell (NFR) and Dougie Nisbett (DFR), both managing sprint finishes with encouragement from the line. Most exhausted looking runner was Bernard Kivlehan (NFR) who was revived with tea and cake in the Duke's Pantry. Some concern when the sweeper arrived back and I estimated there were still five runners out there. Just as we were going through the entries to identify them four turned up in quick succession. The remaining runner is a friend of mine and I knew he wouldn't mind if I left him out there all night. Thank you to all who came and ran. All who entered will get half-price entry to Brough Law on 20th March. Many thanks to my marshals and helpers (Graham, Wasim, James, Phil J, Louise and others). The race made a small profit which will be added to Brough Law takings and donated to charities.
Will Horsley
[Ed: I'd just like to add a special thanks to Graham Bingham, whose handmade prizes of piles of pebbles to every finisher were a fabulous idea. Lots of folk have told me how pleased they are with them - they are a really nice idea, nicely made, look good and just the job for fell runners. Cheers Graham! - Rob]