20/11/11
Clay Bank West
- from Phil Green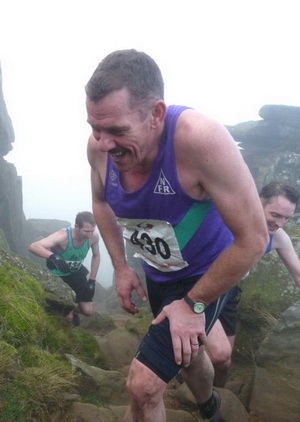 Phil at the Wainstones
photo: Dave Aspin
This perennial favourite saw a few NFRs heading south rather than west this Sunday for the short and sweet Clay Bank West race. The weather was kind with mild conditions and only intermittent hill fog making navigation nothing to worry about. This race starts up (hill) a steep forest track for about 600m before levelling and undulating beside the forest for about two miles. It then climbs across a field to the Cleveland Way, it then has two climbs, that of Cold Moor and then after descending to Garfit Gap the top of the Wainstones. The race was characterised by mud on the outward section followed by lethally slippy paving slabs over the Cleveland way on the return journey. I would recommend your attention to the slippyness of stone flags ( a la simonside) for future races. I saw a chap go his length at the final CP today, badly bruising his chest wall and banging his head on the slippy stones. Racing saw some brilliant times from the juniors and a u15 women finished 5th overall. NFR placings were Chris Winter 11th, Lawrence Johnson 27th, Phil Green 30th, Emma Bain 60th, Dave Johnson 70th and Chris Eggett 79th out of 132 runners.Shaun Harris of Heaton Harriers completed his first fell race and finished with that special "big downhill done and bitten by the bug" look on his face. Dave Parry's post race presentation was as ever quality!
The next race in the series clashes with the Hexhamshire Hobble but thereafter is followed by Guisboro Woods on Dec 27th which is a great post Christmas belt.
Dave Aspin took some brill pics and they are on the Esk Valley site.
Phil Green