16/04/11
Coledale Horseshoe
- from John Duff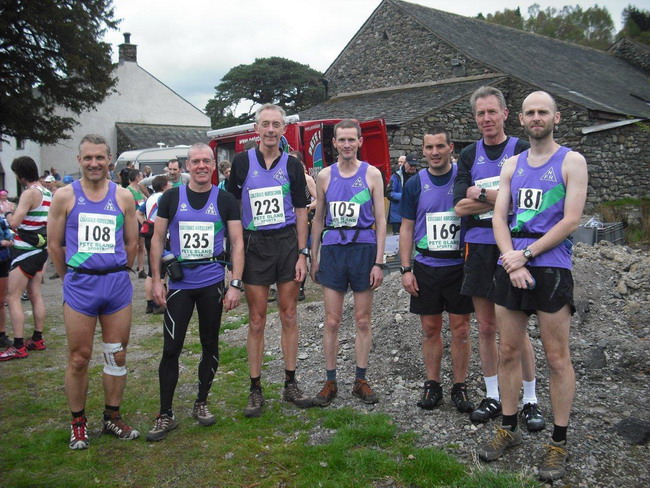 Paul, Lawrence, Dave, John, Chris R, Bernard, Chris W - photo: John Duff
There was a good turnout for the Club with 12 folk at The Coledale Horseshoe (9 miles, 3000 ft) on Saturday.  Several Allendale Challengers shrugged off last week's miles to record strong runs including Paul Hainsworth and Lawrence Johnson.  The weather was much more favourable for running this week – the cool and overcast conditions were ideal.  It was warm on the first climb up Grisedale Pike, chilly on the top of Eel Crags as the clouds brushed the top, then perfect for the run in off Barrow.
Phil Sanderson kept pace with race winner Ian Holmes (Bingley) on the initial climb, eventually finishing in a highly creditable 8th place.  Further down the field, Chris Winter and Chris Rowe swapped places on the first climb, before the former prevailed to finish just behind first lady Louise Roberts.  Garry Owens recovered from his Allendale training run to finish not far behind them.  Also spotted there were Scott Gibson, Bernard Kivlehan, Dave Johnson, Allon Welsh and Gary Jones.
This year the start/finish was moved to a new venue at Braithwaite Lodge Farm.  This got the road running out of the way at the start, with the finish being straight off Barrow.  There was a huge field which meant the start was delayed for 15 minutes.  The organisers (Mike Robinson and his team) coped admirably with this.  The race was superb, and the butties and malt loaf at the end excellent.
John Duff
results on FRA website