27/08/11
Dufton Fell Race
- from John Duff (+ photo)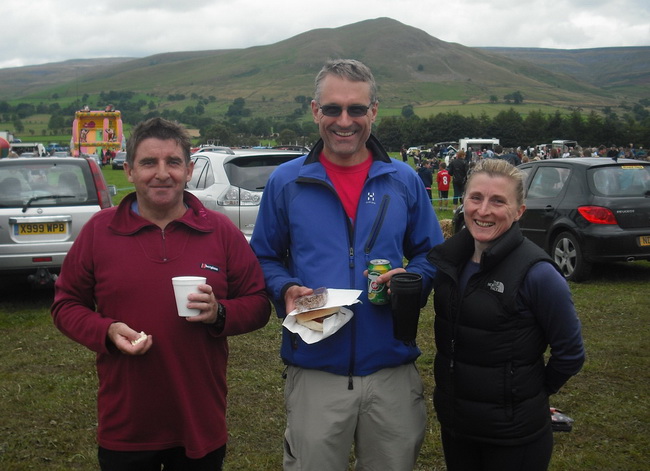 Richard, Paul and Steph with Dufton Pike in the background
A pleasant but cool day, high clouds, and grass underfoot made for fast running at the Dufton Show race on Bank Holiday Saturday.  11 folks from NFR made the trip over for this excellent race (5 miles, 1500 ft).
After the initial sprint off the showfield and through some mud by the river, runners settled into a steady climb to the shoulder of Dufton Pike.  The race then dropped off the back of the hill, before a steep climb to the airy summit.  The return leg was a glorious grassy gallop down the ridge, which led to the route back through the fields to the show.
Lawrence Johnson was first home for NFR just ahead of Dave Wiseman.  John Tollitt was next home, taking his time on the final run-in until a glance over his shoulder revealed another NFR in hot pursuit – at which point he charged for the finish.  Steph Scott was third lady; Susan Davis was our other lady representative.  Geoff Davis and Paul Hainsworth were first and second V50s respectively.  The ever-green Joe Garbarino was second V70.  Other NFRs there were Dave Johnson and Richard Cavner.
The race was won by Jim Davies (Borrowdale).  James Buis (Heaton) was second, having led to the summit of Dufton Pike.
Many thanks are due to the organisers Morgan and Lucy Donnelly.  They were ably supported on registration by Jane Saul and Pam Armstrong, and Charles Scott who was marshalling and cheering us on.
results on FRA website
a little more on the Dufton Race on this blog by 'Daleside'
John Duff