10/04/11
Gisborough Moors
- from Dexter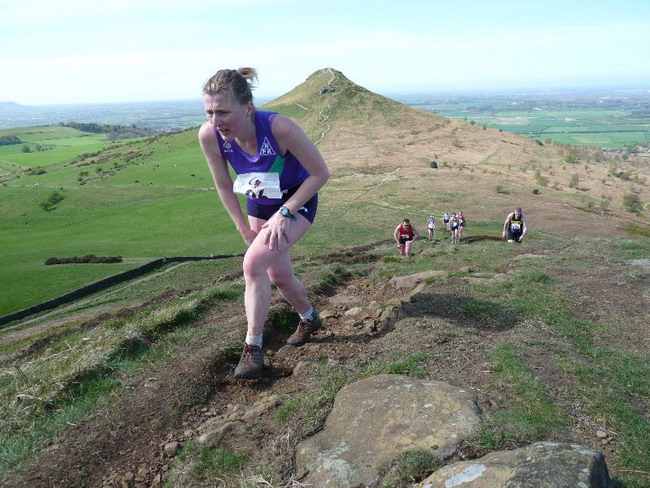 Steph leads the NFR ladies - photo: D. Aspin, D. Gowans
A grand day out is how Sunday at the Gisborough Moors Race could be described. A glorious running day, if a touch too warm, a great turnout from the Club and some notable achievements.
At the time of writing this, the results aren't yet published, so forgive any inaccuracies.
NFR totally dominated the men's race, taking the 1st four places. Phil Sanderson won by a decent margin, despite going wrong at one point, being hit by a flying grouse and getting tripped by an errant dog! The others positions were Gary Jones 2nd, Charlie Stead 3rd and Lee Bennett 4th.
Phil took the 1st V40 category too, with Lee taking 2nd V40, even though he wasn't acknowledged as such at the prize giving! We also claimed the men's team prize with the lowest possible score of 10 points. So Phil departed with around 10 bottles of wine and a bottle of Malt Whisky for his efforts.
Dave Parry's prize giving ceremonies are always entertaining, but not always easy to follow! Various others received recognition and prizes, in their categories, but it wasn't always as clear as it might have been what exactly they were being recognised for! This included Ray Gray, who I think won the V65s.
In the ladies race, Steph Scott was around 6th overall and 2nd LV, with Sue Mitchell also wining a prize presumably for 3rd LV. Ruth Fletcher won the LV60 despite being rather cut and bruised from a nasty tumble en route.
So a pretty successful day overall. A special mention to John Telfer, who had completed a hot and sunny 25 miles of the Allendale Challenge the previous day, and still appeared human at the end of this one as he prepared to then drive back up to Scotland. Well done John.
Dexter
See the Esk Valley Fell Club site for results, organiser's report, photos and video