13/03/11
Glaisdale Rigg
- from Phil Green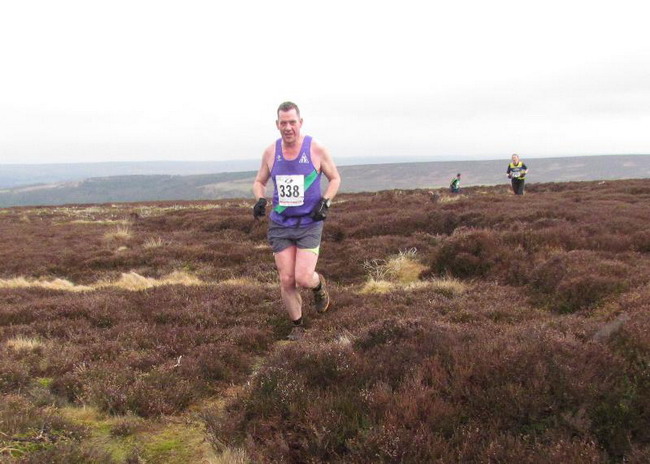 Phil - photo: Dave Aspin
This Sunday saw the first running of Glaisdale Rigg FR under cool and drizzly conditions. Registration was at the Arnecliffe Arms, and this provided a warm place to stand prior to the race start. Start was across the road from the pub on a side road, it was a mad road start downhill into the valley bottom then a lung bursting climb up into the village proper. We quickly headed off over the moor towards CP 1 near Busco Beck farm. This was tough going with a narrow trod which was easily missed. I made it up a bit and picked a canny line across.
After the first CP the route picked up a good bridleway before hitting a very old road / track heading up to Glaisdale Rigg trig point (CP 2). This did allow many to pick up the pace on what was fairly good running. After a couple of miles we did reach the heathery and rounded summit of the Rigg.

From the trig point the route headed back towards the head of the valley, heading downhill towards Yew Grange farm. Moorland gave way to grassy fields but a steeper angle of descent. Near the bottom I came across a runner who had badly cut his leg. He had applied pressure and was limping slowly towards the next manned CP. He didn't appear to be carrying kit…… lesson for us all!

Anyway a short road section linked into a piece of classic cross country running over the valley bottom fields. Calf deep mud and multiple stiles made for tired legs even before the stiff climb up through the woods to CP 3. The path then contoured along just below the ridge line for a couple of km over moorland and felled sections of forestry. Spectacular muddy patches and some particularly lethal wet duckboard increased the need to concentrate, and then suddenly we hit the road again for a short section.

The route quickly headed off onto a heavily rutted farm track, which descended down towards the Glaisdale Beck. It was about 2 km of steep n slimy mud fest, but you could just go for it, knowing that all was left was a quick belt up a short path to the pub door and the finish.
The landlord was supplying chilli and rice at 2 quid a bowl, hot and spicy after a long cold run, great!

NFR was represented by Charlie Stead (4th), Dave Johnson, Neil Gammack and Phil G.
This race has the potential to be perennial favourite, with a huge range of testing surfaces to run over. Some purists will quibble over the road sections but testing climbs and bomber descents more than made up it.  I think that this was a cracking race in a lovely dale. A big thanks to Dave Parry for continuing to further fell and hill running in the north east and Richard Clark of Esk Valley FR for setting the course.
Phil Green
results and organiser's report on Esk Valley Fell Club site
[more photos from Dave Aspin here]