27/12/11
Guisborough Woods
- from Phil Green
The three laps of the Guisborough Woods represent a splendid challenge on any winter's day, even more so after a previous day's endurance training, care of Mr Theakstons and Mr Jack Daniels!
James and I made the short drive from Redcar ready for action armed with Red Bull and all things rehydrating and sugary. I knew DJ, Neil, Trev and Rob were coming down from the toon that day, the surprise being the addition of Marie. The Sanderson brothers were there at the start, as were Paul Hainsworth and Geoff and Susan Davis, Emma Bain added to the women's team.
The race route is three laps of the woods with a couple of good climbs and a great descent back to the start of the route each time round. The big field meant a late start with over 200 starters and 199 finishers. Paul Lowe, Jim Bulman and Phil Sanderson fought it out at the sharp end, the rest of us tussled up the hills. Charlie finished 5th for us, I finished 38th overall, Chris dropping out with a calf injury. Geoff was next in and followed by Paul. Emma was next in followed by DJ, Neil, Marie, and Susan.
Ali McDonald of Morpeth had a grand race finishing 11th.
Tyne Bridge had a team out with Mark Hall having a cracking finish in the top twenty. Dave Daniels had a belting first round but pulled out due to achilles probs but was great to see him race on the hills again. Rob Kirtley and Trev Wakenshaw also ran well.
DFR and Elvet also had good races, Shaun Roberts and Nina Mason having good runs
Dave managed to wrap it all up quickly with lavish prizes as ever.
DFR took the team prize with NFR finishing 5th.
Phil Green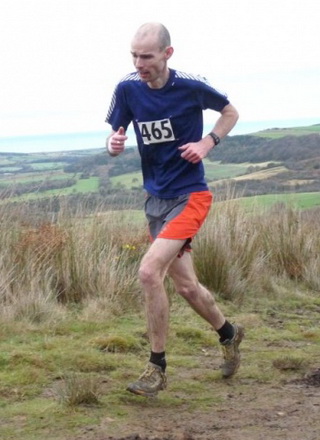 Phil S and Charlie - photos courtesy of Dave Aspin
results, organiser's report and Dave Aspin's photos on Esk Valley Fell Club website