28/05/11
Jura
- from Dave Johnson
Two NFRs, Dave Wiseman and David Johnson made the long journey to Jura for this year's fell race with the former camping and the latter living it up in a hotel.
All week it looked doubtful that the full fell race would happen. The hills were in cloud, it was unseasonably cold and it was blowing a gale on the tops. In fact I'd more or less reconciled myself to this and could hardly believe it when I drew back the curtains at 6.30am on Saturday morning to see the hills bathed in sunshine. "Oh b***er" I thought, "There's no escape now". By the start time there were a few more clouds about and the organisers said it was still very, very windy up aloft. And so it proved although thankfully quite often we runners were sheltered from it. Apart from one short but vicious hailstorm it stayed dry and, thank goodness for small mercies, the tops stayed clear of the clouds all day.
I think that the route profile, an evil one if ever there was one, sums up the nature of the beast. Add in a seemingly endless supply of strength sapping peat bogs, scree, and boulder fields and I think even Phil Sanderson would have been glad of the three miles of road running at the end!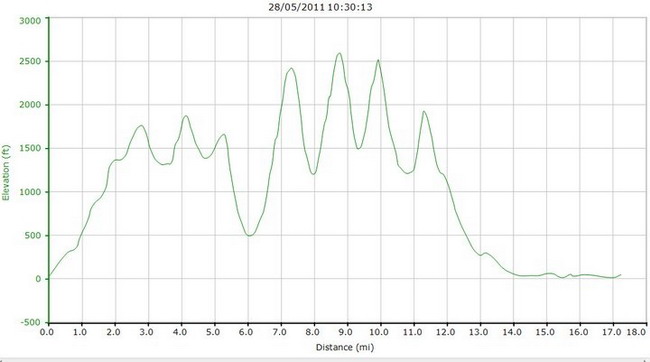 Route profile by kind permission of Neil G Campbell of Carnegie Harriers
Well, I think the soft hotel living did for me, but Dave's spartan approach clearly paid off as he looked very fresh at the finish. Mind you this might only been because he had an hour to recover before I finally staggered over the line!
It is a great race and well worth making the effort to get to.
Dave Johnson