11-12/06/11
LAMM
- from John Duff (photos by John)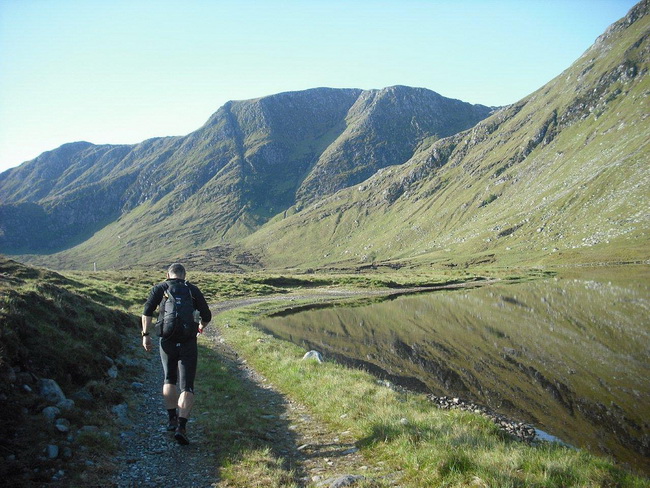 Loch a Choire Mhoir
Paul Hainsworth & I ran the LAMM at the weekend.  It was held at Inverlael near Ullapool in the north-west highlands.  The principal Munro in the area is Beinn Dearg, which we seemed to spend most of our running around though never actually climbing.  We were both feeling not quite on top form, so the mantra was "take it steady and enjoy the event".  This proved to be very easy as the weather was superb, the views stunning, and the resident midges were kept at bay by a cool breeze.
We ran the A course which offered long legs with plenty of route-choice.   The running was surprisingly good, particularly on the tops which tended to be rounded and grassy.  The going was not so good lower down with plenty of tussocks, peat bogs, and rocky terrain on offer.

on Am Faochagach looking towards Beinn Dearg*
Day 1 was billed as 33k with 1350 m of climbing.  After a bus ride to the start, we took a sweeping route north passing close to several summits where golden plover and ptarmigan could be seen.  After 7 hours we rolled into the mid-camp which was in a remote location with fantastic views.  It rained for several hours in the late afternoon, but fortunately by then we were in the tent lightening our packs by eating our mountains of food.  Paul had opted for the dehydrated meals, whilst I favoured back to basics fare such as peanut butter sandwiches and pork pies.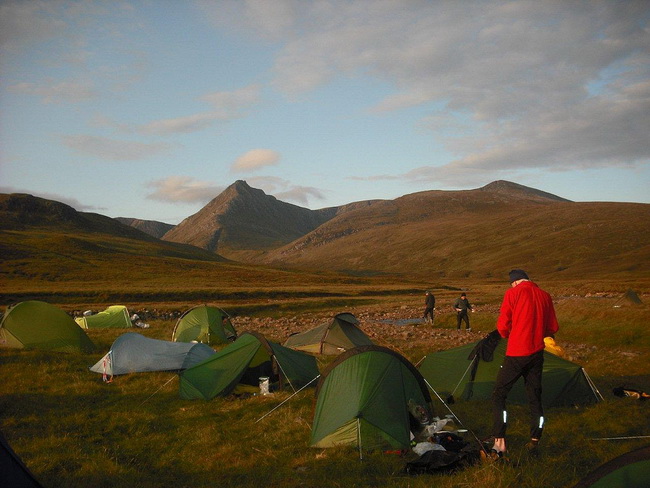 midcamp
Day 2 dawned clear and sunny with the 5 am roll-call.  We opted for a prompt start at  6 30, and were soon on our way tackling the 26k of distance and another 1350 m of climb.  This involved more long legs.  One route-choice took us up a particularly steep climb/scramble which in retrospect was probably not the preferred route.  But we did notch up our Munro for the day – Meall nan Ceapraichean which had superb views over to the spectacular NW skyline.  Generally our navigation was OK.  It tended to lapse when we lost concentration – usually when we were eulogising about how wonderful the scenery was.
Other folk spotted at the LAMM were Francis Blunt and Andrew Higgins (3rd and 7th respectively in the elite), Lewis Grundy (4th in the score), and Joe Faulkner (competing in the score).   The elite course was won by Duncan Archer and Jim Mann (both DFR) who improved on their narrow overnight lead with an excellent run on Day 2.
This was an excellent event, for which many thanks are due to the organiser Martin Stone and his team.  More details are available on the LAMM website.
John Duff
*on recognising the view, Philip Addyman sent in this virtually identical shot taken in 2008: "Fond memories of a 37 Munro raid over two weeks. "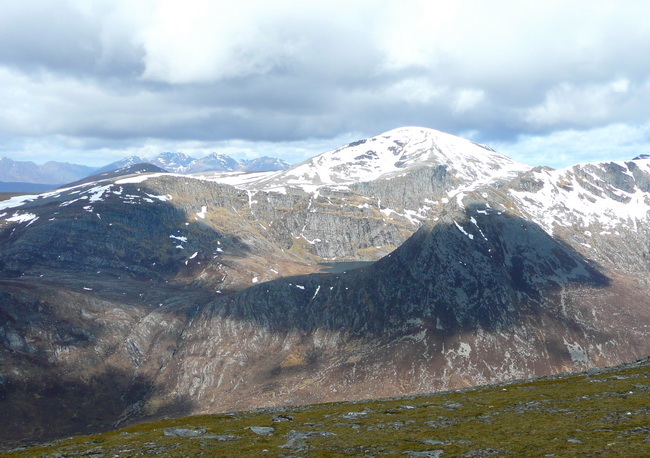 Beinn Dearg from Am Faochagach - P. Addyman