29-30/10/11
The OMM
- from John Duff (with John's photos)
NFR at the OMM 2011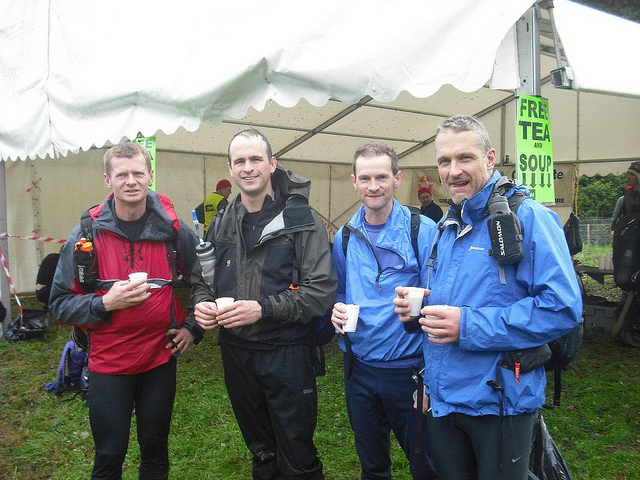 John and Paul at the finish with Frank Shillitoe and partner
NFR was well-represented at the OMM over the weekend. It was held in the southern highlands at Comrie near Loch Tay. The weather was dreich – low cloud, rain, and wind on Day 1 – and then a chilly overnight camp as the skies cleared. Day 2 was a bit better with the clouds slightly higher and the rain generally holding off.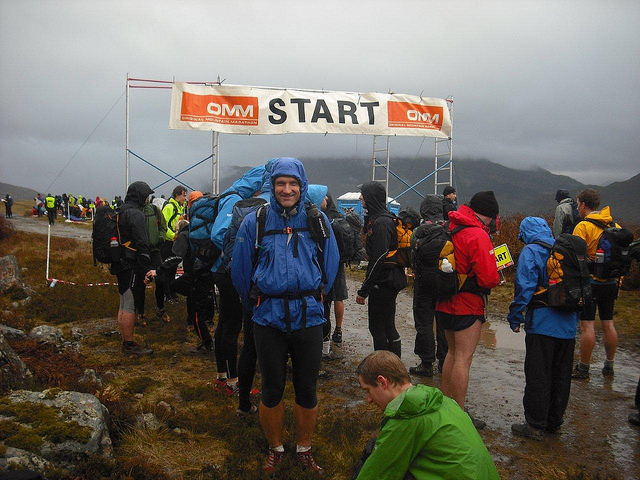 Paul at the start
Much of the running was over tussocky grass, heather, and peat – placing a premium on any deer trods or tracks that could be found. Navigation was at times tricky, especially when the mist came down. Following streams to a checkpoint was also fraught with danger – as there were many unmarked burns running in the wet weather.
Despite all this, a good time was had by all!
Paul Hainsworth & I ran the medium score event. Despite not feeling on top-form, we were pleased to make the chasing start on Day 2. In the end we finished 19th overall. Frank Shillitoe and partner had an excellent run, finishing 4th overall in the medium score.

John
Dave Hicklenton and partner entered the short score. They ran well on day 1, but came to grief on day 2 when the long run-in to the finish landed them with a large time penalty. But this didn't stop them enjoying themselves, and they seemed cheerful enough at the finish.
Louise Wilkinson & Joe Faulkner were competing in the Long Score. We saw them at the start (wrapped up against the rain), but not at the finish. The results show them as having a good run finishing 31st overall. Also spotted there were Rosie Higgins (marshalling at registration) and Andrew Burton (doing his Inov-8 bit).
The elite event was won by Duncan Archer (DFR) and Shane Ohly. The winning margin was just 13 seconds – so it must have been a sprint finish.
more photos from John
John Duff
The OMM website