21/05/11
Old County Tops
- from John Telfer
OLD COUNTY TOPS – 37 miles & 10,000 feet of ascent
May 21, 2011
Six NFRs, Charlie Stead running with Bob Johnston of Dark Peak, pairs of John Duff & Scott Gibson and Graham Walton & Dave Gunning plus myself helped make up a starting line up of around 80 teams for this grand tour of the highest peaks in the old counties of Westmorland (Helvellyn), Cumberland (Scafell Pike) and Lancashire (Coniston Old Man). Charlie was first NFR home followed by Graham and Dave with those who wished to enjoy the full force of the Coniston tempest ensuring a full complement of finishers.
A fortnight or so prior to the race injury had forced my partner onto the sidelines. However, my prayers were answered by Simon Reed of Notts AC who with a Bob Graham and a Paddy Buckley to his name and a Ramsay round in the offing offered his services looking for a good long day out in the fells. Faced with such credentials how could I refuse and I could certainly guarantee him a long day out in the fells!
Meeting up with Simon on the Friday evening in the New Dungeon Ghyll to get acquainted ended with us joining John and Scott in the Old Dungeon Ghyll to plot tactics and soothe our nerves but in a very restrained fashion (by my standards anyway).
Saturday morning dawned gloomy, cold and foreboding with the cloud cover well below the summit of the Crinkles, doing nothing to distrust the forecast for gales on the high fells and plenty of rain, all in stark contrast to the unrelenting heat of the previous year.  Full and three quarter length leggings were the order of the day with only one individual spotted wearing only a vest, having obviously perfected an antidote to hypothermia.
Setting off with the aim of clocking under 10 hours which last year had been within my grasp until I had wilted in the heat on the descent to Wrynose Pass the run out of Langdale was executed at a reasonably sedate pace before the ascent over the flanks of Silver Howe before the muddy and greasy descent into Grasmere. Simon and I arrived in the village 5 minutes ahead of last year's time. At this stage I didn't know whether to commend myself on my superior fitness or take it as a sign of having gone off too fast for which I would suffer later on.
The run along side the main road saw the field really beginning to string itself out. On the path which would eventually take us to Grisedale Tarn it was clear we would soon have our heads in the clouds. Although somewhat of a slog the path does a fair bit of contouring and so you are not overcome with a feeling of a never-ending ascent.
The arrival of a passing shower and a strengthening wind was enough to prompt us to stop at the tarn and throw on an extra layer, hat and gloves rather than wait until semi-hypothermia had set in on the flanks of the Helvellyn range. A brief parting of the clouds also provided us with a perfect line up on to the ridge with most heading up half left with only a few diehards taking the direct ascent to Dollywaggon Pike by the ruined wall.
However, the higher we went the wind strength and chill ratcheted up making for a reasonably unpleasant run along the ridge to the wind shelter on Helvellyn's summit. Nevertheless the first County Top was in the bag and we were feeling good if not a little on the cool side. The descent off Helvellyn was a mixture of grass and rock and probably wasn't our finest navigational moment of the day but as we neither seemed to gain or lose any places I wasn't too bothered and we hit the second checkpoint at Wythburn without difficulty and stoked up with malt loaf, jam sarnies and tea.
Crossing back across the A591 at the head of Thirlmere there then follows a 4-mile slog through the Wythburn valley up to Greenup Edge. It was on this section last year that the seed of some very dark moments had been sown. Although wetter underfoot Simon drove on with a testing but sensible pace and although finding it a bit of a challenge in a bizarre way I was quite enjoying the test. In doing so we managed to overtake around half a dozen teams including one unfortunate individual who appeared to have taken a headlong dive into the boggiest part of the bog and was having to be retrieved by his partner.
Navigationally, the fairly featureless terrain around Greenup, under High Raise and down to Sticks Pass would have been a real challenge if the cloud had been down. As it was the weather whilst not conducive to sun bathing was at least clear and whilst we probably did descend a little lower than the perfect line we stayed happily on course to the third checkpoint at Angle Tarn, home of the jolliest marshals in fell running history.
Whilst stopping to refuel I was somewhat bemused to hear a gentleman in a tent reading out a list of numbers and commented to Simon that this seemed an odd place to find a bingo caller. Further investigation revealed he was actually letting the organizers know which teams had come through the checkpoint. Silly me!
The tourist path up to Esk Hause has the main benefit of being too steep to run (well for me anyway) but not too steep to feel that all your energy is being sapped from you. As such it is a good segment of the race to take a few calories on board, take stock and gird yourself mentally for the assault on the Scafell range.
However, this sense of philosophical contentment disappeared around Esk Hause as the wind once again found its teeth and we disappeared into the cloud. I also disappeared into my own mental cloud at this stage with walkers all over the place to be navigated around (almost all unfailingly apologetic for appearing to be in our way as though we had some right of way over the fells).
My grumpiness was compounded by the fact that my nose bag at this stage consisted of something that looked like a strawberry chewy bar but was actually indigestible and tasted of sawdust making me feel sick. However, having given up on said "energy maximizing nutritional bar" and resorted to some tried & tested jelly babies the boulder hop across to the Pike heralded a returning rhythm of sorts and an elevation of my spirits if not the cloud cover.
On the final leg to the summit it was quite amusing as runners both heading up from and back down to Little Narrowcove buzzed around unsuspecting walkers who continued to take such events in good heart. Two tops conquered, fifteen minutes up on last year but still a long way to go.        
Having sent a few more walkers diving for cover Simon led a surefooted pace over loose stones, boulders and grass as we wound our way down Little Narrowcove and onto the Eskdale valley floor. Traversing round and in between rocky outcrops out of the wind meant that good progress was made across to the head of Moasdale. This landmark is characterized by the remains of a gate and abandoned electric fence erected in the wake of the 2001 foot and mouth outbreak (10 years ago !!) when the newly imported Herdwicks had to learn how to heaf all over again.
Although a little boggy underfoot at the outset a reasonable path getting ever firmer made for further good progress down to Cockley Beck, where afternoon tea of egg sandwiches and flapjack was being served.
Over twenty minutes up on last year both Simon and I were going well and so it was with renewed vigour that we started our long and laborious ascent of the hill from hell, better known as the direct route to the Grey Friar / Great Carrs col.
The first few hundred yards rise gently uphill before the real slog begins. After about ten minutes of steady if unspectacular progress my body and mind, totally without warning, in one decisive and debilitating move  just gave up on me for whatever reason I do not know. All I could do was whimper to Simon, by this time a good few yards ahead of me, that I needed to sit down. This is I duly did on a conveniently placed rock and just stared at the ground and took a long drink and then looked at the ground a little more. I then stood up and in the best monotone voice I could muster said "Right let's go" and plodded on more in hope than expectation.
For the next ten minutes I did nothing but my follow the line of Simon's heels as he wove a sympathetic zigzag up the never-ending slope. On reaching the stone wall I knew that we had covered about two thirds of the ascent and my spirits lifted not that anyone within a 100 mile radius would have noticed.
We eventually reached the col in the company of three others (not sure why there weren't four) and after a moments deliberation about route choice began the long trek across to the Old Man of Coniston. It was here that the weather, reasonably benign up to this point, unleashed its fury full on in our faces all the way to Old Man summit and all the way back albeit that said fury was now on our backs. In yet another bizarre twist in comparison to my lack of physical and mental wellbeing on the slopes of Grey Friar forty minutes ago I was feeling quite (relative term) happy about life. Some of this happiness had obviously rubbed off on Simon who tore off into the wind and cloud forcing me to up the pace, and given the ongoing maelstrom was quite literally a sink or swim exercise.
This upping of the pace also helped to dispel any disheartenment at the sight of a steady stream of runners already returning from the Old Man and who would be back in Langdale enjoying the post race feast nearly an hour before us.
Soon it was our turn to have the wind and rain on our backs and eventually we dropped out of the cloud making our way down to the Three Shires Stone with a panorama of Little Langdale opening up before us. For the first time I dared to allow myself to think that the end was not far away and the sub 10 hours was on the cards. After the Three Shires Stone the descent down the tarmac of Wrynose Pass was not particularly pleasant but at least it was downhill.
As we turned off the road and headed over to Blea Tarn we encountered Scott and a rather disconsolate looking John sat down looking as though he would rather be somewhere else. The gist of our brief conversation was he had been feeling ill from the off but being made of stern stuff had bravely battled on when mere mortals (and probably eminently more sensible folk) would have packed it in some 30 miles back.
Whilst wishing them well we continued on our way in the company of two young lads (by which I mean they under 30) who we had overtaken on every downhill since the Wythburn Valley and who had overtaken us on every uphill thereafter. However, with the elixir of youth on their side they put on a final spurt and disappeared off into the distance as the Langdale valley came into view.
With a little over a mile to go and 13 minutes left to break the 10 hours Simon upped the gears to drive us forward to the finish passing a couple of pairs just as the rain returned with a vengeance. We made it over the line four and a half minutes under the 10 hour mark with a handshake and a smile for a job well done. John & Scott, also both smiling (or it may have been a grimace that John was sporting), followed shortly thereafter and we could start reliving the full drama of our grand day in the fells.
With family duty calling Simon was faced with the unenviable task of a 3 hour drive home to Nottingham and with John's stomach still being somewhere between Helvellyn and Esk Hause it was left to Scott and myself first to eat our bodyweight in egg sandwiches and after a shower and change of clothes to ensure we fully rehydrated ourselves in the time honoured ways of a fellrunner. Thankfully, John demonstrated that he was still in the land of the living by managing a half pint of Black Sheep in the Old Dungeon Ghyll.
Without wanting to sound like some toe curling BAFTA award winning speech my sincere thanks to Simon for pairing up with me (probably a case of a little knowledge being quite a beneficial thing) at short notice, being an astute reader of the human mind knowing when it was a good time to talk and when I was best left alone to chat to my intermittent demons. It would also be totally remiss to conclude any such account of such an epic day without paying tribute and passing on thanks to everyone at the Achilli Ratti Climbing Club who undertook this mammoth feat of logistics and catering with unfailing cheerfulness and encouragement throughout in thoroughly nasty conditions especially the poor soul in the tent on the Old Man of Coniston.
This cheerfulness even extended itself into the Sunday morning when some chippy forty something turned up at their climbing hut saying he had been given the wrong size tee shirt. Cue one very patient organizer ferreting around in a van full of debris to emerge a couple of minutes later with the one remaining medium sized tee shirt. I hear this cheeky upstart thought better of asking said organizer if he had them in any other colours!! Thank you and rolI on May 2012. 
Results and all you want to know about the race can be found here http://www.achille-ratti-climbing-club.co.uk/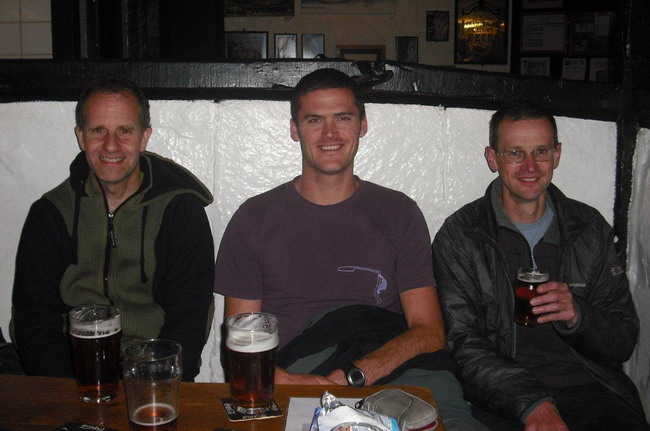 rest and rehydration in the Old Dungeon Ghyll Hotel - photo: John Duff
John Telfer