01/01/12
Captain Cooks Race
- from Phil Green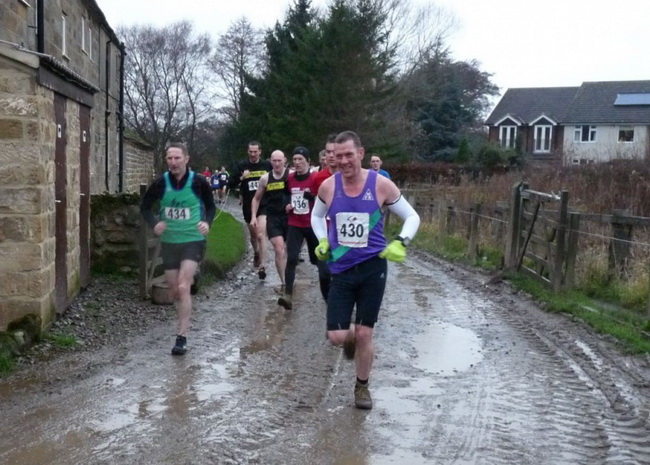 photo courtesy of Dave Aspin
Being down in Redcar for the festivities, it made more sense to do the Cooks race than drive 6o miles back to Rothbury. A wet and blustery morning on the moors it was then, parking in Great Ayton being the first hurdle to overcome, as several hundred fell runners were trying to run a race!
The massive number of entries provided a logistical nightmare, but were well managed by Dave and his extended family.
The race starts in the main street, with the finish on the village green just nearby. Dave Johnson and Trevor had travelled down from town after having done the Auld Langs fell race the day before. Charlie Stead was on child minding duties whilst Morag ran the race (7 weeks after giving birth). James Green was also running, having done the Guis woods race on the 27th, was keen for some more fell racing.
I lined up beside Clive Thornton from Esk valley FR, planning to hang on as long as possible. This was a chance to see how id progressed as I last did Captain Cooks fell race in 2007, my first time wearing an NFR vest.
The race..
Jim Bulman and Cameron Taylor provided the hare material all the way to the finish.
The road section via Little Ayton was bleeding fast with most of us being happy to hit the clarty track up towards Ayton Banks Woods. Into the woods and the main climb up to Captain Cooks monument. Clive put a hundred yards on me here. It was very wet and the turn back towards Gribdale was welcome, however the stone paths providing an unwelcome obstacle, causing most of us to run down the heather. The descent down Cockshaw Hill had most of us belting through the bracken, as the path was a quagmire. The short road section via dikes lane led us back up hill to a cross country section, before heading into the woods again nr Cliff Rigg.
I had tried to catch up to Clive, but he widened the gap. I had caught a couple of runners up on the descent from Rye hill and thats the way it stayed till the finish. A couple of fields to run across then back into the village. Very muddy and great fun. Jim Bulman was the winner, Cameron second and Jonathan Baines third.
I finished 34th in 38m 27sec.. a pb of 11 minutes so a bit of improvement for a five mile race. Dave was in next again with a four minute pb. Trev next and finally James, who had a massive grin on his face.
Cath Williamson of Loftus was first lady and Morag Stead finished second lady, a class finish given her recent return to training.
Next race is Clay Bank East on the 15th of January
Phil Green
results, organiser's report and Dave Aspin's photos on Esk Valley Fell Club website