29/04/12
Cheviot Summit
- from Glen McWilliams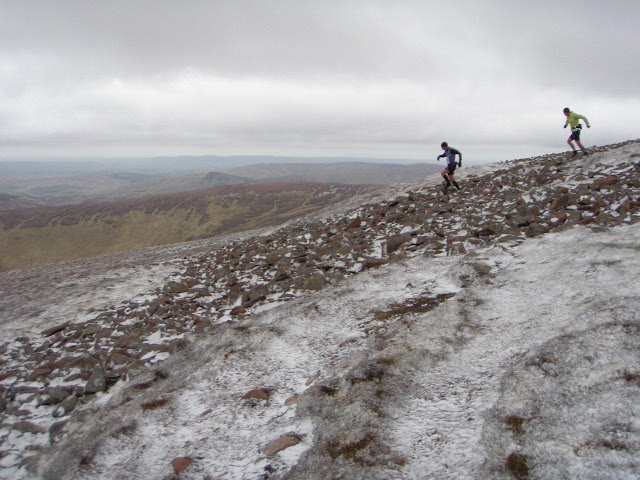 photo: Keith Yeats
Muckle Cheviot was still in no summer mood. A lazy north east wind constantly blew down the Harthope Valley for the 5th Cheviot Summit fell run.

56 hardy runners set off for the 2676 feet of climb to the summit of Cheviot & back down again. 21 NFRs easily made up the majority of the field & duly took 1st positions in the female & male categories. Lee Bennett was first to reach the summit & ensured he maintained his lead to the finish. Lee's time was 55.53 - an excellent time given the week's heavy downpours, which led to very heavy going under-foot. 2nd home was Adam Fletcher in 56.43 representing Berwick Harriers. 3rd home was Gary Jones 57.26 (Gary had ran the route several days previously and done it in a quicker time, proving the conditions were effecting the finishing times.)

1st lady home was the evergreen! Karen Robertson NFR 1.06.04. 2nd lady home & first local lass! Claire Bagness, Wooler running club. 3rd lady home,Jo Gasgoine-Owens, Alnwick Harriers. This was Jo's debut fell race, an excellent performance!

Bruce Crombie Alnwick harriers was 1st local male & fourth overall 58.18

£230 was raised & presented to the Northumberland Mountain Rescue Team as well as a rather full donation jar. Many thanks for your generous donations.

All runners appeared to have enjoy the event and felt that it was a good training run for the 2012 Chevy Chase!
Glen McWilliams
More photos from Keith Yeats here